Credit Card Callers
OPERATOR ASSIST
Available 10 am till 6pm daily AET for bookings and Issues.
SBilled as Access Positive
*You must accept our Terms of Use
CALL NOW FOR GUIDANCE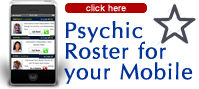 Money Back Guarantee
If you are not 100% happy with the reading we will give you a Full Refund. Available for credit card clients. Please call the Helpdesk on 1800 222 362.
Home > Horoscopes > How Astrology Psychics Can Help You Make Sensible Decisions
How Astrology Psychics Can Help You Make Sensible Decisions
Many of us turn to psychics for a lot of reasons. Some turn to them for answers regarding a marital dispute, while others wish to inquire about future career or business prospects. However, a sizable number of psychic reading clients are still at a loss on how to interpret, or make sense of a psychic's readings and conclusions. Here are a number of helpful ideas on how an astrology psychic can help you make sensible life-changing decisions.
Why More People Are Choosing To Get A Psychic Reading
Experienced astrology psychics are sought-after individuals because they're regarded as experts when it comes to reading/ interpreting a person's astrology chart. An astrology chart can provide a lot of interesting glimpses about a person's romantic, career and business fortunes. According to recent surveys, 6 in 10 people prefer to know exactly what will happen to them in the future, even though it may be something they'd not like to hear about. Some psychic reading customers also relish the opportunity to communicate with loved ones and friends who have already died, because some mediums have the ability to bridge the divide between the living and the dead. A psychic can even ask the departed to offer their insights about a relative or family member's future undertakings.
How Today's Psychics Plying Their Wares
The psychics and mediums of today still ply their services in the same way as their ancestors. The advent of the Internet however, has made promoting psychic readings and services much easier. The fortune tellers, tarot card readers and clairvoyants of today need not set up an office on a busy thoroughfare, because they can now quickly promote their services, and set up shop, on the Internet. Try going online today, and you"ll see a wide array of psychic reading services, all in a flick of a search engine. On the Web, you'll find psychic hotlines, web chat rooms, Web tarot card reading sessions and others. You can also see astrology psychic advertisements on the local newspaper and TV programs.

How Mediums Interpret A Reading
In a professional psychic reading session, the outcome can be interpreted by different means. Some seers and mediums use tarot cards, while others focus on a person's general life experience or past life issue. A veteran psychic reader can also easily interpret a tarot card spread. As soon as the customer presents the chosen cards to the reader, the reader will be able to decipher each card's meaning, using the illustrations, symbols and other indicators.
When it comes to matters related to family, career, business and health issues, a psychic can be a good source of advice and guidance. Customers however need to remember that psychics do not, and will not, tell you what to do. They only tell you about the images or visions they see, and they'll also interpret the possible meanings of the visions This means that the customer will still be the one who'd make the final decision.
Areas of Life Where Psychics Can Help You With
We make decisions every day. There are easy ones but there are those that seem too impossible to resolve. In the hard decisions, we can go to our family and friends for help but if they too find the problem too big to handle, there are psychics that can help everyone make sensible decisions.
Psychics can help in decision-making when it comes to relationships. One of the most-sought advices for is about love. Psychics can help make sensible decisions about love because they can give insights about the two persons involved and how they are compatible with each other. Unlike the advice of family and friends, which is most of the time bias and one-sided, the guidance of psychics is objective and from a different perspective. Psychics do not choose side. Psychics can help analyse the personality of the two persons involved. After doing this, psychics can now give inputs on the things that will make the relationship stronger or what are the things that compromise it.
Psychics can also help make sensible decisions when it comes to career. Psychics can give someone guidance on the best career path because they see what a person is made for. They know what kind of job is perfect based on a person's personality and birth sign. Psychics also have a good glimpse of the future making them see what decisions will bring the better possibilities for the seeker. Most of the time, people cannot see the good in their current job. Psychics can help them realize that whatever is happening at the present are all challenges for a better future.
Psychics can also make a person see better days. Being happy is a decision but sometimes it is hard to do so when someone is covered with negative energy. Psychics can help lift the negative energy away. They can help make the load of someone lighter. They can provide insights and guidance that can help someone realize his options and how he can make his life better.
The guidance of psychics can also provide good insights in making decisions on life's turning point. Big decisions should never be done hastily. Some decisions can either make or break someone that is why it is always best to exhaust all advice and guidance to make sure the right decision is made. Psychics can provide insights on the future and see what decisions lead to what. They can also analyse the past to know what led in the events that happen in the present.
Remember that psychics can only give sensible advice not decisions. Decisions are still in the hands of the seeker. Psychics can only help make decisions but the last say will never be theirs. It is always good to consider what psychics say because these are good insights but should never be blamed when something goes wrong. The guidance of psychics should never be treated as the ultimate solution to a problem because at the end of it all, an advice is still an advice.
This psychic site and its owners are not liable for any direct, indirect, incidental, consequential, or punitive damages arising from using this site, the psychic contractors listed on it, or its content. By giving us your email address you agree to allow us to send you occassional maketing materials. We will never pass your details to another company.
You must accept and agree to our Terms of Use before using our services.
CALLING FROM OVERSEAS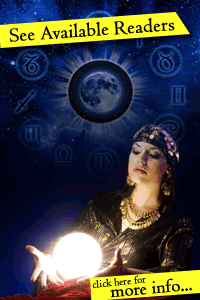 PSYCHIC RELATED TOPICS
Genuine Psychics can help you find solutions to any stressful situation