PHONE CHARGE
Mobiles/Payphones higher call rate applies.
SP: Access Positive
CALL NOW FOR GUIDANCE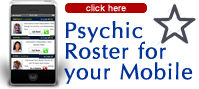 Money Back Guarantee
If you are not happy with the reading we will give you a Full Refund. This is only available for credit card clients through the auto and manual credit card service. Please call the Helpdesk on 1800 222 362.
Horoscopes Archive > Daily Horoscopes 29 - 31 May 2013
Daily Horoscopes
29 - 31 May 2013
29 May 2013
Aries
You say what you think today and you are very direct. That's beautiful but try to control yourself a little bit. Others could feel threatened by your fierce performance. If you are single there is a big chance you bump into a new love. It won't take any effort to show your feelings. Your serious and responsible side has taken a day off today. You are ready to laze around and party!
You feel alive!
Taurus
When a challenge crosses your path, you need to accept it. You will do great. You can accomplish more than you think. You might put yourself more out there afterwards because you know what you can do. Today you want and expect too much. Not just from yourself but from the people around you as well. That doesn't always work out well. Try to be realistic in your demands. Fortunately things are going well financially.
Believe in yourself!
Gemini
You don't have to say no to that one little pleasure tonight. You can spoil yourself once in a while. Take your time for it though and enjoy it. You won't know when you will have the time again for such a nice evening. It's a favourable day for anything that involves money. You could get a stock exchange tip or some information about real estate that can work to your advantage. Take decisions based on practical information. Emotional involvement will only have a negative effect.
Control your feelings!
Cancer
If all you do is work you will never be able to relax. Take your lunch outdoors and breath in some fresh air. You have a lot to do but you don't have to exaggerate. Don't form an opinion so easily. Accept that not everyone always agrees with you. Today could bring the end to one job and the start of a next. It's time to finish things up. Don't hesitate and don't let things just happen.
Make sure you reach that deadline!
Leo
Make sure you get as much as possible done in the morning because you will loose your energy as the day progresses. Go on, make a to-do list and work on it as quickly as possible. Focus on what is within and get in touch with your creative instincts. Today events from the past could suddenly become a part of the present again. Stay in the present because it has no use to drag everything back up again. Don't let anything throw you off balance.
Work first, play later!
Virgo
Even though usually you never just rush into anything, today you could start an unwise adventure. An attempt to quickly get rid of your debts will probably cause some problems. At home you are trying to sort things out as much as possible. It feels good to clean up things. You are entirely there for someone in your family and it will be appreciated as well.
Don't just jump in!
Libra
Your friends could be unexpectedly selfish today. Your patience will be really tested because of this. Try to find a diplomatic way to let them know that they have gone to far. And don't give into that anger because it will only lead to fights. Think about something happy when a gloomy mood tries to take over. A face that is too serious will bring everyone down.
Stay positive!
Scorpio
You would like to hide under the sheets and stay in bed. Unfortunately that's not possible and you should accept that things don't go as you want them to go today. The upcoming period you will see that everything will be possible. Plans that you come up will receive support. If you are single you can meet the love of your life. Don't loose yourself though. A new creative project has everything to become a great success.
Go for it!
Sagittarius
Don't let any opportunity to be constructive with a team pass you by. The feeling of working towards a common goal will bring out the best in you. Leadership, courage and intelligence will get the chance to prove them. You can win most of the people for you with a little tact so this project is surely worth trying. It would be nice if you can all fit through the same door. That would mean a lot of progress for your career.
Work, work, work!
Capricorn
You don't know what to choose today. You doubt everything! What you have to wear in the morning, what you're going to eat and with a little bit of bad luck you'll even start having doubts about your relationship. Don't do that! Just don't make any important decisions today. You quickly think that other people have more beautiful things but it would be best to stick to your own taste. You could feel a bit uncomfortable when you take over someone else's style. It doesn't fit with you.
Be yourself!
Aquarius
When you have something to celebrate it can become very expensive if you invite the entire family. It might be a good idea to just invite the closest loved ones. Maybe you can even plan a weekend away with them. It's possible you receive a message from another country. It will make you happy because it's a positive message. It might come from friends that are on holiday or it involves a special order.
Celebrate life!
Pisces

If there are still some undiscussed issues between you and the people you care about, take the initiative to start talking about it. Don't think it will just go away because it won't. It will only become a bigger obstacle. Do you have plans to clean up your house or to start exercising more often? You've picked the perfect day for it. You are full of energy!
You can do anything!
30 May 2013
Aries
You and your partner have different opinions about something. Don't try to push through but agree to disagree on this. It is important that you respect each other's point of view. Evenings out, parties and contacts with others will be pleasant and easy. It all stays a bit superficial though while you actually need a good conversation. Don't wait for it. Just say what you want to talk about out.
Don't stick to the surface!
Taurus
You had things planned to do today but the weather might interrupt your plans. When you have to postpone it, make sure you still do it at a later time because it would be a shame not to do it at all. Plan a new appointment straight away. It wouldn't hurt to invest more time in others. You are very occupied with yourself. You could be important to these people.
Be supportive!
Gemini
Someone dear to you has a narrow escape. You sigh with relief when you hear that everything is fine. Fortunately it ended this way. When you want to go ahead with that plan no matter what, you will have to put your foot down and be stronger. The way you are acting now you won't get far so change your strategy. Why don't you plan a day away for a change?
Cherish the small joys in life!
Cancer
It takes a lot of effort to get everything worked out around that situation. It is important to pay attention to the details. Read everything three times before something goes wrong. You are scared too easily especially when it concerns your health and that makes you insecure. Some people will be in your way today and this really irritates you. You work so hard to reach something and don't want to be stopped by anyone.
Keep following your own path!
Leo
You often say A when you actually mean B. That's not very practical. The other person doesn't know what is going on and you probably get lost as well. Just say what you mean to say. You don't lack any confidence today. You feel as if you can take over the world and that attitude lets you succeed in a lot of things. There will be some laughing by you and with you. It's a positive day!
Hold on to this vibe!
Virgo
If you are single you can suddenly feel attracted to an unusual or unique type of person but it will blow over soon enough. Don't pay too much attention to it. It doesn't really have a chance for a future. You have an enormous need for intimacy and physical contact today. Notify your partner about this. (S)he might not be aware of this at all. You really enjoy being with your family today.
You need love!
Libra
If you want to go your own way today you will bump into a lot of resistance and criticism today. It's up to you. Stay calm, whatever you do and ask yourself if it's possible to make a compromise with the person whom is involved. Use the powers you have. There are some positive changes heading your way especially if there have been some delays lately. Let others know what is going in your mind and your heart, especially if you have something important to say.
Speak up and be heard!
Scorpio
There are some contradicting influences in the air today. You have felt them for a few days now and it stays this way. You could experience that every time a goal comes within reach something sabotages it. Money and friendship don't go well together. Don't take on too much work. Even though it's a regular workday doesn't mean you have to give all that you have got inside you. Control yourself and postpone less urgent matters if it's possible.
Be firm but kind!
Sagittarius
You think a lot about home, family and youth today. Try to find out if these themes have something to do with the problems you bump into when love is involved. Important insights wait for your arrival. You are a little bit in your own way today. Try to prevent that as much as possible. If someone does something for you just be happy about it. The best chances for success will come by in the late morning.
Open your mind!
Capricorn
You can have to deal with something that involves school (again) today. You might start a new education or you have to arrange something for a child that still goes to school. Handle it with care because it's a choice that will have a lot of consequences. Do something for someone else more often. That feels great. All things in life have a meaning so it's more useful to let your feelings rule over your mind at the moment
Listen to your heart!
Aquarius
Aim high because you underestimate yourself. Rise above everything. Why wouldn't you? You have worked hard enough for it and the results will follow eventually. You are going through a lot of changes within. You will have to keep a good eye on financial changes as well. Fortunately things will be better again in the near future.
Be proud of what you accomplish!
Pisces

Be good to others today but don't exaggerate. People could abuse your friendliness and it's not a good feeling if you have gone out of your way for something while it was completely unnecessary. You will be helped by someone to start working with your passions. All eyes are focused on you and your brilliant ideas. Remember: no mistakes can be made where nobody works.
Dare to take risks!
31 May 2013
Aries
You just don't seem to succeed in motivating that unwilling person and that can really frustrate you. Have you tried with a compliment? You still catch more flies with honey than with vinegar. If you are wise you just accept the situation from the moment you see that (s)he is not willing to listen to reason. Save your story because there will be a time for you to tell it. It's just a matter of time.
Your time will come!
Taurus
By taking one step at a time you might be successful today and you can influence others. You feel a bit overactive. You should vent for a bit, maybe you can go to the gym. You will get a phone call that brings back a lot of memories from the past. You don't feel so good about it because it's what you were trying to close off. There's probably a reason that this comes up again now.
Find closure once and for all!
Gemini
An emotional problem can be solved easier when you are honest about your needs. And then you should be completely honest with yourself too. That's easier said than done of course. Even though the weekend is around the corner, you're not going to sit still. Everything you still want to finish or handle will come by. Make sure you don't take on too much work. You will benefit the most if you slow down a bit.
Talk about your wishes!
Cancer
You are getting too carried away and everyone who tries to stop you should protect his/her shins. Get out of the way. Nobody has to nag about being patient at the moment, there is another time for that but not today. Now you punish the person who comes up with such things. Several different people will encourage you today and that gives you the strength to make it. You can count on the necessary applause at the finish line.
You are going for it!
Leo
Even though this can be a worrisome period there is some success today. If you can stay calm and positive you'll be able to catch some happiness. A move can cause some tension because of the lack of time and money. You could be bothered by restless nights. You can prevent this by exercising outdoors. Parties and dates are very promising. Enjoy it.
Take a deep breath!
Virgo
Think about your safety. Check your house, your car and your possessions. If you are going to a different city make sure you pay attention to pickpockets. Be ware of the possibility of theft on very crowded places even if you are on familiar territory. Try to control the stress level today. Leave for home earlier than usual if you have an important appointment. It could seem useless to try to impress someone.
Just be yourself!
Libra
You have a lot of energy and decisiveness today and you would prefer to do everything yourself. Your colleagues might feel a bit left out because of this. Involve them in your plans! Try to stay patient even when messages are not coming through well and you have to deal with misunderstandings. It's just a matter of bad luck and it isn't caused by something you did.
Don't blame yourself!
Scorpio
You could make a remarkable step in your career that will be the start of something unstoppable. A (temporary) job opening will give you the opportunity to show what you are capable of. Try to do better than your predecessors. You do understand your partner but you can't really sense him/her. That could give you some problems today. You should slow down financially. You are starting to look at an empty bank account.
Take the jump!
Sagittarius
Especially things that involve work can make you very tensed. Make sure that you don't have to take any professional decisions today or have any meetings. Your physical condition is a bit weak at the moment. Annoying emotions like possessiveness and jealousy will disappear to the background again. Get rid of that narrowness as well. Today is meant for carelessness and freedom.
Seize the day!
Capricorn
You are busy with social things today. It's time to let go a little bit and to have some fun. Gather your best friends and do what you feel like. There is more in life than work and ambitions. Responsibilities will demand attention. It doesn't mean you have to be on the work floor the entire time but you will think about your life and career. Rewrite your resume or come up with a course that can give you a head start.
Find the balance between work and play!
Aquarius
Recognition of or appreciation for your skills can make you feel happy. You could suddenly have to make a decision about an opportunity you didn't count on. Pay enough attention to important changes. It's better to be safe than sorry. You can get some financial benefit out of it. Following a new business trend will be favourable if you own a company. Pull up your sleeves and get to work.
Control the tendency to exaggerate!
Pisces
You can realize that a bird in the hand is worth two in the bush. The prospect of a new job is exactly that: a prospect. The possibility to earn some easy extra cash is too risky. A feeling of rest and emotional stability comes over you today but unfortunately it doesn't happen to the rest of humanity. Most people find this mood confusing and become even more negative.
Avoid negative people!
This psychic site and its owners are not liable for any direct, indirect, incidental, consequential, or punitive damages arising from using this site, the psychic contractors listed on it, or its content. By giving us your email address you agree to allow us to send you occassional maketing materials. We will never pass your details to another company.
You must accept and agree to our Terms of Use before using our services.
CALLING FROM OVERSEAS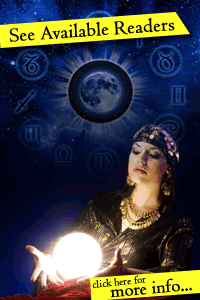 PSYCHIC RELATED TOPICS
Genuine Psychics can help you find solutions to any stressful situation