PHONE CHARGE
Mobiles/Payphones higher call rate applies.
SP: Access Positive
CALL NOW FOR GUIDANCE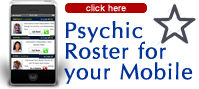 Money Back Guarantee
If you are not happy with the reading we will give you a Full Refund. This is only available for credit card clients through the auto and manual credit card service. Please call the Helpdesk on 1800 222 362.
Horoscopes Archive > Daily Horoscopes 1 - 7 January 2013
Daily Horoscopes
1 - 7 January 2013
1 January 2013
Aries
All eyes are focused on you. Pretend you are walking on the red carpet and it will become a lot more fun. Don't stay at home tonight because you are more attractive than ever. You'll be surprised in more than one way. You could receive a special e-mail or a heart-warming encounter. Try to control your impulsivity a little bit more today. If you don't you'll take on too much work again and you won't be able to find any rest.
What a great way to start the new year!
Taurus
Activities and details concerning your family will occupy your mind today. If you have been neglecting your loved ones because of your career, you'll be able to find a way to make things right again. It's going to be busy and you'll have to make an effort. You don't have a problem with that but you'll get exhausted. Make sure you relax enough at night because the same thing will happen again tomorrow!
Start anew!
Gemini
You score a great bargain and that makes you happy. You don't lack any confidence. You don't doubt your own abilities. That will bring you far in your career. You have a problem with saying no to snacks. You could have to deal with anger and impatience and also the urge to just dive into an activity without thinking about it first. This is no day for business, especially not when it involves travelling.
New things are waiting for you!
Cancer
The people around you are convinced of your artistic talents and if you don't see it yourself, you should believe them on their word. Use your creative ability and save more time for yourself instead of helping others. You wanted it more than ever a year ago, but you couldn't get it then. Now it is right in front of you. Are you picking it up? No, because you realize that it is a part of your life from back then and not a part of your current life.
You can start a whole new life!
Leo
Impatience and anxiousness could make you feel as if you're under a lot of pressure. Control your urge for freedom and your impulsivity. Don't take any rushed decisions. Changes are coming. Fortunately they are very open-minded at work or you wouldn't get away with the mistakes you've made in the past. Unfortunately things are the same concerning love. You just say what is on your mind without thinking about the consequences. It's not a surprise you aren't able to seduce anyone.
Think before you speak your mind!
Virgo
Open up to the creative qualities of your subordinates and employees. Have faith in their vision by giving them the tools to accomplish something you wouldn't be able to do on your own. That will have a beautiful result. You feel as if you can take on the world and you finish your work with ease. You know how to transfer these feelings onto others and they have become happy because of it. You notice that and it makes you feel good.
What a great start!
Libra
The time you spend in peace at home is spent well, even though you could be disturbed. An unusual dream could offer the solution to a recent problem. Talk about it to someone who has an objective view on things. It is going to be a hectic and restless day. Fortunately you can handle that very well and you know how to guide everything well. An interesting development is happening at work. Try to find out how you can gain some advantage from it.
A fresh start!
Scorpio
If you drink alcohol today it will either make you feel sick or you will spend a lot of money. There is still a big chance you'll be betrayed in love. Fortunately fantastic people that are there for you surround you. It is a good day to be at home and think about your life. That might sound deep but it isn't so hard. It is necessary that some things are cleared up for yourself. That will give you the chance to make better decisions.
Think about what you want in life!
Sagittarius
Try to shape your own ideas even when the people around you want to interfere in your business. You'll be successful if you think inner values are more important than outward appearance and if you try to achieve your goals with this attitude. Creative thinking and imagination can result in a successful promotional campaign. You can score the maximum if you combine your intelligence with your talent of knowing what people want.
Use your intuition!
Capricorn
Inspiration will come by today. You are full of energy and you feel ready to conquer the world. It could be quite overwhelming. Keep pen and paper close to note down your brilliant ideas. Try to do something completely different than you usually do when you're taking a holiday. Be very active or chose a special way to spend the night. You will notice that you'll be pulled out of the daily routine.
Start the new year by doing something new!
Aquarius
You could have to deal with power struggles today. That isn't a problem if you are the one in control. You do have the feeling though that the other person manipulates things and undermines your authority and that isn't a pleasant feeling of course. Keep in mind there might be some confrontations. Guilt, jealousy or the wish to manipulate other people's feelings can pop up today. Realize that people have different values.
Live and let live!
Pisces

Try to control yourself if you feel like exploding out of irritation or frustration. You might have made mountains out of molehills. Make sure your interference isn't explained as curiosity when you go out and help someone. You could have a hard time trying to sleep. You are tossing and turning. Try to find a solution for your problem and you'll sleep like a baby again soon.
Talk to someone about what is on your mind!
2 January 2013
Aries
It is a suitable day for professional transactions and activities that have a financial component. It's also a good day to make plans for a renovation or to make an inventory of your possessions. Clean up your house as well. Something unusual that you never experienced before can put you in an alert state of mind. Be aware of the relentless feelings you sometimes have toward others. Try to avoid confrontation. Grievances should be discussed.
Get rid of the clutter in your head!
Taurus
After a period of ups and downs and sudden shifts you are finally getting some steady ground beneath your feet again. You can start working on a profitable project. It's all about progress. It is important to minimize the damage as much as possible. You love children a lot. Make sure you don't spoil them too much. The social life of your offspring keeps on demanding more and more attention. You will notice it is important to set your boundaries.
You are finding some balance again!
Gemini
The universe will pay extra attention to communication in the weeks to come. You will be involved in negotiations and discussions and will be buried in paperwork. Make enough time for your family. You will have to handle anger and impatience. This is not a day to force things especially when it concerns love. Stay calm and try to solve things without getting upset.
Spend times with your loved ones!
Cancer
Things are working out for you today. Just make sure you don't take on too much work because your body won't be able to handle that and you'll start making unnecessary mistakes. Things will get very cosy with your friends and your partner. They like being around you just as you like having them around. You feel good in your circle of friends.
Don't outrun yourself!
Leo
There is a big chance you invest a lot in something and you won't get a lot in return. You keep on trying to climb the mountain even when it's too steep to climb. Let go and go your own way. Don't try to force anything to happen. When you let go you'll realize that you have been working for others the entire time and not for yourself.
Be a little bit selfish!
Virgo
It could be hard for you to stay courteous and diplomatic. You could step on some toes. Apologize when it is necessary. Be aware, at all times, that the ones in charge could sabotage your plans. You are very popular at home and at work. You show up with new ideas that you are allowed to execute as well. Everyone is enthusiastic. It will be mystical and magical, just as you like it.
It's magic!
Libra
If yesterday was fairly quiet, today could be the complete opposite. There is a big chance you'll have to go to a lot of appointments. During an important meeting it will be important to talk about every little detail in detail. Friendships are as important as the quest for a partner. Don't dive head over heals into a steady relationship. If you have a partner, you need more harmony and stability.
Don't skip any detail!
Scorpio
This day is dedicated to sleep and other subconscious issues. That makes you crave beauty and imagination. You might stay in bed all day or your life might become extra dream. Whatever happens: use your imagination! Whatever your feelings are telling you, it is important to manage your money in a practical way. On one hand you want to spend as much as possible, on the other hand you know it's not wise to do that.
You are living in a dream world!
Sagittarius
You can encounter some scary forebodings today. It could involve a partner, your job or a trip. Keep your wits at it when a disagreement threatens to make you do something that makes things even worse. Try to free some to time for yourself but don't forget your partner or good friends either. You see each other in daily life but that's not the quality time you really have to spend with each other.
Don't be impulsive!
Capricorn
You won't have any problems with changes. Think about it beforehand though especially if it is going to be heard to undo later. Think about the long-term consequence if you get offered a higher salary for a more boring job. If you are single you don't have to be afraid you will end up between the sheets alone tonight. That chance is incredibly small with how you look tonight. You don't have a lot to complain about either when you are already in a relationship.
Be wise with your money!
Aquarius
Everything that has to be put on paper will go smoothly, whether it has to do with a sale, a report or literature. Today is also suitable to change your looks with a new hairdo or a fashionable accessory. It won't take any effort to help out the ones in need but you could take on too much work. New acquaintances could try to involve you in a situation that they are in with someone close to you.
Don't interfere!
Pisces
It is a good day to take some time for yourself. You will do yourself and the people around you a favour. Your work is a great outlet. You can dedicate your time to it and the results are worth it. That motivates you. The upcoming time you will receive a lot of attention and you are able to show your love and affection. Enjoy the simple things, like walks in nature. Emotionally you are strong and you'll be creatively inspired.
Love is all around you!
3 January 2013
Aries
You have a great idea to handle money in a different way. Don't doubt, just do it. You are also very idealistic. Nothing is too crazy. The sky is the limit. To avoid disappointments it's advisable to use your realistic mind from time to time as well. When you have been to a job interview recently you can expect a reaction. That is the first change in a lot of areas, ranging from work to love.
Ask for help!
Taurus
Because of the bad things you are experiencing, you sometimes forget how many nice and fun things you find on your path. At work you are, once again, being impatient. All you can do is just accept that things aren't moving so fast. Some irritations could come up in the family. And that's where your weak spot is. Communicating could be very tough for you from time to time. Awareness and growth are your biggest challenges at the moment.
Be a little patient!
Gemini
It would be nice if you could create some space for yourself. That way you can take a look at things from a distance and see what really is important to you. After that it's just a matter of setting priorities. It's important to let others know about that as well of course. Stand up for yourself if an autocratic elder wants to outline your future for you. Explain that you want to accomplish your own dreams in your own way.
Find out what matters to you!
Cancer
Keep a shoulder available for when friends or colleagues want to cry. Your sensitive but practical vocabulary will guide and bring wisdom. People could insist that you are present at social activities. This is not a day to be stubborn. It will become a nasty struggle for power. And you're not prepared to loose this round. Try to prevent these kinds of situations because you won't feel a lot of pleasure if you win.
Just give in!
Leo
A nice encounter will bring a lot of pleasure but could also be useful. You will receive an offer you can't refuse. You'll probably even get the necessary help as well. You are tiptoeing through life but if you do that for a long time you will get exhausted. Mentally and physically. You might not see it right now but it is slowly happening. One task will be enough to tip the bucket then.
Take time to relax!
Virgo
Today the focus will be on your work and your daily routine. It's a suitable day to start a diet if you are a little bit too heavy. Pick healthy food over a hip diet and get rid of sugar, coffee, fast food and alcohol. The mood isn't always pleasant at home today. You and your family members aren't on the same wavelength and giving in just isn't your thing. It would be better if you do give in this time though. That's the only way to save the evening.
Don't be so stubborn!
Libra
An older woman will play an important part today. She demands all your attention. This could be negative or positive. Set your limits on time. Some things will come on your path and this will shift your focus to your home. Let the rest just be what it is. Make sure you get enough information before you buy a new car or computer. Compare prices. Offer people a helping hand if you want to fit into a new environment.
Be informed!
Scorpio
Work is the main theme of today. You can get more done than usual so you even start doing tasks that you usually find boring. You work through it in no time and later on today you'll find the time to do things that are really important to you. There are some good perspectives at work and in love as well. A great romance is in the air. Don't forget to pay enough time and attention to that.
All work and no play.
Sagittarius
This day is meant for silencing the hunger for peace and reflection. Dreams and symbols are very meaningful and you feel like thinking deeply about things. Listen to your intuition and take your feelings seriously. Are you sure you are not just attracted to the novelty of that decision? Or are you telling yourself that whatever it is, it is better than nothing? Give yourself some time to get used to the idea before you commit to something.
Don't rush into anything!
Capricorn
Do you feel the passion in the air? You are creative and unstoppable! If you are looking for fun or love, recognition or art: this is the time and the place. Your social life gets wings. You can't notice it? You are not trying hard enough then. It is wise to take time and take a deep look inside yourself. Try to find words to explain your feelings. It would be a good idea to write them down.
Don't bottle up your feelings!
Aquarius
Socially you are a rock star. With your sense of humour and great ability to establish contacts you turn every gathering into a cosy event. You steal the show and the opposite sex notices you. At work you are popular because of your original and creative way of thinking. You come up with a solution for a tough problem. Your relationship is finally getting out of the rut. You know how to make your partner very happy by a spontaneous initiative.
People love being around you!
Pisces
Don't worry: the tensions that are there now will be over in no time. You are entirely ready for the things that are coming especially in the career field. Make sure you make progress with your projects. The stars are sending you a warning to pay attention to your money. Watch out for thieves and salesmen that are smooth talkers. If something seems too good to be true, it usually is.
Keep an eye on your money!
4 January 2013
Aries
You'll be pretty busy most of the day. Keep your long-term goals in mind now that an opportunity comes by to achieve a special goal. Take a look at your financial situation and don't be tempted to cross the limit. Tasks await you that demand vision and imagination. Postpone everything that needs logical thinking until later. It could be a real test for your patience and decisiveness to separate facts from fiction.
Be happy about creative opportunities!
Taurus
On one hand you would like to stay at home today. On the other hand you are stimulated by your professional ambitions. Try to equally divide your time between the two and don't drive yourself crazy with it. You hate being torn between the two but unfortunately there is not a lot you can do about it. Make time for your work without neglecting your personal life. It is possible. It's just pretty exhausting.
Catch your breath!
Gemini
Postpone work that needs your full attention until another day if your concentration isn't what it is supposed to be. Dreams or memories could make you worry. Matters of the heart will improve. Follow advice with care. You can react strongly if people have other opinions but make sure you realize what you are saying when you are angry. Keep your both feet on the ground when you're just starting a new romance. Avoid situations that could lead to jealousy.
Listen well to others!
Cancer
You have let things simmer for a while but you have to start acting now. You don't have to do it all by yourself of course. You can ask help from someone close to you. You might not have left the country for years but people will knock on your door for the necessary information about culture and philosophy. It feels great to be a guru.
People count on you!
Leo
You have a lot to do but you also have the energy to get it done. You feel good and you notice it. At work things are going great and when it comes to love you have nothing to complain about either. You wouldn't mind having more days like today. This will be a lucky day. You will have to deal with a new challenge or a windfall. It is important that you grab that chance or someone else will take it. If you are single you should take the initiative.
Grab every opportunity!
Virgo
Your need for security and stability could be a test for a love affair. Family issues can easily be solved at the moment and if you are brave enough to take the first step it will lead to good results. Romance will be confronted with zeal and zest for work. People around you can vent some shocking opinions and you will have to be strong to keep on standing. You can handle a hard task due to a new approach.
Stay strong!
Libra
If you haven't slept well you will be up early this morning. Go for a walk and you'll find your energy again. Hard competition will encourage you to try even harder. Gather your courage and accept responsibilities. The sky will clear up quickly today. Finally things are starting up again. You feel as if time stood still for a while but fortunately that will change now.
You can execute your ideas!
Scorpio
You will be more and more convinced of the success of a project when details become clearer. A lot of things can still change and that will make you nervous. Tomorrow you can win when you maintain your position. It is a good time to think about your financial goals and wishes. When you have postponed big financial decisions, today is the right day to make a decision.
You feel a bit stressed!
Sagittarius
People can jump to the wrong conclusions when someone is judged by his/her looks. Don't be too critical. Give the other person a chance. Be open to any relevant advice from people who have experience in these matters. You're not someone who quickly forgives and forgets, but now if you want to proceed, you will have to. Let go of your frustrations, otherwise you could even get physically ill from it.
Don't be judgemental!
Capricorn
It is going to be a promising day! You can make a lot of progress. Look at the world with optimism and enthusiasm. Let carefulness and facts lead you and don't dive into an unrealistic project. If you are looking for work you will get more than one opportunity in this period, maybe even in a foreign country or an international company. Financial opportunities will come by.
Things will become more peaceful!
Aquarius
You could have to deal with a lot of people and you will have to try your best to please them, whether they are clients or friends. Don't share your sorrow with a random person but with someone you can trust for a hundred percent. Interest in social change can induce you to join a local group that works for improvements in the environmental field. If you work honestly, it will have a positive effect on your reputation.
Don't trust just anyone!
Pisces

A restless vibe is in the air and that will make you do all kinds of weird things. You feel like being rebellious today. Be careful not to make any rash decisions that you will regret later. Every now and then you will have to think first. At work commitments and responsibilities could start to weigh heavy. It is a good time to discuss any problems with your boss.
Think before you act!
5 January 2013
Aries
It would be wise to check things at least three times before repairing things or doing some other chore. Before you realize it you have done something wrong and it can't be fixed. It might be a good idea if you ask someone else to have a look because four eyes are better than two. It is time to conquer the world. Even the smallest actions will be successful. It's not the right time to be a wallflower. The more you promote yourself, the more you will get done.
Put yourself out there!
Taurus
Philosophical concepts currently influence the collective conscience. As a result of news that everyone is talking about or a local event, you may wonder what the meaning of life and your place in the world is. Talent and money are not interchangeable. Talent will often be rewarded with money, but if there is no talent, you can't buy it no matter how much you are willing to pay for it. Don't let financial pressure sabotage your ideas.
Use your talents as much as possible!
Gemini
You're very occupied by transformation. It is time for change. Let go of old routines. Everything that no longer serves a higher purpose should go. Just cut those ties. You will discover that you won't miss them. You still have a few bills that need to be taken care of, or you were actually saving up for that one big thing. Resist spending it all at once, and you'll be able to continue with your plans and you won't get into any troubles.
Watch your money!
Cancer
You are a great friend to your close friends. You are at the same wavelength with your partner as well and that will create some romantic moments. Socially, this is going to be a wonderful day. You could start doubting that one decision if you are a bit emotional. That has happened before. Don't be so stubborn because everyone can make a wrong decision now and then. Don't be afraid to admit it.
Right your wrongs!
Leo
Try to fill your days with things that cost little to no money. Go for a walk in nature more often or drink a cup of tea at home with your friends. Try to save up well now. Today you are completely ready to go. With your legendary perseverance and endless energy you will get rid of any obstacle without making any effort. All you have to do is to begin. You could create some enemies when you keep on pushing.
Save your money!
Virgo
Your mood is excellent today. That's partially caused by the fact that you can enjoy the smallest things. You even see the beauty in things that aren't quite what they should be. Isn't that great? Today you have time to really enjoy and you can enjoy all kinds of things. Be a little bit less serious and turn everything into a game tomorrow. That will be good for your slumbering relationship.
Fire things up!
Libra
Don't stick so tight to your schedule. It might seem practical but sometimes it's better to just see how things go. Other people can't always adjust to your tight planning either. You could get emotional. You will be a bit upside down because of something a friend says. Maybe you should think if the time has come to end the friendship.
Sometimes you have to let go!
Scorpio
You are very diplomatic. It is a good time to make amends. You will be busy, whether you like it or not. Everyone wants to hear something but the carefully chosen message won't reach him or her. That's a shame. Tomorrow is another day. This is a great day to do something extra with your money. Think about investing it, for example. Buying a house or a nice peace of art is also a possibility.
Don't get frustrated!
Sagittarius
Your shy attitude makes you attractive. You will finally score that date you have been waiting for. It took some time but now it's finally happening. Don't forget to enjoy because you're nervous. A lot of things are happening at the same time. Love and your sex life are the main theme today. You feel butterflies and that feels wonderful. You are full of ideas and you would prefer to flip the whole house upside down. A good friend doesn't support you.
Don't be disappointed!
Capricorn
Don't close any loans in the next period if you're not sure about how it will be repaid. Don't conclude everything is going to be okay too quickly. You are perfectly capable of voicing your emotions today. Your partner and/or family is very happy about that. That creates clarity and security. It is a good time for a weekend get away or a trip. You need to get away from things for a bit.
Take time to reconnect with yourself!
Aquarius
Your organizational skills are very useful right now. You know how to guide things into the good direction, personally and professionally. You will gain a lot of respect from the people around you because of that. You can make time for your hobbies now if that's what you want. A peaceful weekend awaits you, without much development. Cook an extensive dinner for family and/or friends.
Cherish your loved ones!
Pisces
If you want to prevent irritations you will need exercise and some fresh air. When you stay inside for too long and don't do anything, you'll only get frustrated. Unfortunately your health isn't really strong at the moment. Before you realize it you catch a cold or the flu. Make sure you eat healthy and have a healthy way of life. Take enough time for yourself to prevent saying things you'll regret later on.
Think before you speak!
6 January 2013
Aries
Make sure you have enough distraction this Sunday. You will find it with your friends or at the gym. A lot of things are happening in your life right now and you need a way to vent or your health will start to suffer. Fortunately there is a lot to laugh about as well. Something big is waiting for you. You can probably feel it coming. You are impatient but you will have to be patient a little longer. The big news will arrive later.
Prepare for something big!
Taurus
It is not wise to throw a fit and ruin your chances. You will also ruin your personal chances with certain people. They will no longer easily defend you. You like being occupied but that's not going to happen today. Some quiet days are waiting for you and just the thought of that is making you restless already. Make sure you have something to do.
Stay calm!
Gemini
Everything goes smoothly in your life today. So there might even be room for more than just your own activities and obligations. This ensures that the needs of others will automatically stand out more to you. You want to make big changes. Still, it is better to do nothing definitive. The chance that you want something different tomorrow is big. Even your love life is erratic. Let it rest for a while.
Don't make any life altering changes!
Cancer
If you still have some money to spend today is the ideal moment to get away for the day. You have worked really hard and you know you need it and have earned it. You can take some drastic measures today when you're so impulsive as you are now. You actually do it from a feeling of rejection and disappointment. By making problems debatable and making decisions when in doubt, you solve your problems.
Enjoy the fruits of your labour!
Leo
Your effort from the past few weeks will be rewarded today. And it should be rewarded. You have been walking around with a few creative ideas for a while now. You haven't done anything with them yet but now it's time to take action. You are in great shape. You and someone else are acting quite complicated. The ambiguous remarks are piling up. Even though you are good at playing this game, it kind of sucks. It will stop the moment you no longer go along with it.
Get to the point!
Virgo
You are very active and venturesome and you enthusiastically dive into new projects. You follow your intuition and if you want to use it in a practical way you won't have any problem doing that. If you are single you might experience a beautiful encounter today because Cupid is by your side. You won't be alone a lot today. A lot of visitors will drop by or you will go and visit someone.
Go out and have fun!
Libra
Today is going to be a great day in all kinds of areas. If you receive an unexpected invitation to a party don't automatically assume you have no business there. They might just like you as a person. Keep on admiring your secret crush from a distance for a little bit longer. Your time will come but you have to take your time for it. Go out and have dinner with someone tonight so you can distract your thoughts.
Accept what comes your way!
Scorpio
You are a good listener but that's not always the case. It's nice you will succeed in listening this Sunday because this makes you a very appreciated friend and partner. Your help and advice will be asked for. This flatters you. Fortunately you will do anything to be there for others. You feel like being alone. Maybe a retreat is asking too much but putting on your headphones to block out the noise is always possible.
People will come to you!
Sagittarius
You are avoiding the problems with your partner. This is only postponing execution though. Find out what really is going on between the two of you. It could turn into a very rushed day. Your social life will demand a lot of your time. Your friendships are working out and someone may ask you to enter a partnership. Pay extra attention to the way you communicate and make proper arrangements to avoid ambiguity.
Write things down!
Capricorn
Try not to take the sorrow of others on your shoulders today. Sometimes it's wiser to give up on something, no matter how unnatural it feels to you. Some things just aren't meant to be. There will be some sudden romantic encounters today. Add the unexpected invitations to that and you will feel over the moon. Keep in mind that this is going to be a period with little stability.
You are running from here to there!
Aquarius
It's going to be a dreamy day. This day is all about new experiences. There is a big chance you project your own ideas and ideals onto others. There is nothing wrong with fantasizing but you need to stay a little bit realistic. How much excitement can you take? A new relationship will bring entirely new experiences and that makes you long for more. You do realize that the more you give in to it, the closer you are getting to the limit and that feels a bit uncomfortable.
Step out of your comfort zone!
Pisces

This Sunday is the ideal mix of romance and friendship. You might meet up with your loved one or your best friends. You might find love in your circle of friends. You will get a push in the back. Toda you decide how the day will progress. A quiet day awaits you. If you don't take any initiatives, it will stay quiet as well. If that's your goal, just let it happen.
Sit back and enjoy!
7 January 2013
Aries
Someone you trust could fool you today. Learn a lesson and only listen to advice from experts from now on. Ask what is wrong when the attitude of your loved one is making you feel insecure. You might struggle with your health for a bit or you constantly feel tired. Don't keep going the way you are now and don't fill up your entire agenda. Your body is screaming for some rest. It is up to you to listen to it. Financially you can suffer from a setback.
Read the signs!
Taurus
You have butterflies in your stomach today. You are being helped by a load of social plans and invitations. You probably won't have a lot of time for yourself but you don't really need that either. It seems you have ended up in the background for a bit. You aren't that shy, are you? You should step into the light more often. Go out because it's time to meet some new people.
Expand your circle of friends!
Gemini
Someone urgently needs your advice today. Help him/her out. You can put a part of your money aside for a while so you can benefit from it in the long run. Treat yourself to a small something and be happy. It will give you a lot of satisfaction when you do something for someone else. It is nice to see how someone else reacts when you do something for him/her. You should do that more often.
Cherish your loved ones!
Cancer
It is a good day to think about yourself. Where are you in life? Are you happy about that? You are allowed to dig deeper than the usual surface. Submit yourself to a very critical investigation. Despite your good intentions things just don't want to work out in love. If you are single you don't succeed in scoring a date and if you are in a relationship your partner doesn't understand you. Let it rest for now.
Everything is going to be okay!
Leo
It is wise to consider your mind in your decision but eventually you have to follow your feeling to go along with something. Ask yourself which one is more important to you and you know what you have to choose. You can count on success in relationships today. This will cause smooth conversations with your loved one. You effortlessly exchange your information and ideas. And you don't have to worry about saying the wrong things.
All you need is love!
Virgo
You will make the best out of today if you listen to your intuition. Approach obstacles from an unexpected corner. You can count on a breakthrough if you listen to unofficial sources. A message could feel as if a bomb struck. You have enough self-discipline today. Because of this you will get a lot done. It is a fine day to make plans for the future, financially and professionally.
You know what you want!
Libra
A friend may ask you to mediate in a troubled relationship. Without any doubt, you can do a lot but it will take an effort to remain impartial. If you are studying you have to be persistent but don't add too much. The stormy ocean will calm down a bit but a new storm is already approaching. You control the waves now. Health and fitness aren't your favourite things today.
Brace yourself!
Scorpio
As the day progresses the circumstances might become less positive. Family issues worry you. If you take on an unfriendly attitude a fight might happen. An innocent incident might cause a misunderstanding that will not be easy to solve. You are pretty chaotic by nature and that will get even worse today. You really can't find anything anymore. Don't stress out all the time. That makes it harder than necessary.
Laugh about it!
Sagittarius
Even though you don't shy away from taking risks, it's not working out today. That's wise because it's not a good day for risks. You are in a very optimistic mood but not everything turns out the way you would like it to turn out. Drink an extra cup of coffee if you have a hard time getting started. As soon as you're on track you are unstoppable. But be careful not to make any mistakes. You could collapse later on today. Learn the lesson that the line will break when it becomes too tensed.
Take a deep breath!
Capricorn
You are in an intellectual mood today. You have a lot to tell and you will meet interesting people. That last part feels great because you are extra curious today. You would prefer to ask questions during the entire day. Unfortunately you won't get any rest. The moment you want to sit down and relax, a visitor will drop by or the phone will ring. You will have to get out of the house if you don't want to be disturbed. Turn off your cell phone and you'll immediately create some rest.
Try to escape the madness!
Aquarius
The universe will bring you variety and a vivid atmosphere that makes it possible to pay attention to the light side of life. Self-expression, creativity, writing, studying and a short business trip will give you some temporary advantages. It won't hurt if you spoil yourself a bit today. Consider it something you have earned. You don't have to be afraid you'll be distracted from what you have to do because your sense of duty is big enough.
Don't be too serious!
Pisces
The New Year is treating you right. You need to be outside. Make sure you plan enough free time in the upcoming time so you can really enjoy. You are a hard worker but you have to use the opportunities that are offered to you. Consider enrolling in a course that answers your physical and mental needs. That will bring balance to your life.
Grab those chances!
This psychic site and its owners are not liable for any direct, indirect, incidental, consequential, or punitive damages arising from using this site, the psychic contractors listed on it, or its content. By giving us your email address you agree to allow us to send you occassional maketing materials. We will never pass your details to another company.
You must accept and agree to our Terms of Use before using our services.
CALLING FROM OVERSEAS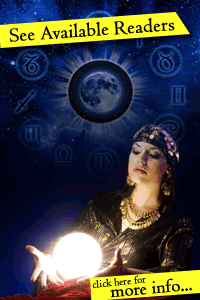 PSYCHIC RELATED TOPICS
Genuine Psychics can help you find solutions to any stressful situation