PHONE CHARGE
Mobiles/Payphones higher call rate applies.
SP: Access Positive
CALL NOW FOR GUIDANCE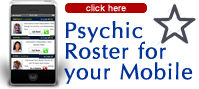 Money Back Guarantee
If you are not happy with the reading we will give you a Full Refund. This is only available for credit card clients through the auto and manual credit card service. Please call the Helpdesk on 1800 222 362.
Horoscopes Archive > 2012 > 06 > Daily Horoscopes 29 - 30 June 2012
Daily Horoscopes
29 - 30 June 2012
29 June 2012
Aries
This will be a turbulent day, especially concerning relationships and social contacts. Misunderstandings could easily happen or you are very deeply touched by a remark. Try to express yourself. If you have been a bit restless lately, your daily routine will finally take over again. An important document could be coming your way or you need to take a trip soon. Go grocery shopping, answer phone calls and file your documents.
Do routine things to calm down!
Taurus
You will see opportunities in different situations. Others probably won't see it so you can gain some advantage. There could be a certain amount of tension in personal and professional relationships. Handle the problems and get rid of differences. After you have done that, take some distance. You like to shop or go out for dinner. And you enjoy it a lot. Financially things are looking well. Physical contact is very important at the moment.
You see things others don't see!
Gemini
You want to start making some changes today and preferably in every part of your life. At home you want to do chores or you need new furniture and accessories. You want to sort out your finances as well. You will feel a need for space and you don't want to be bothered by anyone or anything. Ask yourself how insecure you are feeling at the moment. Spend time on issues concerning your health.
You want big changes and you want them now!
Cancer
You see so many deadlines all of a sudden that it's driving you insane. Work makes people feel good though and you know it. When you have finished it all, you will feel satisfied and you will think 'another one'. On top of that you eventually get everything done in the end. Your business is going smoothly and you get a lot of things done. This is also a good day for love. If you are single you won't lack any attention.
You can move mountains!
Leo
You can enjoy a nice energy boost today. That's a perfect start of the day! You are being watched carefully though so colour within the lines and don't explore your boundaries just yet. Today the focus will be on your career. That will bring you a lot of pats on the shoulder and appreciation at work. This is the moment to enjoy all the attention.
Show yourself today!
Virgo
What a wonderful day because today everything evolves around you. Life is reaching a peak especially in the love area. Prepare yourself for big changes concerning relationships and romance. You might get to hear the big question? You bring inner strength, which makes it easier than usual to work together with people. You are more prepared to give in on some things.
You are in the spotlights!
Libra
You are quite bothered by mood swings today and that makes it hard for you to go through with decisions. It is advisable to give yourself more than enough time to think things through. Anything that has to do with money will demand concentration. There could be an unpleasant surprise. An affaire with someone that is completely different from the type you usually fall for won't last long.
Postpone what you can postpone!
Scorpio
It's not wise to rush into decisions because you will have to handle irritable changes or adjustments. You are encouraged to be independent, which could lead to a conflict with a loved one. It's a good idea to make a real plan for your career and do something with it as well. You will see that you can make more of it come true than you thought.
Plan your career steps!
Sagittarius
You are very happy today. That makes things a lot more fun. Not just for your friends but for yourself as well. You could get a special message through mail, or a special e-mail. This message will make you think a lot about something. You like a bit of intensity. Fortunately everyone seems to be in an all or nothing mood today. People look for extremes, exactly like you do in daily life.
You are a shining star!
Capricorn
You are ready to start today. Nothing is blocking your way except maybe your own impatience. You almost don't know what to do with all that energy. Oh well, that's nothing new to you, is it? Take a large piece of paper and juggle your activities and obligations. You will notice that you will reach a much more harmonic time schedule and a day like today will forever be in the past.
Flip your schedule upside down!
Aquarius
Stay optimistic even though not everything goes the way you want to today. Go out into town tonight with a friend. That way you will get new energy for the busy days that are coming. You can impress with an efficient way of working and your ability to inspire others. You will have to use that extra energy. Offer to catch up in your own time if you can't do it during the working days.
Look at the bright side!
Pisces
If you have doubts about something it is wise to take some distance. When everyone falls into a dramatic way of thinking doesn't mean you have to do the same thing. If you succeed in reacting less feisty you will jump ahead in no time. Try to be more constructive in your critiques today. Watch out when you make remarks. People could feel attacked by you.
Choose your words carefully!
30 June 2012
Aries
Today you'll put yourself on the first place. You are starting to understand that it is useless to project your wishes and needs onto others. The last few years you have sabotaged yourself concerning confidence. It is time to rise above that now. It is a romantic day for you. Or are you just dreaming about it? Your partner is more open to it than you think. You could bump into a fun type. Maybe (s)he is the one?
Stop holding yourself back!
Taurus
Wonderful, it is weekend! It will be more welcome than usual because you can't really handle all the lack of sleep. The changing weather also has a bad effect on you. So rest up today! Your partner and/or kids are a priority. You prefer to do a lot of things together. A conversation about money could be important and this could be about dividing goods or an inheritance.
Sleep in when you can!
Gemini
Because of your intense urge to help out others, your social life could become chaotic this weekend. Make sure you don't get tangled up in your friends' dramas. Keep an objective distance. You like experimenting a bit and you are curious what the possibilities and opportunities are this weekend. Important are sleeping and dreaming. You can give birth to very original ideas.
You are always so helpful!
Cancer
Don't start something new without finishing what you have started. Be careful in everything you do. A juridical problem could be nicely solved as long as you are respectful. Others could try to start a fight or be cranky. you might have to make a tough decision between being completely blind and being completely honest. A nice romance doesn't guarantee a happy marriage.
Don't bury your head in the sand!
Leo
What you start up today or think up today will have content and be practical. Don't incidentally use your talents. You should be proud to show what you can do. Stay alert when people make you promises. At home an emotional problem could rise. Because of social obligations you will have to set your personal choices aside. Working together is the only way to get done what you want, without threading on too many toes.
Be proud of your abilities!
Virgo
You might have consumed a little too much if you're not feeling well now. Drink a lot of water and you can make this feeling flow away. Go to the sauna or swimming and enjoy your day off. Do something that you have wanted to do for a long time now. You will enjoy it to the fullest. You are very tempting this weekend. The opportunities are there to be taken. Wear your favourite perfume, put on a tempting face and you can get anything you want.
Use this sexy vibe!
Libra
You are endlessly creative today. It is important to use it to the fullest. You don't feel like colouring within the lines but you will have to work detailed and carefully. You will find the perfect balance with a little help from a good friend. You want to reach your goals as soon as possible but you will have to wait for a few more days.
Make sure you relax today.
Scorpio
You are longing for adventure. You want to broaden your horizon. Spend time with fascinating friends or a foreign loved one, read a good book about your favourite exotic location. If you can't get there in real life, close your eyes and pretend. You can say exactly what you think today. You usually keep your opinion to yourself, afraid to hurt people and get into conflicts. You are more open and honest than ever.
Escape your world for a bit!
Sagittarius
This day is ideal for making up a wish list. What are you looking for in your ideal lover? Even if you already have a partner it is wise to think about what could improve or be different. Make sure you can talk about this as well. Go into town today to shop. And buy a nice CD for yourself, you need a new tune in your life. Try to use that tune from tomorrow on.
You need something new!
Capricorn
You are completely ready to conquer the world. It is very busy with communication today and that's how you will get a preview of how busy your week will be. You are babbling and rambling. Now you can only hope that people will listen. Relationship could not go so smooth at the moment so make sure you don't project your feelings onto others. Keep that in mind and you'll be safe!
The world is buzzing!
Aquarius
Someone's unexpected absence could cause confusion or maybe even a crisis. It will take time and effort to make decisions. You could suffer from a big workload, even though it is weekend. Fix problems as soon as you can and you'll be able to enjoy your time off. You can accomplish a lot if you are practical and able to make decisions. Parents could get into a fight about the education of a kid or a misunderstanding will create problems within the family.
Work first, play later!
Pisces
You feel extremely homely. This is the ideal day to make it cosy around the house or apartment. A few chores, a little decorating.. You don't feel like it? Getting rid of the clutter in your wardrobe is a great idea as well. Everything you no longer need should be tossed out. All kinds of new things will fit in again. Think well before spending money because you can only spend each dollar once. Pay your overdue bills or loans with it.
Clear out some old things!
This psychic site and its owners are not liable for any direct, indirect, incidental, consequential, or punitive damages arising from using this site, the psychic contractors listed on it, or its content. By giving us your email address you agree to allow us to send you occassional maketing materials. We will never pass your details to another company.
You must accept and agree to our Terms of Use before using our services.
CALLING FROM OVERSEAS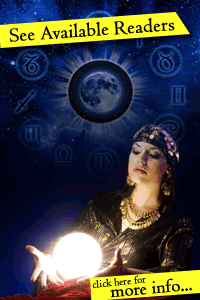 PSYCHIC RELATED TOPICS
Genuine Psychics can help you find solutions to any stressful situation