PHONE CHARGE
Mobiles/Payphones higher call rate applies.
SP: Access Positive
CALL NOW FOR GUIDANCE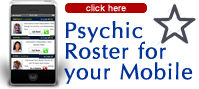 Money Back Guarantee
If you are not happy with the reading we will give you a Full Refund. This is only available for credit card clients through the auto and manual credit card service. Please call the Helpdesk on 1800 222 362.

Psychic Chat
Usually the purpose of any chat is a light-hearted exchange of information. Yet, the subject of the chat must be interesting enough to sustain the interest of the people involved. There can be no subject better for a chat than the subject of psychics.
The suspense of the unknown, the uncanny, the unusual, can grip your imagination and interest as nothing else can, and it is not the suspense of an imaginary story in the cinema hall or of a detective novel, which by its nature is soon forgotten. The subject of psychics has a mystique, which is revelatory, educative, enlightening, morally uplifting and spiritually elevating. It may also have a momentous significance to your life and that of your loved ones. A live psychic chat with enlightened souls can open up new vistas of knowledge and experience. It can provide you opportunities to find solutions to your problems ranging from your day-to-day love affairs to serious lows and highs in your business, relationships, health including the questions of survival and to the past and future of your present life.
A psychic chat room can provide you with the light gaiety of an evening in a club to a solemn discussion in the conference of scholars engaged in exchanging views on matters of individual and universal significance. Please check out our informative page on free psychic chat rooms.
Psychic chat is not always possible on face-to-face basis. The other two common ways for psychic chat are the telephone and online on Internet.
If you are old, visually impaired or do not feel comfortable with the computers, telephone is the best medium of psychic chat for you. Another problem is that one may have a linguistic limitations in communication, such as pronunciation as in case of foreign contacts. Some people are good at reading and writing English, but not fluent in speaking it. For such people, online psychic chat on the computer is the best option. Moreover, online psychic chat is much cheaper than phone. Gaps may also occur in vocal communication and interpretation. This can more likely occur in case of laymen, who are not fully accustomed to hearing the psychic terms. They may have to reframe sentences and this may prove more costly while chatting on the telephone.
You can engage in psychic chat with your friends, who too are interested in the subject, or you can chat with the psychic experts.
It is advisable to fix an appointment with the psychics before entering into a psychic chat. You must make sure that the psychic you select is an expert in the area related to your interest or problem.
All our psychics are a part of a network of psychics who offer their services through our website. Holding a psychic chat is more convenient both for the customers and the psychics through our website Psychic Readings.
It is very easy to register yourself for a psychic chat. All you need to do is give your email address. Our psychic company websites allow free psychic chat online facility for a limited time and for a limited number of enquiries, as the number of chatters may be too large. This is also done to win your trust and confidence in the ability of the psychics to answer your queries accurately. Prolonged sessions naturally incur a cost. Usually the charges are billed on per minute basis. Once you are satisfied, you will naturally become more willing to pay for their services. If, however, you do not feel satisfied, you can ask for a refund. Please see our Refund Policy page for more information.
Before you engage in a live psychic chat have a look around the website and become familiar with all the different psychic phenomena and its terminology. Or why not have a private chat with one of our psychics via a psychic phone reading.