Operator Assist
Available 10 am till 6pm daily AET for bookings and Issues.
Billed as Access Positive
CALL NOW FOR GUIDANCE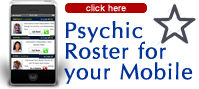 Money Back Guarantee
If you are not 100% happy with the reading we will give you a Full Refund. Available for credit card clients through the auto and manual credit card service. Please call the Helpdesk on 1800 222 362.

Psychic Readings
Most client subjects approach the psychic with queries on a variety of personal problems such as marital and love relationships, business and careers, birth and death, health and wellbeing and also their concerns about the future.
The answers that the psychics provide are cumulatively called psychic readings. But why the word 'reading'? Why not analysis or just prediction?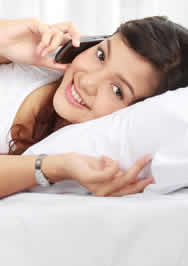 The answer to these questions is that the word 'reading' has comprehensive connotations and is widely used in the domain of psychics. For example, psychics give aura reading, numerology reading, tarot reading, horoscope reading, palm reading, face reading and so on.
The simple word 'reading' as used in the world of psychics attempts to understand the underlying implications of what appears to our physical senses. It is like we say: you should read the writing on the wall.
Since ordinary people do not have the talent to read the writing on the wall, it is the psychic who performs the job on their behalf.
In the same way a psychic reading does not limit itself to reading the face or the body language of the client subject. It explores their inner beings, their heart and soul, thoughts, emotions, sentiments and feelings. It uncovers them layer after layer.
Get in contact with a Psychic or a Medium, by calling the numbers below
Australian Callers

1800 732 337
$2.50 AUD per min, 15 minutes minimum $37.50 AUD

Helpdesk 1800 222 362

USA and Canada Callers

1 888 22 22 338
$2.50 AUD per min, 15 minutes minimum $37.50 AUD

UK and Europe

0011 44 870 495 8019
$2.50 AUD per min, 15 minutes minimum $37.50 AUD

New Zealand Callers

09 925 0444
$2.50 AUD per min or ($3.25 NZD approx), 15 minutes minimum $37.50 AUD

All other Countries

0011 44 870 495 8019 call charges apply.
$2.50 AUD per min, 15 minutes minimum $37.50 AUD

Service Provider: Access Positive

Please read our Privacy Policy and Terms of Use to proceed with the Psychic Reading.
A psychic reading, thus, presents a comprehensive perspective on the personal make-up of the client subject. It comes up with a detailed analysis of his nature and personality, the actions flowing from the personality traits and their consequences that determine his future.
Among the various types of psychic readings listed above, there is one more very important reading. It is called mediumship reading or channeling. It is indeed a mystifying process that baffles even the most wakeful and intelligent watchers.
How to Make the Most of What We Offer
Asking for a psychic's help and knowing what they offer is one thing. But it is just right to make the most out of your psychic reading, isn't it? Here are some of the things you can do.
To make the most out of your psychic reading, you should be prepared with your question beforehand.
Know what you really need because the last thing you want is to go blank during your psychic reading. Think of your life and what really matters at the moment. This way you will feel lighter after your psychic reading because you have somehow managed to lift some heaviness away.
Second thing is to get the most of what you pay. Consulting a psychic should be at par with your money's worth. Who would way to pay for a substandard psychic reading? That is why it is best to know the average price for the services that you want to avail. This way you know that you are getting the fair price and not being abused to pay more than what is due.
Third thing is to use it for the common good. You can only get the most out of your psychic reading if you do not use it to harm those around you. A psychic reading's purpose is to guide individuals to live a better life. To help them decide for the best. Using your psychic reading to live a better life can help you get the most of what psychic reading is all about.
Getting a psychic reading is easy because of its availability. Finding a genuine psychic is the first step. Knowing what to avail is second. And understanding what the right thing to do about it is the final and most important step. Equip yourself with the right way of thinking and you will be all set.
Psychic Medium Readings
The psychic medium delivers the reading based upon his communication with the spirits, especially the spirits of the recently dead people.
The process of psychic reading delivered through mediumship involves going into trance. Trance is a sleep-like state in which a person loses the awareness of his own body and the surroundings. His consciousness is transported to the astral world or the world of spirits. Psychic mediums such as John Edward call this world as the Crossover World.
There are two types of trance. One, as mentioned above, is in which the medium loses his body consciousness and answers the questions of his clients. This type was practiced by psychics like Edgar Cayce.
The second type of trance is practiced by psychics such as John Edward and Sylvia Browne. They do not lose awareness of their bodies and their surroundings. They appear to behave like normal human beings in their daily interaction. They answer questions from the surviving loved ones of the recently dead people.
While John Edward has made his mark with his TV shows such as Crossing Over with John Edward and John Edward Cross Country, Sylvia Browne is known for her regular appearances on Larry King Live and the Montel Williams Show.
The astounding accuracy of their psychic readings draws huge crowds at their public shows and endless queues at their private sessions. Clients at John Edward's readings have to wait for months to get their turn.
It hardly needs to be mentioned that the death of a loved one leaves the survivors in deep trauma. They are tormented by a host of questions on why and how their loved ones departed. Where are their loved ones now and how they are feeling? Some people die suddenly and leave some very important questions unanswered. These and several other such questions bring the people to the psychic readings.
There are a large number of other people who have their questions and doubts about the existence of spirits, life after death, reincarnation and other related issues. All these people receive their answers through the mediumship psychic readings.
This psychic site and its owners are not liable for any direct, indirect, incidental, consequential, or punitive damages arising from using this site, the psychic contractors listed on it, or its content. By giving us your email address you agree to allow us to send you occasional marketing materials. We will never pass your details to another company.
You must accept and agree to our Terms of Use before using our services.