OPERATOR ASSIST
Available 10am to 6pm daily for bookings/Issues


Billed as Access Positive
CALL NOW FOR GUIDANCE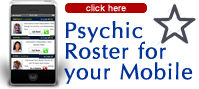 Home > Psychic Blog > What to expect in a psychic fair
What to expect in a psychic fair
So what exactly is a psychic fair? A psychic fair, or also known as 'Psychic Expo', is an extensive assembly of psychic devotees who gathers and offers various spiritual products and services like psychic reading. But the term, 'fair' may give you a visual of a happy, outdoor event, a psychic fair is usually held indoors at meeting halls or community centers. Guests would usually just walk around the venue, check every booth that seems interesting for them and have chat with the psychic readers about their services or about the psychic world.
The price of going to a psychic fair would vary from one fair to another, depending on how big the event is. Guests would usually buy an admission ticket to be able to get inside and roam around, but there are some instances where the psychic readers would also place entrance fees to be able to check their booth. Different fee must be paid if you are going to avail services, some may be discounted as they know that they have too much competition in one area and others may still stick to their regular price.
Though you must be prepared to receive various offers from different readers, you just have to know which ones are the most qualified and most gifted to read your fortune. It is not like there is a board exam on who are supposed to do and conduct a psychic reading, it is up to your discretion on who to believe and who you think will be able to give you the best reading. You have to trust your gut feeling on this one.
Keep in mind that fairs are supposed to be crowded and noisy, and this may negatively impact your reading. So expect your experience to be a little less intimate and a little bit rushed than it usually is with a psychic outside of a fair.
On the brighter side, psychic fairs offer a whole lot more than just psychic reading. You can browse and shop your way around, buy your own deck of Tarot cards, some intricate crystals and jewelries and fine silverwares. Aside from the things that you can buy and do, you can just simply enjoy the people, the crowd that you are with as you have the same interest in psychic phenomenon.
Before, psychic fairs are usually small and secret gatherings that last for a day or two, now it extends up to a week and a lot of people go to it like they are going to the supermarket. If you plan to visit a psychic fair, here are some of the things that you ought to know:
Familiarize yourself with the venue
Basic information about the location wouldn't hurt, would it? Check if it is just near you? Would there be parking that is safe for your car? If you are staying overnight, would there be nice accommodations near the venue? This information would help you be at ease while you are enjoying the fair.
You must know your expectations
Expect the crowd to be large and the place to be noisy. Do not expect to see what you are looking for on the moment that you step inside. Thorough searching from on booth to another may help you pick the best finds. If the event organizers provide maps, go and get one as it will help you save your time. If you are there for a reading, a fair advice would be for you to go early in the morning when the readers are not tired yet from the people inquiring about the products and services and for you to be first in line as most slots get taken by the afternoon.
You must also know your limit
We all know that these kinds of fair can emanate an aura of excitement and interest. You will get all giddy because you are with a group of people who likes the same thing as you and all of you are there to experience spiritual readings and talk to spiritually-inclined people. If you feel like you are tired, go home and just go back if you feel like you want to. Aside from your energetic limits, also know your financial limits, you might never notice the amount you are already spending as you are busy enjoying the things that you are seeing. Do not let you excitement make you broke.
It is best to come prepared at all times. Here's a good advice, try and jot down on a notepad the aspects of your life such as career, family, love life, and spiritual facet that you would like to ask advice from the reader so that you would not stutter and it saves your time from thinking of what to ask while you are in front of them. Write specific and detailed questions. Going to the event with a focused energy and an open mind would help you get clear readings. You can pray, meditate and focus before you go to the fair.
After attending a psychic fair, you will feel relieved and satisfied. Not only because you had a great advice from a psychic reader but also from meeting different people with the same interest to spiritual reading such as you. The feeling of having been welcomed in a world where not everyone appreciates will be overwhelming and this will definitely leave you for wanting more. So the next time that you hear about a psychic fair near you, do not hesitate to go and miss the chance of a reading or having to meet people like you.
This psychic site and its owners are not liable for any direct, indirect, incidental, consequential, or punitive damages arising from using this site, the psychic contractors listed on it, or its content. By giving us your email address you agree to allow us to send you occassional maketing materials. We will never pass your details to another company.
You must accept and agree to our Terms of Use before using our services.