OPERATOR ASSIST
Available 10am to 6pm daily for bookings/Issues


Billed as Access Positive
CALL NOW FOR GUIDANCE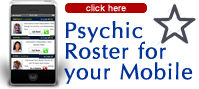 Home > Psychic Blog > Understanding What Real Psychics Are
Understanding What Real Psychics Are
Every person has the overall control of his future – this is what many people believe in. However, it can't be denied that life is a constant change and there are always some things lying ahead that can lead a person to a different destination.
For instance, a businessman makes a comprehensive and well-structured business plan in order to secure the profitability and success of his business in the future. The problem is that time may come that an economic crisis could greatly affect the business, such as by making the regular and prospective customers divert to the available alternatives. With that said, it is just a good idea for that businessman to expect the unexpected by including to the plan some probable solutions to deal with the uncertainties in the economy.
Meanwhile, there are some people who prefer to ask a psychic to help predict the future. In this way, they can be prepared for the potential problems or risks on their welfare. Real psychics don't persuade their clients to be affected by their psychic reading for their future situation. Although psychics suggest their clients that some predictions can't be stopped to take place, they can encourage them to do some actions to try to prevent it or somehow minimize the corresponding damages. A genuine psychic also respects the client's decision and does not force him to follow the necessary actions based on his psychic reading.
Psychics can perform fortune-telling, but there are some cases where they can only give patterns or outlines of the client's future. Thus, they don't give absolute guarantee that everything in their prediction will come true. It should be noted as well that real psychics remind their clients that their actions in the present still matters, and that these could contribute on the events in the future. This means that the future still relies on the person's decisions.
For example, a person was predicted to be suffering a certain type of cancer in the future years. As a wise respond, that person should start taking care of himself and stick to a healthy lifestyle, particularly by adhering to cancer-prevention routines. If that person ignores the psychic's prediction and continues his or her unhealthy lifestyle, it is just normal that the said prediction will come true. Also, through the psychic's warning, that person will be able to carry out specific actions to prevent his unfavorable fate.
In order to find a reliable psychic reading, one must only consult a renowned psychic who has earned the trust and respect of his previous clients. It is also important to keep in mind that real psychics offer their services with money back guarantee, and thus they are not only after their client's money. Moreover, an important sign that you are dealing with a fraud or non-reliable psychic is when he or she asks too much of the client's personal details. At the same time, psychics to be avoided are those that require additional compensation for follow-ups or elaboration of their "predictions" as well as for the accessories they provide for the service.
Famous Psychic Mediums Of The Modern Era
Most religions and societies around the world believe that an afterlife exists, and when a person dies, he or she leaves the physical body, and elevates to a higher spiritual realm. This explains why psychic mediums continue to be popular today, as they have been for centuries. Perhaps one of the main reasons why mediums are popular over other types of psychics is that they are believed to possess a higher level of discernment or intuition, and they also have a higher level of credibility (and most mediums also get a favorable attention from the media). Let's discuss a few of the most popular psychic mediums of the modern era. 
Allison Dubois
Considered one of the prettiest (and most intriguing) mediums today, Allison Dubois has written a lot of books and articles about her experiences as a medium, and about the afterlife.  She also became the inspiration for the hit TV show Medium.  
John Holland
John Holland is an American medium who is hailed by many for making spirit communication look and seem like "an art form". This is because of the way John delivers his messages or ideas, as well as how he explains the details behind his experiences as a medium. John Holland is also a very popular author who is known for creating bestsellers like Power of The Soul, Born Knowing and more. He is also extensively featured on TV shows like A&E's Mediums: We See Dead People. 
John Edward
Born and raised in New York, USA, John Edward is a very popular psychic medium, and an author of a number of best-selling books. He is hailed for writing books and literature on his experiences as a medium, with a no-nonsense and no-frills style. He has also starred in popular psychic TV show like Crossing Over With John Edward, where he relays messages from the afterlife to those who watch the show. He continues to talk about his experiences, and provides advice to people on his website, and in other popular TV and radio talk shows.   
Micki Dahne
Born with a strong gift for seeing the future, Micki Dahne was known to surprise her family, friends and neighbors with her "funny, little stories", which actually came true, and became part of her earliest predictions. Today, Micki has been a fixture in a lot of radio and TV shows, and she has also been hailed by the National Enquirer as one of today's best psychics.   
Lisa Williams
One of England's most popular mediums, Lisa Williams rose to fame with her popular television shows Voices From The Other Side and Life Among The Dead. She was known to have communicated with spirits even when she was a child, and her grandmother was also a popular medium in their hometown. At present, Ms. Williams hosts her own radio program, The Lisa Williams Show, where she offer spiritual development lectures, and she also discusses her psychic experiences.
Psychic mediums are known to communicate with spirits, and obtain visions or messages, in a lot of ways. For instance, some mediums see the images and messages as mental impressions, which they quickly relay to the living. Some psychic mediums can hear the auditory messages that are relayed by the spirits, while other mediums can get a clear visual of the messages or images that are being sent by spirits.  
This psychic site and its owners are not liable for any direct, indirect, incidental, consequential, or punitive damages arising from using this site, the psychic contractors listed on it, or its content. By giving us your email address you agree to allow us to send you occassional maketing materials. We will never pass your details to another company.
You must accept and agree to our Terms of Use before using our services.