OPERATOR ASSIST
Available 10am to 6pm daily for bookings/Issues


Billed as Access Positive
CALL NOW FOR GUIDANCE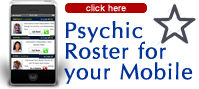 Home > Psychic Blog > The Traits of an Honorable Psychic
The Traits of an Honorable Psychic
What's a psychic? And why d more people flock to them for advice today, despite the advances in technology? Well a "psychic" is actually a very gifted individual, because they have this unique ability to perceive information without using the five normal senses. If you take a look at the dictionary, a psychic is generally defined as something that relates or defines phenomena that are tough to explain by natural laws or conventional wisdom. Examples of psychic abilities include clairvoyance, telepathy, mediumship, tarot card reading and more. Before you connect with just about any psychic out there, here are a few helpful facts on the traits or qualities of an ethical, or reputable, psychic.
Psychics come in different shapes and sizes. Some are given the gift to predict the future using Tarot cards, while others are good at reading palms, using Runes, and some can even access information by the simple touch of the person's hands. And while many of us have either bad or wonderful experiences with psychics, let's take a much closer look at what qualities serve as the hallmarks of a reputable, and experienced psychic.
Kind and Compassionate
Most of the people who seek the guidance of psychics are mostly going through one of the toughest and most trying times of their lives. Some are facing financial difficulties, while others are going through a painful breakup with their spouse or romantic partners, while others seek advice for work, business or health concerns. And because psychics are dealing with these types of people, they must always be kind and compassionate, yet still remain as professional as ever, because while they need to be truthful to their clients, they should still need to be sensitive to the feelings, as well as the suffering of others.
Reputable Psychics Have Good Communication Skills
A reliable and experienced psychic must have the ability to discuss a wide array of topics and issues, even though some of the topics may be quite uncomfortable and sensitive. The psychic also needs to be clear with what they are saying, so they can easily get their message across to their clients, although they should not sound rude or uncaring.
Good Psychics are Humble and Truthful
Reputable psychics, no matter how experienced they are, are still able to retain a healthy sense of humility. These guys would easily admit that they may not be right all the time. By staying humble, the psychic will surely have happy and satisfied customers, who would be more than glad to keep coming back for more. Good psychics also tell the truth, as they see it. These guys will not just tell you what you want to hear, but exactly what they feel or see. And although the truth may be tough to deal with, a good psychic will be very able to tell things in a straightforward, but caring and sensitive manner.
Reputable Psychics Have Above-Average Skills'
Even if a psychic has all the required abilities, he or she will not be truly effective, if they don't have the proper skills. If for example the psychic tells you that they can communicate with spirits or the souls of the dead, then they better truly do what they say.
To find experienced and reputable psychics in your town or city, you could ask your family members, friends, relatives, neighbors or co-workers to provide you with referrals. You could also check out the local New Age shop, so you can get a good sense of what the psychic does best, and how long have they been practicing their craft. You could also visit psychic fairs and exhibits, where you would be able to observe how psychics do their thing, and where you can even get free trial readings or consultations.
An Honorable Psychic Empowers
A reputable and honorable psychic is often times able to detect any incoming troubles or road blocks, for which they will tell the individual what they need to do to go around, or evade them. A reputable psychic will also not sow fear or panic to their customers. Instead, they will only inform he client of any areas of concern, and give them insight on how to make things better.
Reliable Psychics Don't Overcharge Clients
Another visible barometer of an honorable psychic would be the price. If you see a psychic downtown who charges $15 for a reading, and then asks you to fork an extra $5 because you're "cursed", then there 's definitely something wrong with this guy. Ethical and reputable psychics only charge clients for prices that are based on the demand for their services, as well as their experience and the quality of their readings. Thus, don't quickly run away from a quite high-priced psychic reading, because you could get a very meaningful and reliable reading.
A Good Psychic Won't Make You Feel So Dependent on Them
A crooked psychic will most likely ask you to come "visit: them every week. Well, the truth is that you do not need to see a psychic every week, or thrice a month. Why? Because this would most likely lead to the disempowerment, and discouragement, of the individual. Remember to only consult a psychic reader when you're stuck and can't determine or figure out what to do by yourself. You should also only consult with psychics when you wish to determine the best path to go forward.
Check For Testimonials/Feedback
If you're checking out psychics online, it would be best if you check the website's testimonials page or section. In general, happy customers would normally post their comments and feedback, especially if they get very good service. But if you do not spot any testimonial, then the psychic could either be a neophyte, or a crook.
To connect with an ethical and honorable psychic, ask for referrals and recommendations from friends, family members and co-workers. Ask these people what they like about the psychic, and what the specialty of the psychic is. Remember that psychics come in different shapes and sizes, with some very good at communicating with spirits and souls, while others are good at predicting the future.
This psychic site and its owners are not liable for any direct, indirect, incidental, consequential, or punitive damages arising from using this site, the psychic contractors listed on it, or its content. By giving us your email address you agree to allow us to send you occassional maketing materials. We will never pass your details to another company.
You must accept and agree to our Terms of Use before using our services.