OPERATOR ASSIST
Available 10am to 6pm daily for bookings/Issues


Billed as Access Positive
CALL NOW FOR GUIDANCE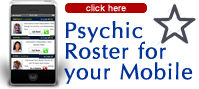 Home > Psychic Blog > Solving Problems the Psychic Way
Solving Problems the Psychic Way
What do you do when you have a problem? Your initial reaction is to talk to a friend. Even if she does not offer any solutions, you will feel a little bit better if you can unleash your problem on someone. After your talking session though, the problem remains unsolved.
Do you have problems sleeping at night, or concentrating on your job, because something's bothering you? For most of us, our initial reaction would be to call a friend or relative, and talk to them. But if you feel like talking to your best friend or family member is not enough, and the problem still remains unresolved, then why not try talking to a psychic? Who knows, maybe what you need are a ton of spiritual guidance? Let's take a look at the perks of consulting with psychics, to help solve whatever problems you're facing.
To find a final solution to a problem, you need some spiritual guidance.
You need to seek someone who can make you realize the real essence of your life so you can relieve yourself of all anxieties. A psychic can help you with any problem you have. Whether it pertains to your love life, finances or career, a psychic reading will be able to help you.
A psychic is able to help you find solutions to your problems by tuning into the energy and vibrations she gets from you. The information she receives allows her to provide you with advice on how to address your problems. To enable the psychic to give you sound advice you need to be true and honest to yourself and to the psychic. You need to ask the right questions to you can get the right answers.
At first you will find it a bit difficult to trust your inner self to a psychic.
As you go through the reading, you will be comfortable and will completely put your trust in her. Anxiety and nervousness are common reactions especially if you are on your first psychic reading experience. Try to relax and be comfortable. This way, the psychic will be able to help you find solutions to your problems. One way to relax during a psychic reading session is to have faith that you have come to the right person to help you solve your problems.
An authentic psychic will never give you false hopes and promises to make you feel better. She will tell you exactly what she sees in your future. When you seek a psychic reading to find solutions to a problem, it is her genuine concern to provide you with options. A psychic will not give you a particular solution to a problem. She will provide you with options. It is up to you to choose the right path.
How Can a Psychic Bring Enlightenment?
It is known that psychics can see things from a whole new perspective than the ordinary. It is no doubt that they can tell us things that we were not able to see as we are finding answers. Enlightenment is defined as having been given knowledge and information. Psychic enlightenment is just that but a little different from what schools and religion give us.
Brain enlightenment through psychics is giving information about you. The confusions that you need enlightenment for may be a result of past events that have been buried deep within you. The cause of your emotional baggage may be something that even you cannot pinpoint anymore. Psychics can help you understand yourself better by reading you not just for what he sees physically but by reading your past as well.

Retrocognition is the ability of psychics to see the past. Having the ability to see the past can give psychics the insights on how he can help you understand the present. Brain enlightenment can transform you to a whole new individual because somehow you have gained insights on the things that matter.

Psychic transformation through brain enlightenment is a process that can be done with the psychic's abilities and also with the cooperation of the seeker. Remember that a psychic reading is a two-way street. It should be done in complete faith that the psychic can give you enlightenment. Without faith, you will have unnecessary thoughts that can obstruct the session and make the attempt to enlighten fail.
You can do your own meditation at home to start your enlightenment. This can help because you on your own are lessening the negative energies and letting go of unwanted thoughts. Bringing in only the positive can help so much in transforming yourself to a better person through brain enlightenment.
Psychics Have The Ability To Tune Into A Person's Aura or Energy
One of the best reasons for seeking counseling or guidance from a psychic is that these gifted individuals have the ability to tune into a person's energy and vibrations. The information that the psychic gets or receives allows them to get a much deeper picture of what it is that ails, or worries you, and this also allows them to provide you with honest and sound advice. All you need to do when talking to the psychic is to be honest to yourself, and ask the right questions.
Psychics Have The Ability To Connect With The Spirit World
One good reason to connect with a psychic for emotional or spiritual advice, is that psychics generally have the ability to communicate, or reach out to a higher spiritual realm. This means psychics can communicate with spirits of the departed, or even with angels, which means that they can get more information from the subject or client's "higher self". The good thing is that the information the psychic gets about the person  comes straight from the spirit guide, or even from God.
Psychics Provide A Wider Spectrum Of Insights
When faced with a lot of uncertainties in life, a psychic should be a much better option, as compared to simply getting advice from an ordinary counselor. Why? Because psychics are believed to offer a much wider spectrum, or level, of insight. Whether you are looking for answers to relationship, career, family, health or business concerns, a psychic counselor should be able to quickly tap into your subconscious, and give a much deeper, and more meaningful, overview of your problems and issues.
The Best Psychics Are Kind And Compassionate
A reliable, and ethical psychic, generally will want to use his or her god-given skills to truly help those who are in trouble, and need life-changing advice. The best psychic counselors are also kind, compassionate and sincere, who make it a point to use their specialized skills and experiences to help others change their lives for the better.
When do you need a psychic? Well, for many, a psychic is often needed if the person is confused about the decisions that they have to make, or if the individual feels like he or she is in a maze, and doesn't know which path to take. Some require the assistance of psychics if they have concerns about the true feelings, actions, or motivations of someone close in their life. Others look to psychics for help in determining or predicting an event which could occur in the near future
This psychic site and its owners are not liable for any direct, indirect, incidental, consequential, or punitive damages arising from using this site, the psychic contractors listed on it, or its content. By giving us your email address you agree to allow us to send you occassional maketing materials. We will never pass your details to another company.
You must accept and agree to our Terms of Use before using our services.