OPERATOR ASSIST
Available 10am to 6pm daily for bookings/Issues


Billed as Access Positive
CALL NOW FOR GUIDANCE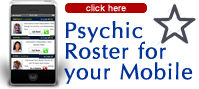 Home > Psychic Blog > How to Acquire Honest Psychic Readings Today
How to Acquire Honest Psychic Readings Today
Psychic reading services are all around us today. Just walk around downtown and you'll likely find a number of New Age shops or local Spiritualist churches who offer fortune telling, tarot card reading, numerology and other divination methods. However, finding a reputable psychic reader can be quite a tricky task, because many scam artists are preying on unsuspecting clients today. Here are a number of helpful suggestions on how to acquire honest psychic readings.
Reputation Means Everything
In any business or profession, reputation is key to success and credibility. If you can't show your clients any written or verbal proof of legitimacy, how are they going to trust in you?A good psychic will do everything to ensure that they are highly-regarded, and their customers are truly happy with the services they have received. And while it's physically impossible to satisfy everyone, a reputable psychic will do everything in his arsenal to satisfy, or fully explain to the client anything he sees or perceives, although he won't guarantee one hundred percent accuracy. Good psychics know that a satisfied customer makes for a useful marketing tool.
Find a Psychic You're Comfortable With
Before contracting the services of any psychic out there, you need to first ask for referrals from friends, relatives or family members. Also inquire from your family members or relatives if they felt at ease and comfortable with the psychic they referred, as well as inquire if the psychic made them feel at home and at ease throughout the reading. You'll certainly have a great psychic reading experience if you find psychics that you're really comfortable with. If ever at the start you feel edgy or jittery, chances are you won't be getting a good reading with that clairvoyant, Tarot card reader or fortune teller.
Don't Go For Psychics Who Ask Too Many Questions
If ever you encounter a psychic who asks too many, often unrelated, questions, then chances are this guy or girl is simply trying to fish out information from you, so that they won't have any problems with what to tell you afterward. And if a certain psychic starts to get too demanding, like he or she asks for additional cash before he/she reveals other things, then it's time for you to walk away from them.
And in order to find honest psychic readers, try logging to psychic forums and message boards on the Internet, and read customer reviews and feedback. And while you don't need to obsess over the experiences of other customers, it would help if you determine whether other customers felt a good connection and rapport with certain psychics. You can also search the Web for psychic reading services using your favorite search engine. Once you've narrowed down the search, list down their phone numbers or email addresses, and call them afterward to make inquiries. While it's true that there are scam artists, remember that majority of psychic readers are honest, and they fully share your passion and flair for getting a psychic reading.
Psychics are very gifted, and special people.
They can provide meaningful advice and insight, apart from just predicting the future or looking at the past. But if you're looking to consult with a psychic, remember that not all psychics are created equal, with some more suited by nature, and temperament, to becoming a real psychic, than others. Some psychics have remained low-key or low-profile, while others have gone mainstream, and have become popular and rich. Others though, have become scam artists, charlatans and fake herbal medicine peddlers. Here are a couple of helpful ideas on how to acquire honest psychic readings today.    
How To Separate The Good Psychics, From The Rotten Ones
If you're looking for a psychic reader, how do you know which ones are good, and which ones are bad? Well, finding the right psychic reader requires a lot of homework, and patience. Here are a few great ideas to consider:
An Honest and Genuine Psychic Does Not Use Fear or Intimidation. A genuine psychic is compassionate, kind and sensitive. Thus, he or she will not intimidate, or use fear to make his customer or subject believe in him.   If you happen to meet a psychic who tries to scare you by saying you are "cursed", or "an evil spirit is after you", then better get out of his or her office, and find someone else.
Ask For Referrals and Recommendations. A good way for finding honest and reliable psychic readers is by asking friends, family members, co-workers and relatives if they've consulted with a psychic before, and if they liked the experience. Perhaps a family member or a friend  has already consulted with a psychic, and is very delighted with what they received.
Ask The Psychic Reader For References. Once you've met the psychic reader in person, the nest step would be to ask if they can provide you with references.  You could ask the reader to at least provide you with two or three references, so you could call them and ask them what their experiences were, and if they were happy with the reader. 
Trust Your Gut Feel. When looking for an honest psychic reader, it would also help if you trust your gut feel. If you feel apprehensive or uneasy before the reading even starts, it could mean that the psychic could either be not the right one for you, or that the reader could be a scam artist.
An honest and experienced psychic reader can be very helpful to the individual in many ways. He or she can provide meaningful advice and insight on a wide array of issues, from love and relationships to career, money and finance, health and family concerns.  A psychic consultation can also provide the person with a wider spectrum of insight and advice, which the individual can use to achieve their goals, or overcome any obstacles and hurdles. And once the individual is already armed with a lot of helpful advice and insight (through the psychic's help), then it would make them more confident in making decisions in their life.
This psychic site and its owners are not liable for any direct, indirect, incidental, consequential, or punitive damages arising from using this site, the psychic contractors listed on it, or its content. By giving us your email address you agree to allow us to send you occassional maketing materials. We will never pass your details to another company.
You must accept and agree to our Terms of Use before using our services.