OPERATOR ASSIST
Available 10am to 6pm daily for bookings/Issues


Billed as Access Positive
CALL NOW FOR GUIDANCE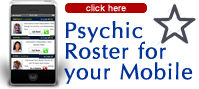 Home > Psychic Blog > How a Psychic Life Coach can help you?
How a Psychic Life Coach can help you
If you're having problems on which direction you should be heading in life, or if a number of issues are troubling your mind, then why not try getting a psychic life coach? A psychic can help an individual free himself from all excess baggage and distractions which have accumulated during the individual's journey through life. Here are a number of helpful tips on how to get a psychic life coach, and bring that vibrant energy back to your life again.
Do you feel unfulfilled with your job? A Psychic can help you!

For those who feel very unfulfilled with their careers, a psychic can help turn things around. Now how can these people help? First, the psychic can help pinpoint the reasons why you're failing in your job, and he/she can also help determine your boss or other co-worker's impressions of you, and how you work. Psychic life coaches certainly can help you turn your fortunes around, because they can aid you in unleashing your potentials, and can assist you too in steering clear of any roadblocks that get in your way towards success.
A Psychic can help bring back that spark in life


Do you feel like life's left you with no other choices? Or do you feel like it's the end of the road for you? A reliable psychic life coach can help you get out of that hole you dug for yourself, and give you a better perspective of life. And while the psychic can help you get out of that deep hole, he/she cannot do it all for you. The psychic can only offer timely advice and other useful tools which you can use to get your life back in shape. For instance, if your ego and self-esteem are pulling you back, and self-doubt or fear is ruling your day, the psychic can only motivate and provide directions, however you'll need to make all the tough decisions, to turn your life around.
If relationship issues are pulling you down, the Psychic can be great counselors

One of worst things that could happen to an individual is the break-up of a marriage or relationship. According to researchers, 6 out of 10 people suffer from depression as a result of a failed marriage or relationship, and 2 or 3 people even commit suicide. If you feel like you're marriage is on the rocks, or you suddenly lost all hope for living because your partner left you for someone, then a psychic life coach can help you lift yourself up from the rubble, and live life again.
If you're facing a stalemate in your career or love life, or if your financial fortunes are in disarray, then don't give up and ask for advice from your friends and family members, or from a pastor or priest, as well as from a psychic life coach. While a psychic cannot solve all your problems, or give you any magic potion, where-
A Psychic Life Coach can help you discover new ways to help improve your situation, and turn your life towards a positive path. Call Psychic Line to have a Positive Psychic Advice.
These are truly stressful times. Whenever someone feels the pinch and stress of daily life, where do they go to seek counseling and advice? For most, the therapist or counselor is the first choice. For many, they'd rather get advice and guidance from their close friends, family and relatives. Well, why don't you try getting counseling from a psychic? Let's take a look at how a psychic life coach can be of help to you. 
What Does A Psychic Coach Do?

A psychic coach in general, still shares a lot of similarities with the usual guidance counselor or therapist.  However, the psychic coach does things on a more unique or innovative, and out-of-this-world approach. The coach can provide individualized counseling, which can be tailored to the person's needs or issues. The psychic could even teach their client techniques and strategies on how to identify and use, certain types of psychic protection tools, symbols and colors. 
What Issues or Concerns Can The Psychic Coach Fix or Address?

Psychic coaches come in different shapes and sizes.  Some use their clairvoyant or tarot reading skills to help people find answers to the issues that are troubling them. They can give advice on areas like love, family relationships and traumas, learning disabilities, eating disorders and more. The psychic can also use different tools, and the possible tools may include crystals, chakras, auras and universal energy.
What Else Are They Good At?

Apart from providing the usual conventional counseling on a wide range of issues and problems, psychic coaches are also very good providing their customers relevant information about a lot of out-of-this-world stuff. They can provide information about the person's past life, and they can analyze dreams, connect with spirit guides, communicate with the souls of the long departed.
What You Need To Do Before Starting a Session With The Coach
Before starting a reading or consultation with a psychic coach, you need to first have an open mind, as well as relaxed disposition. You will also need to send as much detail as you wish, about your current issues or problems and choices. You could also tell the psychic coach about the persons involved in your situation, as well as tell them about any dreams or visions that you see or sense, and even tell them about any road blocks or obstacles you're facing.
If you know a friend, relative, co-worker or friend who is dealing with a nasty heartbreak, or they just got fired from their job, are getting married (or facing a different type of issue or problem), well you can refer them to a psychic coach. A professional psychic coach can provide helpful, meaningful and useful spiritual advice on relationships, career, health, family and other issues. They can even help you meet your spirit guides, and even arrange for contact with spirits or souls on the other side. The price or fee will depend on the coach's experience and expertise.  On average, the price for this type of counseling can range from $100 to as much as $800. However, you could also get free or low-cost psychic coaching and reading from students and newbies.
Thursday, 24 May 2012
This psychic site and its owners are not liable for any direct, indirect, incidental, consequential, or punitive damages arising from using this site, the psychic contractors listed on it, or its content. By giving us your email address you agree to allow us to send you occassional maketing materials. We will never pass your details to another company.
You must accept and agree to our Terms of Use before using our services.