Psychic Reading Home > Psychic Tarot Cards
Tarot Cards
---
Book a Reading from Genuine Tarot Readers. Call us Today!
Credit Card Charge, please call:

AU: 1800 732 337 $2.50 AUD/min

USA and Canada: 1 888 22 22 338 $2.50 AUD/min

UK: 0011 44 870 495 8019 $2.50 AUD/min

NZ: 09 925 0444 $2.50 AUD/min or ($3.25 NZD approx)

All other Countries: 0011 44 870 495 8019 $2.50 AUD/min

Phone Line Charge, please call:

AU: 1900 999 169 $3.30 AUD/min

NZ: 0900 800 80 $3.50 NZD/min

Service provider: Access Positive

* Please note using public phones to call the Phone Line cost extra.

* Mobiles extra for UK, NZ and selected countries.
---
THE LEGEND AND USE OF TAROT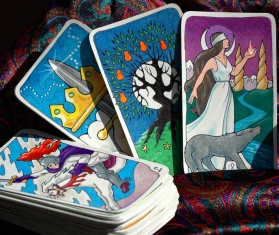 Tarot is one of our ancient forms of divination, it can foretell the present, past and future. It can give us guidance through our life's journey. It is often used by psychics as a guide when giving a psychic reading. The exact age of Tarot has been lost in the annals of time. It is believed by some to be well over three thousand year old. Some of its traditions have been passed down through the centuries by the spoken word, and even today, this method is still being used by the Traditional Readers of this Metaphysical principle.
What is a Tarot Card?
The word tarot means wheel of life. It is a representation or an image of the universe. Read more about What are Tarot Card Readings
A tarot is like ordinary playing cards but consists of usually 72 cards. These include 22 cards that represent human virtues and vices, death and fortune and so on. Tarot cards are used by tarot readers to predict the future of their clients.
Reading tarot cards is both an art and a science. It is an art because like every other art form, it requires understanding and constant practice which, in course of time, develops the intuition. It is also a science because, like every other subject of science, its procedure is duplicable and produces precise and reliable results.
Tarot cards are used primarily for analyzing the personality of the subject and forecast his future. Tarot cards have been used for thousands of years. Egyptians and gypsies used tarot cards for divinatory and magical purposes.
Tarot the Book of Life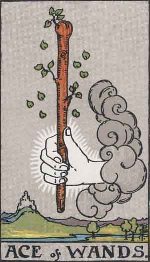 Tarot [pronounced Tay-roh] is believed by some, to be the Ancient Egyptians "Book of Life", consisting of 78 separate tablets of stone. These tablets have two sections, known as Major and Minor Arcana. Arcana is Latin for "Secrets". There are twenty-two cards in the Major Arcana, and is a psychic guide of man's journey through life. When he leaver his creator and takes his first breath to become a mortal being until he ultimately returns to his creator as a wiser soul after completing his life experiences. The Minor Arcana consists of fifty-six cards, which are divided into four suits. It guides man though the elements of air, earth, fire and water which we all need to exist on this planet and this being who we are Spiritually, emotionally, mentally and Physically. In Tarot it is known as Suits. These suits consist of Wands the Spirit, Cups the emotions, swords the mental and pentacles the physical. It guides man through his journey and lessons on life.
Egyptian Stone Tablets
One of the legends handed down through time talks about stone tablets in Egypt, perhaps brought there during the last day of Atlantis. There were considered by the Egyptians to be one of their most sacred items. With the decay of Egyptian culture, the tablets, the Book of Life, were transferred for safekeeping to the great library of Alexandria. Centuries later when the library was burnt down the tablets of stones were rescued and placed in the hands of the nomadic Gypsies to prevent the stone tablets falling into the hands of pagans. However, these stones were cumbersome for the nomadic tribe to carry, and the Gypsies carefully reproduced each stone on small sheets of metal, more that likely to be made of silver and gold and them, just as carefully, buried or destroyed the original stones. The gypsies knew and understood the messages on the stones and became known for their ability to Read the book to others, thus foretelling the future. It is not difficult to see how through mispronunciation, that the term "Fortune Telling" evolved.
The earlier Tarot Cards were the exclusive possession of nobility who commissioned an artist to paint reproductions. The individual artists were careful to maintain the original colours and symbology, yet each pack was the individual artist conception and interpretation. Sometimes, they may have used the faces of the people at court to portray the images on the cards they were painting for Novelty. The cost of painting a pack of cards was excessive, both because of the time involved and because they were painted on sheets of precious metal.
The earliest known Tarot cards date back to the 1390s. With the invention of cardboard and later block printing, the cards found wider distribution. To help further reduce the cost, and because of a fashionable game of that time Tarroc (which used the Minor Arcana and the Fool from the Major Arcana), the other twenty-one cards where dropped from the deck. Even more economical decks were produced when the queen was dropped from the decks. After the Inquisition the queens where restored to the decks and the knights and pages were combined to form our modern deck of cards.
Tarot Myths
When it comes to predictions about the future, there are always several things that can be used as references. Whether it's something unexplained like one's instinct or something more concrete like studies and past experiences, it is up to the person to decide what to use as basis. This scenario usually occurs when taking risks or making life-changing decisions. One can never be too careful or critical when decisions like this come up. Being so, many choose to consult with tarot readers.
When a person uses his knowledge of things in the past to make predictions, the same thing happens in tarot reading.
But, the main difference is the fact that tarot cards also have their own intuition and philosophical methods. The mystery surrounding the whole concept of tarot reading is what makes it more believable for some and the opposite for others. But, where did tarot really come from?
It has been said that tarot came from Italy and Egypt during the 16th century. However, there are also people stating that it originated from India and China. There are no evidences to prove such but it is certain that tarot has evolved throughout decades covering different generations and places.
A person who is interested in tarot reading must not read his own fortune, as myths would say.
There should be three components in a reading. These would be the client or the questioner, the tarot reader, and the tarot deck. Reading one's own card is considered as bad luck. Many people also have the notion that tarot cards can tell a person what his future holds. However, it should be noted that there are other external factors that affect one's future. Being so, tarot cards simply provide the possibilities that the future holds as well as different perspectives on current events.
---
This psychic site and its owners are not liable for any direct, indirect, incidental, consequential, or punitive damages arising from using this site, the psychic contractors listed on it, or its content. By giving us your email address you agree to allow us to send you occassional maketing materials. We will never pass your details to another company.
You must accept and agree to our Terms of Use before using our services.