PHONE CHARGE
Mobiles/Payphones higher call rate applies.
SP: Access Positive
CALL NOW FOR GUIDANCE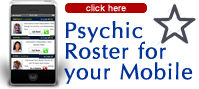 Money Back Guarantee
If you are not happy with the reading we will give you a Full Refund. This is only available for credit card clients through the auto and manual credit card service. Please call the Helpdesk on 1800 222 362.
Horoscopes Archive > Daily Horoscopes 1 - 7 May 2013
Daily Horoscopes
1 - 7 May 2013
1 May 2013
Aries
Don't just assume that other people support you even though you are quite popular. Your tendency to talk and talk and talk about your thoughts and feelings could irritate some people. You want to do something about a few things in your life but you don't really know how. You lack a bit of confidence and a practical approach. You are better in imagining than realizing.
Ask for some practical help!
Taurus
All of a sudden there are messages coming your way from all sides. You are being guided and influenced by all kinds of signals and omens. Don't let them pass, Taurus. It's not because everything is so obvious, that it can't be true. It can be very tempting sometimes to ignore the inevitable. Keep your sense of humour at all times.
Everything has a meaning!
Gemini
There seems to be some legal action and there is a big chance it will benefit you. Don't hesitate to give your opinion. Others will respect your points of view. Go outside as well and stretch those arms and legs. You would prefer to be in bed all day and especially with the one you love. Relationships are in the spotlights today, so be extra kind to that special person.
Love is in the air!
Cancer
You could meet new people now. Don't think that every stranger you meet somewhere is your new best friend because you'll feel cheated on in the end. You have to fight for something. At a later time you will probably be stronger and wiser when you come out of the battle. Relations that already exist are unstable and will be tested. Try to be more patient with your partner.
Friendships are changing!
Leo
Get over your resistance, because the way you are doing it now just costs more time and in the end you can't go around it. If you happen to start something new, don't accept it to be an instant success story. If you are worried about money this is the right time to make new agreements with your housemates. A legal decision that's been taken now could be beneficial for you.
Follow a healthy diet!
Virgo
Take the lead in whatever situation you end up. The ones amongst you whom are aware of a procedure or a work method are obliged to share this with others. Retreat into the arms of your loved one tonight. You are going on a sentimental trip today and this will pleasure a lot of people. This period starts and ends with some tensions. Don't try to solve them yourself because it won't work.
You are a leader!
Libra
Happy times will bring all kinds of people into your life that demand your attention and seek your company. Don't assume that you can always please everyone and retreat before you are forced to do so. You are skipping on details and people don't appreciate that. You try to laugh it away but that doesn't work this time.
Today will be anything but boring!
Scorpio
Things will go quickly and you'll be busier than usual when it concerns things like an inheritance, taxes or insurances. Yesterday's activities could blur your mind. The last few days haven't been quiet and smooth. Everything is hectic. These kinds of periods make you take some distance form your daily routine and that's just what you like.
Go with the flow!
Sagittarius
It is important that you take a good look at the way you communicate. The way people react to you is very dependent on the way you step into the world. Be a little bit critical for yourself. Usually you stick to securities but now you are daring to take a chance. At work you would want to learn something new or take the next step. You might feel like picking up a new hobby.
You are ready for something new!
Capricorn
It is important that you stick to your daily obligations. You have to readjust to a tougher period after having so much success and you will need to think ahead in little steps. Insecurity could overtake you. One half of you wants to do something else than the other half. Think well and don't ask others what you should do. Be aware of hidden enemies, like your subconscious complexes, that will cause problems.
Don't be too modest!
Aquarius
Life hasn't been easy lately. It's been pretty tough on you. Fortunately that period will end now. You can progress on all levels again. Everything that got a little stuck will start moving again. One thing: don't go too hard, too fast. To keep up mentally you could feel the need to follow a course or training. Your spirit wants to be fed.
Your finances need your attention!
Pisces

You are very serious today. It's s great time to make schedules, plans and work extra disciplined. Time is important and the feeling you are wasting minutes can be very depressing. Go, get to work. It's going to be a productive day if you stick to what you are specialized in. Use everything that is available to you to make progress. Your skills and knowledge will make others respect you.
Do what you are good at!
2 May 2013
Aries
You could discover you have an artistic talent and this will boost your confidence. Romance and business come together today; but if you really need to close a deal you will have to listen to your mind and not your heart. Unfortunately there is a chance you'll catch a cold or sprain something. An infection is also possible. Make sure you take along extra means before you head out. That will solve a lot of stress.
Try to stay calm!
Taurus
If you are single you turn into a real flirt. Right now it's hard to resist your charms. Don't count on something serious because it will stay superficial. At school or work you make a lot of mistakes. Fortunately you know how to talk yourself out of it. You are very creative and talented and these skills will be even more activated at the moment. It's a good day to exchange ideas with people that are on the same wavelength.
Try to concentrate!
Gemini
Focus all your attention on something that is important to you. There could be some problems today with travelling, loved ones, neighbours or others you often deal with. Stay home or behind the scenes to work, far away from all the gossip and talking. You don't lack any energy or discipline today. That's practical if you are studying or working. Physical exercise can reduce your stress. It will relax you and makes you tired in a healthy way.
Keep a low profile!
Cancer
Oh well, you can hardly do anything wrong today. Everything will go as it should go. Are you planning to promote work projects? This is the moment. For the best results you need to be subtle and tactful. A strong desire to head out shouldn't be a problem. Put your family members in the car and drive to a place in nature where you can relax. Having a picnic is a great idea, especially if some friends tag along (and it doesn't necessary have to be outside).
Enjoy every moment!
Leo
Allow yourself to push practical responsibilities and obligations aside and do something interesting. Like what? Having stimulating conversations with a good friend or visiting an eccentric surrounding. Make sure you create extra room for yourself. Your relationship feels suffocating. You are talking and talking and talking to everyone and that's not how you usually act. It will bring on some discussions.
Do something different!
Virgo
Your imagination is endless. If you succeed in remembering your dreams, you need to write them down. There is a big chance they are filled with messages. You will get the opportunity to change today. All you have to do is have the courage to let go and pick up some signals here and there. For one or the other reason everyone can count on your help. If you don't set any boundaries, you will be on the phone the entire day.
Let creativity flow!
Libra
You can enjoy a relaxed mood today. That fits perfectly with your easy character. You don't have to rush anything. Nothing is that urgent that you have to worry about it. Relaxing is a must and you are a master. You are in the spotlights, but the rest of the world seems to be suffering from the position of the stars. Do you notice that someone is angry or frustrated? Be aware that it's not your job to solve it.
Everything will be easy today!
Scorpio
You will impress others with your inner strength. Go outside. Try to shape your own ideas even if your surroundings wants to meddle. Practice a happy smile in front of the mirror and don't get upset. It seems to be bad for your digestion and it won't help you at all. Why are you so annoyed by that one person? It's this person that shows you things about yourself that you're not happy about.
Stay calm and count to ten!
Sagittarius
Unfortunately your relationship is going less well than you expected. You can't just solve your problems. You can keep on changing but you'll never get to the bottom of things. Is that really what you want? Will you be satisfied with that? You can get a lot of things done today. Unfortunately you're easily offended and that doesn't improve the atmosphere. Don't look funny when someone comments on this.
Watch your expenses!
Capricorn
You are choosing your own happiness today. Your own interests are more important than what everyone wants from you at the moment. Everything you do by yourself will be beneficial. You don't have to feel guilty about it. Joint activities or competition will just frustrate and emotionally confuse you. You could consider consulting someone who reads palms to discover in which direction you should be heading.
You are number one!
Aquarius
Arguments within the family need to be solved first before you head out or you will think about it through the entire day. This will disrupt your efficiency. It's not a good day to get your car controlled or to get your license. Is sleeping on the top of your list? Go on, off to bed! You feel very attractive tonight. Did you make any nice plans? Don't be too clear about who and what you want because it will break the magic spell.
Be a mystery!
Pisces

You are ready for the big clean up and your house will know it. Give the people that you live with the chance to catch their breath. Not everyone feels this sudden urge to clean. When you want to build up a new friendship or relationship, you should take things slowly. You are so different that you compliment each other but on other points you could really collide. Try to turn the challenges that are heading your way into a success.
Step by step!
3 May 2013
Aries
Tensions could rise high in your relationship today. There is paranoia in the air. Watch out you don't get caught up in this negativity. And if others react in a distrusting way, make sure that you rise above suspicions. Your relationship is going through some rough times now. You don't feel him/her so well at the moment and that feeling is mutual. This causes a lot of misunderstandings and irritations. Fortunately the bond with your family is strong. That feels like a relief.
Don't let jealousy take control!
Taurus
You need to depend on yourself in the next few days and you'll have to take a good look inside. Dear friends could help you with that of course. They know you very well and can give you some wise advice. There is a dreamy but sometimes exhausting mood in the air. Hold back and make time for something fun. Too many mental efforts are unhealthy. Give your brains a break and put your body to work.
A healthy mind in a healthy body!
Gemini
An exciting and tensed situation brings out the best in you today. That means you will have to make choices and have to take the lead when necessary. You sense other people's motives effortlessly today. Your finances need a little more attention. You think you are better of than you really are. Make a plan to build up some savings.
Better to be safe than sorry!
Cancer
Watch out for people that want to take advantage of you. That could turn into a nasty story. An awkward tale with a long tail. You clean up your house today. You are someone's saviour today, maybe even more than once. You should open up more often. It's nice if you can share your ideas. That way they get more shape.
You like to explore new things!
Leo
You will make yourself a lot stronger if you come up with a way to do something for the community. A female superior will help you with that. Your health can be an obstacle for your travelling plans. Timely get the necessary vaccinations. The bond between you and your family is strong again. You have seen them a lot lately. Fortunately an older argument has been solved. You are happy about that.
Show your true self!
Virgo
Try to find out if the people around you accept what you mean to do and take action then. Try to keep your mind at your daily obligations. People see you as an example because you are so successful. You are in the spotlights and you are beaming with confidence and optimism. Keep an eye on your diet, because your weight might become a problem. In love it's better to wait and see what happens.
Don't rush anything!
Libra
Things could get stirred up within the family. It is important that you solve it yourself. In any case, don't let outsiders meddle. Just ask for their opinion and take your own decision afterwards. It's all about balance. Nobody has to tell you how you have to feel or behave. Have faith that life is going to go as it should go.
All that matters is love!
Scorpio
You are usually known for your stubbornness but as soon as you make some room for what is new and improved you will notice how nice changes in your life can be. The preparations of a surprise for a loved one will go effortlessly. It is a great time to start organizing the event of the year. Make sure you take photographs or film a memorable accomplishment of a child.
Love your family!
Sagittarius
You even know how to put a fun twist to a nasty message. Gone is the tactlessness that you are sometimes accused off. Listen well to yourself, to the message you are bringing and especially to the way you are bringing it. You want to proceed like this. You will get the opportunity to work towards a goal and to show your leadership abilities. To really get the most out of every opportunity, you will have to be strong-willed and have a lot of stamina.
You are on the right track!
Capricorn
This is going to be a day with a lot of hassles. You could get into troubles with colleagues or have fierce discussions with friends or your partner. Anything can happen today. That tires you out and makes you a little bit frustrated as well. You have to work harder than usual to keep your finances on track. At the same time you are living large and pretending that you have a lot to spend. It could be that you buy a new car. Be careful with that.
Don't make any mistakes!
Aquarius
Train yourself to have a practical skill: persistence. You have it in you but you only use it for short periods. You don't have the patience to use it for longer periods because it's not challenging and sensational enough. It's plain boring for you. You realize like no other that your friends are only humans as well and that means that you are a master in the execution of the motto 'live and let live'.
Broaden your horizon!
Pisces

You feel a little bit emotional today. Nothing is as irritating as moody colleagues that snap unexpectedly. Why can't people just behave rationally? Take an extra break if you need it. You are the master in finding balance and that will be practical today. You will be pulled on from two sides. Your projects feel confusing and chaotic and it is tempting to disappear into daydreams.
Don't wander off!
4 May 2013
Aries
You had made a lot of plans but what happened to them? Why do you always say goodbye to those great ideas? Are they hard to realize or are you just scared for the consequences? Since you prefer to stay on the background, it will make you nervous if you have to make a public appearance. Working as a volunteer could make it possible for you to meet some very interesting people.
Don't be shy!
Taurus
Keep in mind that there will be some ups and downs today. If you have to work this Saturday, your skills might be tested and dumb mistakes can make you start having doubts. There is some insecurity in a romantic relationship. There are some pleasant encounters on the menu today. Don't agree with the price of a purchase too quickly. If you are single you look at everything in a very positive way. Watch out, (s)he isn't who you think (s)he is.
Dare to negotiate!
Gemini
You sometimes have the feeling you have failed. Today this feeling could overwhelm you. Don't try to stare yourself blind on that one goal in your life. You experience things, you change and with that the direction of your life changes as well. It could be that you overestimate yourself. That could lead to awkward situations. You are so ambitious that you risk neglecting your health.
Life is full of changes!
Cancer
It could be easier to contact someone than you think. You have a very complicated idea in your mind but it can be very simple. Don't worry too much about that certain friend. (S)he will get over it. You might feel a bit gloomy. Prepare yourself to have a relaxed weekend. You get the time to enjoy a nice drink outside or to read an exciting book on the sofa.
Don't complicate things!
Leo
You want to sort things out. That is only possible if you take some time for yourself. Head out into nature or find peace by doing yoga or meditating. You only damage your health with your doubts and often ungrounded distrust. Believe in your own feelings and be assertive if people around you are too positive about something where you don't see anything in. Foreign countries could fascinate you. It might be time to book a holiday.
Believe in yourself!
Virgo
If you have to work this weekend you'll be torn between your personal and professional life. It seems that, whatever choice you make, someone will be unhappy. Do your work and don't let stress get you down. Nobody benefits from that. Talk about your fears and doubts with a good friend. You'll be able to deal with things better. Relationships demand your attention right now.
Hidden tensions will surface!
Libra
Someone doesn't keep his/her promise and you're upset about it. Are you going to let it simmer or will you say something about it? If you leave it like this you risk loosing your friendship. Soon you will experience something that you'll never forget for the rest of your life. It is nice to share stories with others about your life. You can exchange points of view and it can be educational. Make sure nobody interferes with your personal life though.
Don't be stubborn!
Scorpio
The people around you will be able to enjoy your happy mood again. And honest is honest: they have earned it. You have made their life hard on them lately. This weekend everything will work out. Whether you have a date or a nice and free weekend. With only a little bit of effort you know how to turn it into a success and that means it will boost your confidence. That feels great.
Enjoy everything!
Sagittarius
A strong desire can give you extra energy. A new relationship will bring a change to how you approach certain matters. A personal project could become a small enterprise and you will be able to start working from home. Keep a good eye on messages that are coming your way today. There are possibilities everywhere. There is energy flowing everywhere as well. That energy includes love and romance. Lovely!
You are on fire!
Capricorn
Your social life gets wings today. This Saturday is meant to spend with friends. Get ready for great conversations and bold fun. Old-fashioned and that's what you really enjoy. Your finances will be in the spotlights today. This is one of the most lucrative moments of the month, so take action and work hard. You'll benefit from it later.
People love you!
Aquarius
The possibilities regarding love and creativity are endless today. Don't take this nice mood for granted. Days like these don't happen often. Go do something fun with your partner or feast your eyes if you are single. You have to have your things sorted out because soon things will go down financially. It would be a shame to waste everything because you're not prepared.
Count your blessings!
Pisces

You usually have a good relationship with certain people. Unfortunately there is a negative influence at the moment. Be extra careful with what you say. Just count to ten and think about it before you say it. Could they interpret it in the wrong way? Don't start to feel arrogant because of your successes. When someone spontaneously invites you, accept it. It promises to become a pleasant afternoon or night. And that's what you need, right?
Watch your words!
5 May 2013
Aries
You are very cocky and that character treat gets you into troubles today. You meddle in someone else's business and you are busy with things that demand a lot of patience. Make sure you exercise or your health will suffer. Your confidence suffered from a blow. You feel as if you've been damaged. On the other hand, you're still standing, probably stronger than ever. Have you ever thought about that?
You're a survivor!
Taurus
Life could make you feel a little bit unstable today. As flexible as you are you can handle these mood swings perfectly. While the rest of the world is losing control, you keep both feet on the ground. If only this Sunday was a little bit simpler. Sigh. You will need to do some serious thinking today. There is pressure on the kettle, especially when it involves the contact with your friends. Try not to be upset when someone doesn't stick to an agreement.
Life is complicated from time to time!
Gemini
The influence of the cosmos will unfortunately be rather negative than positive today. Try to be realistic about everything. Depending on others will start to bore you and most of your time will be lost on discussions about problems that don't interest you at all. Don't just assume that people will have your back even if you are popular. Some people could get annoyed by how you always talk about your feelings and thoughts.
Tomorrow will be a better day!
Cancer
This is a great day to organize a trip, a holiday or a weekend away. Don't be afraid to do something spontaneous. You have the time and the money for it. If you are single there is a big chance you suddenly fall in love. It is probably someone that you have known for a longer time already. The heart doesn't know any logic and follows no other principles than its own pleasure. So what will you do if you fall for someone whom you would never fall for?
Surprise yourself!
Leo
Your ability to express yourself has improved a lot lately. You can easily find the words to say what you want. That's a good sign because now you can start talking about your feelings. You invest a lot of time in saving something that is doomed to fail. Somewhere, deep down there, you know this but you continue because you can't come up with an alternative. Today this alternative will come by. New and with a good view on the future.
A fresh start!
Virgo
Aggression will get in touch with imagination today. That creates a strange mix of anger and desire, especially regarding your finances. Are you planning on purchasing something big? Check all your options and make sure that you know exactly what you are doing. Fortunately things will go well. Dreams and fantasies will eventually have to make room for reality but sometimes reality is more beautiful than what you can come up with.
What a strange day!
Libra
A strong desire to head out today won't be a problem. Put your loved ones in the car and drive to a spot in nature where you can relax. Having a picnic is very cosy, especially when friends tag along. Your partner is in romantic mood, but it makes you feel suffocated. You are starting to have doubts and suddenly you're not so sure about things anymore. You have to sort out your feelings.
Don't be afraid to love!
Scorpio
Making plans is fine but at this moment it wouldn't be advisable to head into new directions. Being impulsive is not a good idea at the moment. Take your decisions using your mind and not your heart. Don't get carried away by your emotions. The situation at home can be confusing but try to prevent fights from happening. Wait until a little later on the day if you need to discuss something serious. Enrol for a fun but useful course.
Choose the right moment!
Sagittarius
Does it suddenly hit you that the weekend is almost over? Than it is important to seize the day. The stars and planets try to seduce you to thread in emotional swamps but you have the control to do it or not. If you are single and looking for love, the spark could suddenly hit you this weekend. You aren't afraid to take the first step and that speeds things up. You are impulsive.
Just enjoy your life!
Capricorn
You are very restless today. You can't sit still and watch a movie. Make sure you at least have something to do or you will drag your surroundings along in this feeling. You seem to be a bit indifferent. This weekend's theme is 'new beginnings'. You do an expensive purchase, you are starting a new job or you meet a potential partner if you're single. And that's quite exciting, isn't it?
Take your time!
Aquarius
Your Sunday is everything but pleasant or relaxed. Worry less about things you don't have any influence on. You might have the feeling that you are a little bit stuck regarding work or study but for example also in your relationship. What you need is a different vision. You are more focused on your career than on financial matters. Status and the position in the community are more important to you than financial security.
You lack inspiration!
Pisces
Unfortunately things aren't going smoothly. There are some irritations between you and your partner and this affects you the entire weekend. You have more control over your finances. There is some room for a little extra so do something fun with it. Are you fighting with a friend or someone close to you? Take some distance and solve your problems with humour. You really can't laugh about it? Don't make the problem bigger than it really is.
Keep things realistic!
6 May 2013
Aries
At the start of the week everything that involves your work or career will be in the spotlights but inspiration is also the theme of the day. You are full of great ideas. Make sure you have a place to write them down. You are also very busy in your social network. Things usually don't just come by but you can ease things up a little bit. You will have to take the first step though or it won't happen.
Make sure you get enough rest!
Taurus
Today will be anything but predictable. That's because it is filled with all kinds of appointments and meetings. Be as flexible as possible. You want to buy something that actually is too expensive. You will, unfortunately, miss out on an opportunity or a promotion and it makes you sulk. Don't let it ruin your day. There will be new opportunities. You will have to deal with a high bill or an unexpected cost.
Keep your bank account filled!
Gemini
You have your opinion ready about everyone around you. You will have to adjust this though because there are things happening which you didn't expect. Fortunately you are flexible enough to admit that you were wrong. A gift or offer is just what you need to feel good. Your great performances are being appreciated and you will be rewarded for the help you have offered.
You can realize a goal!
Cancer
You are able to act fast and you will have to do that today. Be careful though! An accident, mistake, small crisis, it's all amongst the possibilities. When you are travelling you could have to deal with a little setback. You could seem judging today and not everyone is pleased with that, especially the people at home. Try to empathize a little more with other people. If you are single, it's going to be a special night. You develop warm feelings.
Don't panic!
Leo
Make some time for yourself. You need to vent that emotional stress. Try not to let those problems weigh you down. A legal matter can be settled. Make sure you get some fresh air and eat healthy. A dream contains a message. You have been stuck at the same point in your life for a while. That feels peaceful but it's time to start moving forward again in your personal development.
The time has come!
Virgo
Don't think about possible advantages or threatening setbacks, just follow the road towards success. You can feel a certain amount of restlessness, which could make you a bit reckless. Your financial situation is in the spotlights today. It's time to sort those finances out. Have you been living too hard lately? It's time to get things straight again. Where can you make some budget cuts?
Don't rush into things!
Libra
It's possible that a fight about something stupid starts at home and it is blown out of proportions in no time. Realize that you are both guilty. Suggest a truce or a compromise. Aside from that it's going to be a quiet day. You get to do the work that has been lying around and you do some chores at home as well. At the end of the day you have everything sorted out again and that feels good. You have to wait to get a reply on something.
Be patient!
Scorpio
Try to listen when someone older is giving you advice. Bite your tongue before you shout that you are not waiting for good advice because you are, we all are, all the time. You are in a phase of making plans and thinking. It could be that you have the feeling you are not completely ready yet. Realize that you don't have to do things to please others. Don't let others put you under pressure.
Do things at your own pace!
Sagittarius
Do you suddenly have the feeling today that all the things on your to-do list have to be done right now? Know that this is caused by the position of the stars. The next few days you'll feel like really working hard, even if others just want to party and relax. You are in a period of inner growth. Let things happen and don't try to relativise everything. At work a lot of things are going on behind the scenes.
Do what feels right!
Capricorn
It is very annoying when people don't respect you or seem to be determined to work against you. Fortunately you have good friends. Keep in mind that your partner might feel neglected. Don't laugh the things that sadden someone else, away. Break your routine even though there are some urgent matters waiting for you and find some peace. Try to get rid of a bad habit and visit someone that you haven't visited in a long time. Develop an unusually creative talent. Take some classes.
Broaden your horizon!
Aquarius
Have the courage to negotiate today. You might have completely different things in mind than the things your boss has in mind for you. You might feel better if you slow down a bit. Someone could ask for your support and you might have to cancel an appointment because of that. Fulfil your obligations though even when you feel flattered. Stay goal-orientated and disciplined, whatever goes on around you.
Focus on your goals!
Pisces

Make plans or you will waste valuable time or call up some friends and ask about their plans. Keep in mind that the money you lend today probably won't be returned. Give loved ones the respect and attention they deserve. You are in looking for very intense experiences in this period and you feel the need to get to the bottom of things. Make sure you don't make things worse. You are giving more attention to sexuality as well.
You are a real explorer!
7 May 2013
Aries
Unexpected income reaches you just in time or people will offer you help with something that is troubling you. Be friendly and make sure you create a cosy environment. There's a chance you'll have to make a quick decision about or for a child. Usually people really believe it when you do something but not they seem to have the need to check everything that comes from your hands. Let them just do what they need to do and don't get all worked up.
Stay calm and carry on!
Taurus
Today, it's extra easy to talk about what's on your mind. Emotional and sensitive conversations are the theme of the day so take a look at your mood before you say, write or send something. And be careful not to be blunt. No matter how hard it is to grasp, you don't have eternal life. Use all the opportunities you get. You will regret it if you discover later on that you didn't do everything you really wanted to do.
Seize the day!
Gemini
Strong feelings could overwhelm you today and make your perspective on things disappear. Don't blow off steam in public and stay away from it when someone else does do this. You'll prevent looking like a fool. Ask for a family meeting if issues demand your attention. You are not responsible for others. Something pleasant will happen. You will hear something from someone from the past.
Stay as calm as possible!
Cancer
If you bottle up your feelings all the time, you risk reaching out for a glass of alcohol more easily. Just let that glass stand where it is standing. Try to accept your weaknesses and allow yourself to have an hour of rest more often. Stay with both feet on the ground. First consider all the steps in detail and then act according to your own plan. Success won't be thrown at you today. You have to work hard for a bit.
Make sure you relax tonight!
Leo
Today is all about to-do lists, groceries, washing machines, etc. It is a good time to streamline your daily routine The more goals you put on paper today, the easier it will be to reach them. Visualizing things gets you a long way already. This is a day to take initiatives, whether it's about establishing new contacts or professional opportunities. You can be successful if you want it.
Write down your goals!
Virgo
Don't forget to be selective. From time to time you say 'yes' to too many things. You have certain qualities that can be pretty annoying for the people around you. Think about that more often and do something about it as well. The feeling you can realize your dreams can give you a lot of strength. Let someone encourage you if things aren't working out. The results of an exam will encourage you to proceed studying. Take a look at a (new) job.
Go out and explore!
Libra
Your good reputation is one of your strongest points and it's important to maintain it. Whatever the circumstances are, behave in a correct manner. New doors could open for you to fields you weren't active in yet. You will be pleasantly surprised. That turns today into a positive and special day. You have some time for your hobbies and to spend some free time outdoors.
A healthy mind in a healthy body!
Scorpio
You could feel pushed into a corner and even though others try to help you, all you want to do is escape. If you immediately take in an assertive position, you will prevent problems. A drink after work could turn into a party and the conversations will be interesting. If you are single, you make a great impression. You easily catch love like this. You feel like doing a new study or course and the time is right for it. At work you gather a lot of experience and knowledge.
People love being around you!
Sagittarius
Your thoughts become extra emotional today. Prepare for some moodiness and adjust your day to it. It's a good time to reminisce with friends from the past. All kinds of feelings take control today: insinuations, suspicions and premonitions. Don't judge too quickly. Be honest and make sure you save your dignity. 'To love' means you find the feelings of the one you love more important than your own feelings.
You are on an emotional roller coaster!
Capricorn
Hospitality is nice, but do not exaggerate it. There are other ways to impress someone than with expensive drinks and snacks. If a creative challenge brings nothing but frustration, you'll have to put it aside for a bit. Be patient. Your personal success is right at your feet today. With a lot of commitment and discipline you will be able to get so much done. Keep your ears open because the opportunities are heading your way.
Think big!
Aquarius
Someone around you is a smooth talker. (S)he probably just wants to convince you of something. Form your own opinion first. You don't have to worry about how others see you. There could be some differences of opinion today. It seems as if you are at a completely different wavelength than the people around you. Clearly state what you do and do not want because others can't guess or sense this.
You are restless!
Pisces
Things will shift on the relationship level. The changes that are on the menu in the next few days will offer you a completely different view on everything that involves dating and love. You want to bet that you will come out new and improved? You could get involved in research that isn't just financially interesting. Close your workday with completing a project. Working for others could make you feel unsatisfied.
Changes are good!
This psychic site and its owners are not liable for any direct, indirect, incidental, consequential, or punitive damages arising from using this site, the psychic contractors listed on it, or its content. By giving us your email address you agree to allow us to send you occassional maketing materials. We will never pass your details to another company.
You must accept and agree to our Terms of Use before using our services.
CALLING FROM OVERSEAS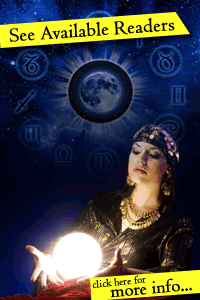 PSYCHIC RELATED TOPICS
Genuine Psychics can help you find solutions to any stressful situation