PHONE CHARGE
Mobiles/Payphones higher call rate applies.
SP: Access Positive
CALL NOW FOR GUIDANCE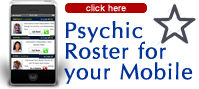 Money Back Guarantee
If you are not happy with the reading we will give you a Full Refund. This is only available for credit card clients through the auto and manual credit card service. Please call the Helpdesk on 1800 222 362.
Horoscopes Archive > Daily Horoscopes 1 - 7 March 2013
Daily Horoscopes
1 - 7 March 2013
1 March 2013
Aries
Communication is important today. You can bet you will have a lot of correspondence and important conversations. Wisdom and insights are right there in front of you, so surround yourself with people that have something useful to say. Build your confidence and try to improve the way you express yourself. You could be confronted with opportunities to improve your career. Get in touch with your family before you make a decision that affects them as well.
Remember those wise words!
Taurus
It's going to be a normal day even though you could suffer some setbacks. As the day progresses things will become more positive. Be aware of the presence of your colleagues and look at problems as a warning. Emotionally you're not feeling well. You cry easier than usual and you look at life in a gloomy way. Distract yourself by diving on your work or you'll just keep on worrying about things you can't change.
Just another day!
Gemini
Your prospects have improved, just like your public image. Believe in yourself and your own vision. Put yourself in the spotlights and ask that promotion or raise. Whatever you start now, you'll finish it within two weeks. Do you notice that you are at the beginning of something new? When things don't go the way you want them to go, you are allowed to retreat and to wait for a better time.
You have your head in the clouds!
Cancer
You don't have to fight for anything. Seriously. You easily solve the toughest disagreements. Compassion is the theme of the day. Use this gentle vibe to make friends with your worst enemies. Luck is by your side on this satisfying day. Take it easy for a few days even if you want to work for the community. Nobody is indispensable and everybody needs to recharge his/her batteries.
Take a deep breath!
Leo
You are a lot less emotional than you have been lately. Don't be afraid to take risks. Tell the people around you what is going on with you, especially when it concerns love. During a meeting you could get interested in spiritual things and people that are loving and caring will impress you. You could get interested in alternative ways of healing or aromatherapy.
Dive into life!
Virgo
You really don't have to plan everything in your life. Whatever happens, don't let it throw you off balance. Things are happening that could confuse you. You and your partner are not on the same wavelength concerning education and that causes problems. A fight with a loved one in the early morning ends in a positive way if you are willing to compromise. Approach doing business in a positive way even when things aren't financially well.
Don't try to control everything!
Libra
This is the beginning of an important financial period. The next thirty days are meant to find new and better sources of income and to lift your financial plan to a higher level. You are always up for a social event. It's all very cosy and pleasant, without a doubt, but you are outrunning yourself. Make sure you have enough moments of rest in your life. You need time to recharge.
Take a good look at your finances!
Scorpio
Good news: it's a great day for romance and creativity. Your imagination leads you to the most beautiful landscapes. Now it's time for glitter and glamour. Right things of which you know they are untrue, even if it leads to unpleasant confrontations. Be aware that you have to work on a relationship, every day. Stay home tonight if that is necessary. You don't have to go out.
Be honest!
Sagittarius
If you are prepared to make an effort, you will get great results. Don't sit back and relax because you'll miss the best opportunities. Take your time to see the big picture. Whatever is bothering you will disappear once you get an overview. You have to be stricter for your finances. You are spending a lot more money than you are making and that will have consequences. Pull the breaks while it still can. Socially you are going to have a lot of fun.
Cherish your friends!
Capricorn
It would be nice to be able to take a little trip this weekend. You don't have to go to a tropical island but a nice weekend away could work miracles. It would be a good thing to show more initiative from time to time. If you like sports, you need to exercise now. Sitting around and doing nothing only frustrates you. Financially things are going well.
Don't take too many risks!
Aquarius
Did you exhaust yourself over and over again lately? The time has come for simplicity and to relax. Read a good book or cook an extensive meal. You would prefer to stay inside all day and you don't have to. If you go out to exercise you will get more energy. You could discover something or a secret surfaces. Don't act as a diva, unless you are really successful.
Don't make enemies!
Pisces

You can easily finish the daily chores even though there will be a few obstacles. You can use meditation and relaxation exercises to get rid of stress. You could start making new friends during this period, sign contracts or travel. Work on your own as much as possible and write down your ideas before you forget them again. Creative and playful things influence your life.
Embrace your life!
2 March 2013
Aries
It would be wise today to control yourself a little bit. Whatever needs to be fought for, it's not going anywhere. It is a lot better to relax and to give others some space as well. Use your energy to finish some tough tasks. Be careful when dealing with people because you are quite moody. You could have to deal with emotions, disagreements and friction today.
Oh, what a day!
Taurus
It might sounds like a cliché but treat others like you want to be treated. It's the truth. You don't even know that you can come across as harsh and unfriendly from time to time. You look at life in a positive way today. That's not always practical. Keep several options open. That is good for your future plans. Spoil yourself and your friends with a short trip or a day full of shopping.
Smile and be friendly!
Gemini
Outside influences are positive today and you will reach an inner height. Stay realistic and keep both feet on the ground. If you let your problems rest for a while you will find solutions more easily. Your intuition is helping you today. You had no clue what you had to do with that situation but all of a sudden you saw the light. You sense what that person means and that's completely different from what (s)he says.
Stay grounded!
Cancer
You could feel mentally exhausted today after the busy period you've gone through. You are overwhelmed by information and messages that are constantly intruding your mind. The time has come to solve some problems at home. You could get some problems in a relationship today. Realize that love is a gift and not a right. It's beautiful that (s)he loves you.
Cherish your loved ones!
Leo
There is a romantic vibe in the air. That works well for love. You have the lovely feeling that nothing is impossible today. Be generous towards the people that love you. This is not an ordinary day. Problems, big or small, will surface. You get the chance to show your feelings without having to be afraid to get hurt or to hurt others.
Be kind to yourself!
Virgo
It's going to be an intense day. You can catch a glimpse from your future. Take a good look at your work life, now that you have some time and ask yourself this: are you satisfied with your job and do you feel useful? Be clear in conversations and don't hide any important facts. Being creative is a great way to relax. Inspiration and fantasy go hand in hand today.
Your feelings are strong!
Libra
A lot of wishes will be granted. Your inspiration and fantasy are increasing and that will encourage you to do creative things. Bonds of love will become stronger but be careful with promises. Plans could be more expensive than you estimated. Retreat if you can't get an overview of the situation. You can pick up the issue later on if your view is clearer. It will boost your confidence to make a public appearance.
Dreams do come true!
Scorpio
You are a great support for someone close to you. Without your help (s)he wouldn't feel good at all. It's a tough job to support someone like that. Make sure you don't promise too much. The way things are now you hardly find time to do your own things. When you have a partner you have no problem communicating with each other. Your stomach won't be able to handle it if you eat too much.
Try to plan your day!
Sagittarius
You choose beauty in life. You can see that in the way you dress but also in the art you buy. You feel more attracted to art than ever before. You will be a part of a group activity or networking more easily than usually. This could have surprising consequences. Little by little you are convinced that this is the path you should follow, even if it's just to satisfy your endless curiosity.
Curiosity killed the cat!
Capricorn
Keep an eye on your stuff. Something might get stolen. Take enough time to plan your appointments. Your car could break down. If you are single you could meet someone and maybe this one will stay. You have always valued the way you looked at the world. Something throws you off balance for a bit. That's not a bad thing. You get a broader view on life and this will make you grow.
Education is the key!
Aquarius
This Saturday is going to be pleasant and full of nice conversations. It could be that you encounter someone that will help you reach your bigger goals in a few weeks or months. Don't project your own insecurities onto others and don't say anything you don't mean out of fear. You could be torn between your household chores and the demands made at work. Don't let this ruin your mood.
Always look at the bright side!
Pisces

People expect a clear position from you and they could get upset with you if you want to keep a door open at all times. Pick a side. Your helpfulness is really appreciated. You dress to impress. Your house is looking very tidy as well. Make some time to do something completely 'useless'. Read a great book or let your imagination run free. You are doing too many things you have to do.
Let go and enjoy!
3 March 2013
Aries
You are a lot less tensed and all of a sudden you want to please him or her in everything. Is that a good idea or not? You feel a little limited in your daily life. It seems as if you've ended up in a crisis. You don't want to give into it. You need to realize this will make you stronger. You have the opportunity to work on yourself and to change things in your life.
Don't try to please everyone!
Taurus
Find peace in a friendly atmosphere after a week of hard work. Drink a good glass of wine with some eccentric friends but don't get involved in their financial projects. Therapy or an advice will prove its worth. You have felt it coming for a while now and today the time has finally come: there is an intense vibe that gives you confidence and that influences your place in the world. There is a big chance there are going to be some major changes.
Keep breathing!
Gemini
Your friends will support you if you need their support. Obligations towards friends or a club could demand (too) much of your time this weekend. You need to participate though because you're going to have a lot of fun. Release yourself from some things that you always found important in the past. Accept every bit of help you get with both hands. You have earned it. You are lucky when playing games.
It's going to be a great day!
Cancer
Be less serious about the things you fuzz, worry or get excited about. The people around you will show you their love today. Don't be ready to comment immediately but put yourself in the other person's shoes. Put your self-interest in the background today and do a favour for someone around you. A nice dose of energy will make you enjoy everything you do.
What a boost!
Leo
Certain matters are too important and some opportunities are too special to let them slip through your fingers. You will get a wake-up call today so pay attention. Take action in a timely manner. This is an important day. You have felt it coming for ages, but now it's finally there. It will influence your homely life. Changes can be tough at first but eventually they will work out well for you.
Don't resist!
Virgo
Give yourself a break today. You could feel good but if you want to do too much your well-being will suffer. Take a step back if you notice mood changes and restore your strengths. Someone is completely lost and needs your help and support. Today is a good day to go out. There is a big chance you'll meet new people and that it will financially benefit you.
A short trip works miracles!
Libra
Sitting around and waiting is the smartest move to make when you are single. Show some initiative and go to some parties. Cupid will know where to find you then. A good friend is going through some rough times. (S)he really needs you. Being there for him/her is sufficient enough already. You are carrying a large responsibility. Fortunately you can postpone it for a bit. That gives you some room to breathe. You can finally recharge your batteries.
You are a true friend!
Scorpio
You could mean a lot to a good friend today. (S)he is having a hard time with something and you are already a part of the solution. It will bring you a lot closer together. Go out and do some things. You don't have to worry about people finding out stuff or other worries. It is good to be as honest as possible at all times to the people around you. That simplifies life a lot.
Honesty is the best policy!
Sagittarius
The time to act has come. If you share your richness with others, which doesn't have to be materialistic, you'll stay happy. The cheeriness you'll find had nothing to do with uncontrolled happiness. You feel very creative today and that means there is a nice, productive vibe in the air. Everything you do will be successful, but writing and communicating will be extra successful. Go tweet and e-mail!
Words are a treasure!
Capricorn
It doesn't matter if you are male or female, today you will feel the need to take care of everyone. This irritates several family members. Try to control yourself. If things are foggy, like they are now, and your personal and financial goals are unclear, you worry a lot. There is no need to do that. It's just a change of scenery and you're heading towards the next scene. That's all.
Don't worry, be happy!
Aquarius
Several people will depend on you at the same time. Your restlessness is bothering you. Don't demand rest from yourself. The time is right for some changes. Do something with that if you're ready for it. Even though you are not looking for a new love, you will hit the jackpot if you're single. And that's a nice surprise. If you are in a relationship you will have more attention for each other. That's a good development for your sex life.
You are growing towards each other!
Pisces
You could try a blind date. It would broaden your horizon. You feel good. You have the time to do some stuff at home and you love it. It will be cosy with your family. You have the feeling you didn't have enough time for a good friend lately. You could be right. Grab the phone and call him/her. There must be something fun you can do together, even if it's just chatting all night.
Catch up with your friends!
4 March 2013
Aries
You're a bit scared of that one person whom always criticizes you. That's not so smart because (s)he is saying useful things. You can do something useful with this constructive criticism. That person could mean a lot for you in the business field. Be patient concerning yourself and others. Friendship is a valuable thing when it comes to teamwork. It shouldn't be too hard to show others how much you appreciate them.
Don't run away!
Taurus
Don't worry too much today. Get involved in the local community and help people that need it. Believe in the future and don't let anyone's criticism keep you away from doing what is right according to you. You will see a unique chance or opportunity today. Don't have too many doubts. Grab it when it feels right. You'll be successful in love. The person you like, feels the same way about you.
Make the first move!
Gemini
A composed herbal tea could be a good boost for your body. You are able to do great physical performances. A trip brings variety in your life. Your energy supply is big enough to ward off bad influences. Someone that you like spending time with may have built a wall that is impossible to break down. Listen to an older person who has experience in love.
Keep love and finances separated!
Cancer
Today there will finally come an end to the bad luck streak in love. You can count on all the advantages of the planet love. No setbacks. No delays. Make room for some romancing! You feel very responsible for your job or someone that is close to you. This causes a lot of stress. You aren't able to relax and it gives you sleepless nights.
Try to talk to someone!
Leo
Your relationships have been flipped upside down lately. Now that things are becoming normal again you can say exactly what you think about things and what you feel. Put everything in order and think well before you make the next step in that decision. Open up some magazines to get inspiration about that makeover. You are going through a rough patch at the moment. You feel a bit lost. Try to continue in a calm manner.
Slow and steady!
Virgo
You are being reminded to live and let live. Not everyone has structures like you do. Not everyone is occupied by time like you are. That doesn't make others less valuable. It could be pleasurable to redecorate your house and to give your creative side some room. It doesn't have to be expensive if you do it yourself. Make a plan first and take a look at different techniques. Limit strenuous chores to a minimum if you feel lethargic.
Everyone is unique!
Libra
If you know what goals you want to reach, you know which road to choose. Work on your own. This will give inspiration the opportunity to bloom. People that work at home will appreciate they don't have to work in an impersonal office. One way or the other everything seems bigger in a photograph. Real life is rather oppressive. You get an opportunity at work and it looks like you're heading straight to the top. Soon you will see there are some limitations though.
Not everything is what it seems!
Scorpio
Work hard and you'll be pleased with the results. Nothing works better than effort and immediate action if you have enjoyed life too much lately. The help of an outsider could bring the solution if you are constantly having conflicts with a loved one. Sometimes problems can only be solved by someone who is impartial.
Be careful with money!
Sagittarius
Be careful when you are giving your opinion. Apologize or weaken your statements if you unwillingly offend someone. Patience will be necessary today. Fortunately you are a pretty patient person. Rome wasn't built in a day either. You will have to wait and wait a little more. Taking action won't bring any progress at the moment.
Sit back and wait!
Capricorn
If you take the lead in an unclear situation today, make sure you communicate everything well. If you don't do that, everyone will get upset with you while you actually just want the best for everyone. Your relationship is getting extra attention from you. Don't stay alone too often because it will make you restless. Fortunately some friends will come along to surprise you with a visit. It doesn't matter if you are male or female, you get along better with men at the moment.
Be clear in communicating!
Aquarius
Something is bothering you emotionally but you don't show it. That causes unbearable tension. You should talk about how you are feeling. If you are single, you have had better day. Al your good intentions are being ignored. Try to create some peace in your daily life or you'll be overwhelmed by your busy agenda and existence. That could cause unnecessary illnesses and tiredness.
Set your priorities!
Pisces
You are extra sensitive today. It is hard to avoid illusions and projections but with a little bit of humour you will see that nobody is conspiring against you. There's just a paranoid vibe in the air. There is nothing you can do about it. Just when you think you can no longer keep your head above the water, you will see the light at the end of the tunnel. More freedom and flexibility could become a part of your life.
Write down financial agreements!
5 March 2013
Aries
You have a hard time showing your feelings. What is so bad about someone knowing how you feel? You are deeply touched by something your mom or a motherly figure does or says. Don't keep thinking about it, just tell her. I hope you're up for an adventure because things will start to stir. You might be very confident about all of this but your partner probably isn't. Keep that in mind.
Don't hide your feelings!
Taurus
You need a little bit of imagination. Dreams about your career could become reality but you have to do something for it. You are full of great ideas. You just need some perseverance. Things are going well for you but this phase of abundance won't last long. Treat the current situations as you would treat a new car, taking it easy before you push it to the limit.
Listen to your inner voice!
Gemini
Don't drink too much alcohol because you will only get into trouble. Alcohol will damage your liver. Don't avoid problems but do something about them. You will feel a lot better then. If you have to wait for others today, nothing will happen. Just act! It is good to take action yourself for you and the situation. When it's noon you'll have used up all your energy.
Divide and conquer!
Cancer
You are too emotional to judge everything in an objective way. It isn't a bad thing when others give advice but they don't have to mind your business. Keep setting your boundaries. To progress and to get the job done on time, you can take on a lot of jobs that don't belong to your normal routine. Organize a meeting if you can't reach a business agreement.
Do things differently!
Leo
Today is the day to think about what you want to do with your life. It is time to research what your impact is on the world. Aren't you satisfied with your job? Go look for something that fits you better. Necessary personal changes can be very successful today. Being impulsive could give you some creative and inventive ideas to solve a problem. Don't pack your bags too quickly.
Control your jealousy!
Virgo
You have had some artistic delays lately. Fortunately you can finally bring out those postponed ideas again. A letter or a remark can make you very upset and angry. Then you'll discover that you misunderstood something. You might get into a fight over nothing at work. Be patient if you have to write something about a complicated matter. If you put on your happy face the atmosphere around you will improve.
It's time to shine!
Libra
The people around you will wonder in what universe you are exactly. Try to return to earth at the necessary moments. The rest of the time you can just write poetry and meditate. You will encounter someone from the past and that brings along a lot of memories. Some of them will be pleasant but most of them you prefer to keep hidden. Sometimes it's better to face things though.
Don't run and hide!
Scorpio
Set your boundaries because things are getting worse. The problem is that you are very insecure about something and you don't stand up for yourself. That's exactly what you should do though. Are you planning to go to a job interview or to ask a promotion? Today is the right day to do it. You know what you want and you seem powerful. Every kind of negotiating will be successful. If you are going on a first date things will stay cool and superficial.
Believe in yourself!
Sagittarius
Try to avoid sickness by exercising outdoors a lot and by eating food with lots of vitamins. If you don't exaggerate your exercising, you won't get any injuries. Don't demand too much from your body. Be open to new things. Routine work isn't your favourite thing to do so you won't be happy when you get even more daily obligations. Insecurity about the future will disappear. You know what you want and what you want to reshape.
You are looking at a bright future!

Capricorn
Today love is important. Relationships and friendships work out smoothly. Everything becomes a lot clearer all of a sudden. That's really nice. If things weren't going well in love, this will change. The next few days are filled with romance. Make sure you are seen and have loads of fun. You could have, unintentionally, misled a professional relationship. You might suffer from some setbacks because of that.
All you need is love!
Aquarius
Someone you like being with could have built an emotional wall that you can't fight against. Listen to an older person with experience concerning love. Keep love and finances separated. A misunderstanding or a fight could happen. Not everybody likes your direct way of communicating. You, unexpectedly, purchase something expensive. Fortunately it's not a mistake. You'll enjoy it for a long time.
Be as clear as possible!
Pisces

Everything is going the way it should go today, especially professionally. Even stronger: the prospects are spectacular! Add a little bit of extra love to those ambitions and you will see how fantastic the results will be. You wonder why you can't keep quiet more often. It'll be tough if something will cost more time than you estimated. You are so tensed about it, you might easily start a fight.
Don't get carried away!
6 March 2013
Aries
You disagree with someone close to you. It is sometimes wiser to keep quiet though and not head into a discussion. You will impress others with your inner strength. When you get tangled up in a difference of opinion today, you need to solve it as soon as possible. You might need that person really hard in the next few weeks. A promise is a promise and you have to pay up for it now.
Don't make promises you can't keep!
Taurus
You get clarity about a certain issue. Grab your chances as long as they are on your path. Someone around you is trying to throw you off balance. (S)he might be after your position but it could be pure jealousy as well. It seems you should start living at the office. You aren't home yet or you have to go to bed to be able to rise early again. It just doesn't seem to end. Fortunately things will calm down soon.
Be careful what you wish for!
Gemini
A good friend needs you very much. Take the initiative and drag him/her along. You can talk well and the other person really benefits from that. You might become even closer. This will be a peaceful day. There aren't a lot of appointments on your agenda and things are quiet at work as well. The question is if you can take it easy. Before you realize it, you are doing something again
You are a true friend!
Cancer
If you are single you will fall head over heels for someone. You are going for it. Unfortunately (s)he isn't quite ready for that. Give him/her some space to adjust. You visit a lot of places. There will be tensions at work today. Colleagues could use mean methods to get what they want. Don't be afraid to face the confrontation. Misunderstandings can only be prevented with a direct attitude.
Don't let people walk over you!
Leo
A romantic spark could happen and set you ablaze. Calm down. Don't jump into the deep end with someone you barely know. Colleagues are prepared to take your creative input seriously if you act professionally. Problems with friends become a lot clearer all of a sudden. Didn't you know what someone's motivation was exactly? Were you not sure about your own place within a group? All those things will become clear today.
Don't take any risks!
Virgo
Work on the things that need to be done. You are full of energy and very enthusiastic and you know that once the work is finished, you can relax and spend time doing your favourite hobby. You can unexpectedly learn something from children. The storm that has been raging through your life lately will finally settle down. You will get stability and rest now. A period of prosperity and abundance has finally arrived.
Work first, relax later!
Libra
Look further ahead and make plans for the months that are ahead of you. Tune in your thoughts on others so you will better understand their ideas and points of view. Don't accept anything without thinking about it. Make sure you know what you are talking about. You are able to finish up a project on your own. The need to involve others is minimal. It could be a good idea to try something artistic.
Plan your future!
Scorpio
By being friendly to someone else and treating them with respect you will be treated in the same way. That also goes for your most intimate relationship. Useful affection is available but you will have to make some clear choices. You want to have a great body and that's not going to work if you keep on living like you do now. When something unexpected happens you need to just stay calm. Don't act on impulses because it will backfire.
Stay calm and carry on!
Sagittarius
You hear something about someone and at first instance you think it's nonsense. It stays there in the back of your mind though and you will notice there is some truth in it. Of course you don't have to immediately jump to conclusions but it's good to think about it once in a while. You have the tendency to take everything personal. Your experiences have nothing to do with the other person so don't try to project too much.
Everyone is unique!
Capricorn
If you have collected a lot of things, now is the time to decide what you want to keep and what you want to get rid of. Sportspeople like to be busy all day especially if they are an example for young people. Financially you can make a leap forward. Dare to take a risk. You don't have a lot to complain about concerning love, settled or not.
A day filled with passion!
Aquarius
Awkward situations will arise. You will see that you can't trust a certain person. Follow your intuition. That prevents a lot of sorrow. At work you have reached a dead end. It is time to walk new paths. It is an ideal moment to occupy yourself with higher goals. New insights, a broader awareness. Surround yourself with people that support you and don't be tempted into choosing a cheap sidetrack. If someone can spot quality, it is you.
Choose the right path!
Pisces
You won't get far today with a smile or some humour because you've taken things too far. You can only right some wrongs by being honest. It is important you take your responsibility at home. That will be appreciated. Your thought s and actions are completely clear to you but the people around you can't read your mind. It's hard to follow you.
Make yourself clear!
7 March 2013
Aries
Pay attention to the facts today and don't listen to the rumours you are hearing. Don't let anything drive you insane. Listening to tips is fine but don't cling on to other people's opinions. It looked as if it was going to be a quiet day without any crazy things but that's completely out of the question. You should count on sudden changes and crazy stuff. Nobody reacts in a predictable way.
Use your common sense!
Taurus
Don't react in an impulsive way to annoying situations because you're only going to make things worse. Stay calm because it will blow over. That's a possibility you hadn't thought about yet. You don't feel really well today. Your energy levels are down and you don't sleep well. This doesn't make you a happy person. Go outside more often and make sure you exercise enough.
Let things be!
Gemini
Today relationships are the main theme. The time has come to have more fun in life together with a partner. You easily reach harmony by showing compassion and if you are willing to forgive. Try to feel instead of trying to understand. A financial deal could be delayed. People that are far away from you capture your attention and you could forget an appointment. Romance is extra important today.
Love is all around!
Cancer
Don't wait too long before making that important decision. You have the tendency to manipulate people to get something done. That's not the right way though. Feel sorry for someone instead of getting angry. Intentional delay tactics in relation to a salary increase could induce you to look for another job. Use your urge for wanting to work to clean up your house or office.
Don't be manipulative!
Leo
It would be a good idea to be less critical for yourself. Nobody is perfect and you are actually perfect the way you are now. If you are truly that unhappy about something, you should work on it. Even though your current mood is just temporary it will take a few days before you know what to do. Ask yourself what changes you want to make in your circumstances. You could come up with some original ideas.
Love yourself the way you are!
Virgo
Think about the person that you has helped you out so much and let him/her share in your success. Don't accept a proposal too easily. It could be necessary to take a decision if not everything is working out as planned. You like to spend a lot of time with your family now. Do some chores together. That makes you feel relaxed and creates a cosy mood. This is s a great period for creative projects. You have more than enough inspiration to create something beautiful.
Cherish your loved ones!
Libra
Some bombs will explode today. It starts at work already. You don't agree with how things are going and it shows. It's not going better in love either. There is a negative vibe in the air. This creates tensions and exaggerated emotional reactions. You are pretty balanced though. That gives you the possibility to think about your wishes and desires. Write them down immediately. If you are single, you might meet someone.
Be ready for some action!
Scorpio
A feeling of independence will take over today. You will feel the urge to do something that is different from your usual routine. It won't be easy to complete your to-do-list today. You might feel that today is hard day. Nothing seems to be going right and you have to push everyone to act. Postpone some work and don't try to force anything. You can expect a financial windfall. Spoil yourself with it.
Take a deep breath!
Sagittarius
Because of the positive influence you have and the positive influence others have on you, you experience the pleasure of common events. It's not cowardly, but sensible, if you let time do its work. It is within your reach to make something beautiful out of it. You are a good friend. You feel very involved in the life of your friends and you are a great listener or a shoulder to cry on. There is nothing wrong about that, but aren't you forgetting yourself?
Be a little bit selfish!
Capricorn
If you are single you are going to get very lucky today. The planets are showing a new love. Don't be surprised if you suddenly fall in love head over heels because things are moving fast. You have a bigger need for sex and intimacy today. Don't just assume your partner or date feels the same way. You will get the most out of things by being subtle. You are bursting with energy and you get all the things done that you had planned.
Oh, what a day!
Aquarius
It's going to be complicated day that could make you feel down for a while. Stay focused and you'll reach what you had in mind. Ask for help if it takes an effort to complete the tasks in a timely manner. Make a list and mark what has been done. Don't waste your time and energy on doubtful things. What matters now is to plan step by step and to act. Positive thinking will have a beneficial effect on things.
Look at the bright side!
Pisces

You push through when you have to make great efforts and therefore you can handle difficult tasks. The power to heal lies within you. It's better to be safe than sorry. The plans you have will, unfortunately, have to be postponed for a while. Your budget just doesn't permit it. There is nothing wrong with putting some things on paper already. You can start right away when you get the financial issues sorted out.
A good preparation is already half the work!
This psychic site and its owners are not liable for any direct, indirect, incidental, consequential, or punitive damages arising from using this site, the psychic contractors listed on it, or its content. By giving us your email address you agree to allow us to send you occassional maketing materials. We will never pass your details to another company.
You must accept and agree to our Terms of Use before using our services.
CALLING FROM OVERSEAS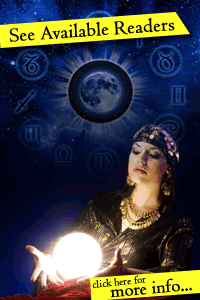 PSYCHIC RELATED TOPICS
Genuine Psychics can help you find solutions to any stressful situation