PHONE CHARGE
Mobiles/Payphones higher call rate applies.
SP: Access Positive
CALL NOW FOR GUIDANCE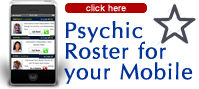 Money Back Guarantee
If you are not happy with the reading we will give you a Full Refund. This is only available for credit card clients through the auto and manual credit card service. Please call the Helpdesk on 1800 222 362.
Horoscopes Archive > Daily Horoscopes 15 - 21 February 2013
Daily Horoscopes
15 - 21 February 2013
15 February 2013
Aries
An unknown enemy could speak ill of you behind your back but by behaving with integrity you won't suffer from any damage. There is no necessity to make a new enemy. Listen well if you are talking to someone you really love. A group project could bump into some problems when a colleague backs out. Find an independent referee if your team has made some mistakes. Don't just assume that a team that has worked together before will perfectly work together again.
Find the weakest link!
Taurus
Keep on defending yourself if you end up in a heated discussion. Strive for harmony even if someone shows his/her most irritating side. Take a good look at your own shortcomings if your partner seems to be different from what you thought. You pay a lot of attention to your looks and the interior of your house, more than usual. You feel very homely. Enjoying life and money is a part of that as well. Fortunately you have a little extra you can spend.
Stand up for yourself!
Gemini
Adventure is all that matters today. Of course it is an ordinary weekday but that doesn't mean that you are not allowed to celebrate. Fun things should happen and you're the one that will make them happen. You can sleep in tomorrow. Ask a colleague for help if you can't finish your job. Someone that has less to do will be happy to do something useful with his/her time. There might be some delays or faulty devices today.
Are you ready to party?
Cancer
Your life will accelerate. Be careful for your health and take a lot of rest. You will need it. You have the possibility to show off how well you perform. Focus on the future. You can clearly feel the positive signs now. Something is really bothering your partner. Don't let it simmer but ask for the reason. You will prevent irritations. Compliments will flatter your ego but keep both your feet on the ground.
Show what you have got!
Leo
As long as you stay organized, this will be a fruitful day. Pick your priorities and keep control of your own agenda. It will take an effort to keep your mind focused on one thing. Take a break when the situation becomes too tensed. You have more success at home than at work. You are very helpful and you are there for everyone that needs you. That is appreciated and it will add to a positive atmosphere. You don't feel like going to outdoor appointments. Just admit it.
You are a treasure!
Virgo
An important conversation won't go exactly as you planned. Don't worry about it too much. It is not a 'no' yet. (S)he just needs some time to think about it. Your health has been better. There will be tensions in the communication field today. It is tougher than you think to organize your thoughts well. Even stronger: it could happen that you say the exact opposite from what you mean.
Be careful with words!
Libra
Your social life can be pretty hectic and hinder your work and routine. Be more selective and your life will become less complicated. Say 'no' when an event, including special clothing, becomes too expensive. Think of a way to break through the routine. Don't try to persuade people of your great ideas if they have a limited vision.
Try to improvise!
Scorpio
Sleep and retreat are important today. It's only logical that you want to be alone for a while. Take a break of the demands, needs and desires of the people around you. That will bring you peace and quiet. You find it important that others take you seriously but you want to be able to put your soul in your career as well. Think well before you make any important financial decisions.
Take a look behind the scenes!
Sagittarius
A healing, physical vibe is ruling today. You are more balanced and both your feet are on the ground. Enjoy this nice, earthly experience. It doesn't happen often. The stress you have had lately has affected your immune system. Take care of your physical health or you might become sick. You have to recharge your batteries, mentally and physically. It might be a good idea to book a weekend getaway.
Find time to relax!
Capricorn
When disagreements happen today, immediately clear them out of the way. It is not good to let discussions hang in the air. Talk about things immediately and those small issues won't be blown out of proportion. You seem to be avoiding the essence today. Vague hints won't be picked up by others and will cause irritations. Be clear, even when you find this difficult. It's a great day for love and sex.
Clear things up!
Aquarius
You quickly know if someone is honest and has good intentions. A lot of things are happening in your life right now and you really need to think about those issues. You don't have a fitting answer to everything straight away. You usually demand a lot from yourself. It is time to blow off some steam. A real flirt has caught your attention. (S)he has a certain effect on you, something you have never experienced before. Give him/her a chance.
You need to relax!
Pisces
Focus all your attention on what you are doing. Keep in mind: the best way to fight evil is to take a step in the direction of good. Drink as much clear water as possible today and eat a handful of nuts. It's going to be a nice day for relationships. The atmosphere is great and things will unexpectedly become romantic. You are being spoiled. If you are single you have doubts about dating a certain person.
Let your feelings guide you!
16 February 2013
Aries
This is going to be a nice day for love. You are very popular and loved. That feels great, of course. Your financial situation is all right as well. Surprise yourself or your loved one with a romantic weekend get away or a nice piece of jewellery. Sow your feelings from time to time or you'll end up in a downwards spiral. It is tougher to get out of that again than to ring the alarm bell right now.
Act emancipated!
Taurus
You will be confronted with something today that makes it clear to you that you can take a look at things from different points of view. This could diminish your power and that could irritate you. Be prepared to accept something from someone who is more experienced than you. You can't know everything and even you are allowed to accept help. Ask yourself how guilty you are if a good relationship starts to break up. Think about what you can do to restore the balance.
Don't blame others!
Gemini
You should avoid shopping malls and online shops today. You can't control yourself and that shows in your bank account. Before you realize it, you have nothing left. You can get some advantage but you have to step out of the background. It could be that your career is in danger. Go out with different people than the ones you usually go out with or do different activities.
Make a change!
Cancer
You don't seem to be present with your mind. The debris is making things even worse. You have to be careful not to damage anything in your social life as well. Stand firmly when a stable relation is getting wobbly. Demonstrate confidence if you want to impress in a new function but don't act all knowing. Nobody likes a smarty-pants that wants to stick his/her nose into everything. Someone influential has good intentions with you.
Thread with care!
Leo
Ambitions that take a long time often disappear because there are always more important things to do at that time. Today one of those ambitions is speeding up though and because one thing causes the other you will be dragged along with speed. Someone tells you something and you don't know what to think of it. It's probably best not to believe anything from it. That person might have dark motives for spreading this story.
Don't believe everything you hear!
Virgo
You fight even harder during rougher periods. During good times you can relax and enjoy, that's how it works. Right now things are going so well though and you are so relaxed that you risk not taking any step in any direction. And so you are standing still. Certain ideas might not really fit you at first sight but it is useful to consider other ideas. When you are too tensed, you can't solve anything.
Get moving!
Libra
Today makes you long for decadence and intensity. It's an ideal mood to make your wishes come true. Keep on communicating about what you want exactly. There are some really good vibes in the air. This is a day that you keep on smiling for 24 hours without any reason. You are funny and quick witted.
Make sure you sleep enough!
Scorpio
You feel homely. That brings a nice vibe along that allows you to improve your living circumstances. Are you ready for an upgrade? This is the time. You do most of the thinking at home so you deserve a nice and inspiring spot. Keep it simple if you have something to celebrate. Big plans only bring along a lot of work and that will ruin the fun you could be having. A lot of invitations could be offered but stay at home.
Celebrate with loved ones!
Sagittarius
Action! Today you can start up what life has to offer. You might have a great business idea but you miss the necessary finances, contacts or experience. Take a look around and see if someone could help you out. Exciting developments await you if you are travelling. Fantasies about your career could seem to be daydreams this Saturday. React fast if you receive some important information.
Take control of your life!
Capricorn
You are extra clumsy today. You can't seem to drink a glass without spilling half of it and you are dropping everything. You make quite some spelling mistakes. You like shopping but your financial situation really doesn't allow that at the moment. Don't make life any harder for yourself. Go do something else, like taking a bike ride or hanging out at the beach. You won't see what you are missing then.
Avoid shopping!
Aquarius
You will encounter some people that will have a big influence on your future. They are close to you and can mean a lot for you. Something will happen which will make you discover that you are not fully using the opportunities that life is offering you. Find a way to relax today. Go to the gym or have a drink with a friend in the garden. You will see that if you think a little longer you can come up with lots of fun activities.
Open your eyes!
Pisces

You have wanted to take action for a long time now but you are waiting for the right moment to come. However, the longer you wait, the more you know that the 'moment' doesn't exist. Put your shoulders underneath it and just start. It wouldn't hurt to stick up for yourself a little more. Don't let someone push you into something that doesn't feel right. Set your limits and you'll prevent a lot of stress from happening. This will make things clearer to others as well.
Don't procrastinate!
17 February 2013
Aries
Your end goal, that seemed so far away, suddenly feels a lot closer. That is very stimulating. So get to work. A good start is half the work already. Have you felt the need for a while to make subtle changes in your life in a quiet manner? Then you will soon get a helping hand. It could be that you will get more influence on people and you use this in a wonderful way.
Small changes, big consequences!
Taurus
A nice gesture for an older person will surely be appreciated. Realize that you'll be old one day as well. Don't try to guilt trip your partner. This Sunday is the right moment to lift your ambitions to a higher level. The planets have been pushing you to think bigger but today everything will happen by itself. Make sure you can start working on those ideas tomorrow.
Think big!
Gemini
You are very sharp today. You effortlessly write the most persuasive texts and leave a great impression on the people around you during conversations. It's a good day for a beauty treatment, a visit to the hairdresser or shopping. There is a chance you will have to help someone out. Get rid of things you no longer need. It could suddenly become clear how you have to solve a problem at work. Talk about it tomorrow with your boss.
Find a way to relax!
Cancer
Keep the tempo high today and don't let unimportant issues distract you. Before you accept a request from other people, you have to finish your own chores. It will be a nice evening if you hang out with friends. Meet up. If you are single you'll get stood up and that is a big dent in your ego. Don't give up hope. Rome wasn't built in one day either. The moment you stop looking, love will come knocking at your door.
Finish your work!
Leo
If you have to cancel meeting up with a good friend, do it quickly. If you wait until the last moment (s)he'll just find it annoying. Try on to react to that stingy remark later on the day. Concerning love: you don't risk anything if you're a little bit clearer. Don't be jealous if you and your partner don't spend every minute of the day together. Is the end near according to you? Not at all!
Everything is going to be okay!
Virgo
What can you do to solve that certain situation? You have sleepless night because you are worrying about it. You might even have the feeling that you could harm the other person. Don't let this feeling take control. There are better ways to deal with this. You end up in your monthly period of less energy. Enjoy your own company and keep a low profile when others are active.
Analyse your dreams!
Libra
Talk to a friend about his/her selfish behaviour if (s)he cancels your appointment for the umpteenth time. By spoiling your partner with a breakfast in bed, you will get something done from him/her. Try to be more flexible without letting go of your principles. You would like to do something more impulsive more often and you can. You only have to change your attitude. That sounds easy but it's not that simple.
You can do it!
Scorpio
You can count on a good contact and smooth conversations with the people around you. Enjoy this positive vibe while it lasts. This could become one of the best days this month. Prosperity rules and you are in a wonderful mood as well. All you have to do is to open up. The most fantastic opportunities will pass by.
Enjoy this wonderful day!
Sagittarius
Open up for new people and feelings and don't be afraid to walk unknown paths. You will have to deal with unusual people today that will bring up unusual subjects. A loved one could ask for your help about a tough financial situation and a tensed relationship could feel more relaxed because of that. Don't let anything distract you if you have to create something.
Just go your own way!
Capricorn
You won't get escape certain obligations but pleasant moments will come as well. Be stable and as inventive as possible if you are working in a pub or something like that. You would like to work on your personal growth. You can do that by looking for yourself in a far away country but you could also do it a lot closer to home. When you dive deep into a subject, any subject, you will meet yourself.
Take a good look at yourself!
Aquarius
If someone just can't understand something, choose another point of view. You might explain it in a difficult way. Some people want to know the 'why', others just need to hear how it is done. New aspirations will make you aim higher. What you strive for is attainable. An unimportant event could shift things. Make sure your physical vitality and your emotions are in sync.
Try to do things differently!
Pisces
Fortunately a warned person counts for two. Do something with the info you have now. You are allowed to show your feelings to the outside world. You don't have to show everything to everyone of course but your friends should know what is going on. When you have to do some precise tasks you should save them for a later time. You can quietly look into things and work on the details. Nobody will be looking over your shoulder then.
Act wise!
18 February 2013
Aries
You are a quiet type by nature. Still waters run deep but today the opposite is a fact. You just say everything what pops up in your mind. The people around you are really surprised. Finally some things are being discussed. Spoil your partner a little more. Bring out your cooking talents and cook a great meal for him/her. Your stubbornness isn't really improving the mood at work. You are giving your colleagues a pretty hard time.
You talk and talk and talk!
Taurus
When you take risks you can win a lot but you can loose everything at once as well. So think well and get some advice before you do such a thing. Today is filled with tension. The choice you make is probably not the same as the one your colleagues would make or your family. It certainly isn't what your loved one was expecting. You are a minority now. The only one that is happy about your choice.
Listen to what others say!
Gemini
You suddenly feel fit and great. That feels good. Such a vibe to back you up. You are more telepathic than usual today. Don't think, just channel. One-on-one relationships suddenly become a lot more dreamy. Focus on finances and joint possessions. It is a great time to come up with new ideas to earn money and that can stabilize your security. Check insurances if that hasn't been done for a while.
You are sparkling with positive energy!
Cancer
Positive feelings amongst friends and colleagues act like a soundboard and are giving you the support you need. If you feel a bit down, just call up a good friend and you'll be in a good mood in no time. Dress to impress. It will be easy for you to speak before a large audience, even if you have to speech unprepared. Think about a new hairdo if a special event is coming up and take your time to find your outfit.
You can charm everyone!
Leo
Your life is going through a phase of change and the stress that you have been carrying along could demand its toll. Your health could suffer and you are very emotional. Try to have some free time this evening and relax. You don't really need contact with others today. You don't feel like being dragged into the stories and troubles of the people around you. Take time to find the peace and quiet you need so badly.
Laughter is the best medicine!
Virgo
Your curiosity and creativity are being sparkled by new experiences that give you insight in the world and the people around you. You will get the chance to vent opinions you have never mentioned before. You feel the need to break through the daily routine today. Add more playfulness and creativity to everything you do. If you actually don't like doing something you can't fully go for it.
Break the cycle!
Libra
Everything points out that this is going to be a busy day. Keep in mind that there could be some insecurity in the financial and romantic area. Find the right balance between your personal relationship and professional interests. Leave the work floor at a reasonable time and don't take work home. Even if you don't feel really great at the moment, don't make any drastic changes in your eating and living pattern right now. Keep an eye on your health by checking your energy level.
Look for the right balance!
Scorpio
Someone from your youth could step into your life again and that could make you want to leave everything behind for a bit. All kinds of relationships are possible, including a new love, or a change in environment. If someone, who is very close to you, needs some distance because of a misunderstanding, leave him/her alone for a bit. You can start again by making new friendships, signing contracts and travelling.
Take a step into the world!
Sagittarius
A financial extra will bring a lot of pleasure. You can go shopping or go out for dinner. You are pretty busy but you keep thinking positive. Make sure you don't loose track of reality. Someone abuses your kindness. A positive attitude makes it able for you to deal with things in the right way. You are very focused. It is important to participate in things that boost your confidence.
Work on your confidence!
Capricorn
A problem can be solved a lot faster with a little introspection instead of trying to change the opinion of other people. Ask yourself the question if you are willing to make a compromise. Don't be satisfied with second choice if you are looking for a new job. The theme of the day is love, in whatever way possible. An unexpected date with a colleague might just happen. You want to look good and you might consider cosmetic surgery.
Love is in the air!
Aquarius
The best way to get through today is by being openhearted. Don't get involved in a fight. if you stay positive and show your friendly face, you have already won half. Mark certain responsibilities but don't act condescending. Some miraculous situations could come up today. Keep that in mind. You could end up in the spotlights. Your charm, charisma and popularity are increasing.
Try to be practical and renewing!
Pisces
Stay objective in every conversation you are involved in today. Broaden your horizon and look in another place for the answers to the questions you are asking yourself. Consider going back to school again if you're dissatisfied with your current job. Take it easy and enjoy the good things the cosmos has planned for you. You can make progress with an artistic project now that you are energetic and inspired.
Take enough time to relax!
19 February 2013
Aries
It wouldn't hurt if you were less dominant in your relationship. Your partner needs to have the chance to stand up for him/herself as well. Don't try to control everything too much because it will slip through your fingers like sand. At work you take on a lot of extra tasks and you aim high. That's fine because this way you can push yourself to the limit but do be careful not to want too much from yourself.
Everyone has a limit!
Taurus
You can count on a nice boost in your love life. Your relationship can use it. Don't be afraid to make the first move because the other person will appreciate that. You are perfectly balanced today. At work things are going smoothly and aside from that you still have enough time for your partner, family and hobbies. Things will get very cosy if you are meeting someone tonight. If you are single it might become a flirt!
It's going to be a pleasant day!
Gemini
Are you too focused on pleasing in your relationship? Make sure your partner keeps you in mind as well. A harmonic homely atmosphere seems to be very important today. Don't let negativity enter your home. Certain plans might have to be adjusted to be able to meet a deadline. It could take an effort to get the right information. Roll up those sleeves and dive into the work that needs to be done.
Stand up for yourself!
Cancer
You will have to be a real diplomat because not everyone is easy to deal with today and a disagreement with friends is awaiting you. Offer a helping hand in the local community if you are retired or jobless. It's a fine day to handle those issues that you had postponed until a later time. Your accuracy is undeniable and it is worth the effort to make a list of goals and work towards achieving them.
Make a list!
Leo
You feel invincible today. All you have to do is set goals and show dedication. You can get the most amazing things done. Go for it. Some things are happening in your relationship or circle of friends. Spirited conversations arise and those can occupy your mind. Your work could even start to suffer from it. Quickly find a solution for it so you can calm your mind and not fall behind.
You can conquer the world!
Virgo
You are blessed with a lot of energy and assertiveness today. There is nothing wrong with that because it gives you a real boost. Unfortunately it is accompanied by a dose of impatience. Try to control that. Your mind is occupied by the problems of others. They can always count on you and you always try to come up with a solution. Unfortunately you forget yourself too often.
Use your wisdom on yourself!
Libra
For you everything is yes or no, all or nothing. Nothing is what it seems so be a little bit less naïve. You don't have to become paranoid either but a little bit of healthy suspicion won't hurt. You enjoy the company of your friends and colleagues a lot. Starting for yourself is a nice plan but it has to be attainable. Talk to entrepreneurs that you know. They can advice you well. They know how things work.
Not everything is black or white!
Scorpio
When nice weather is coming you can feel butterflies. That is great if you are single but if you are in a relationship you have to realize what you are doing. Be careful! A certain event could make you get to know yourself better today. It wouldn't do any damage of course to learn or do something new. It doesn't have to be world shocking but it would broaden your mind.
New experiences, new knowledge!
Sagittarius
You have to be careful not to say too much today because you could easily start a fight. It might be wise to inform others before painful situations happen. Today is a good day to establish goals. Go for that job or that house. You are perfectly able to negotiate and you seem very powerful. That's a great combination to take a big step ahead in life.
You can do great things!

Capricorn
This is going to be an exciting, sexy day. Do you have an eye on an unreachable person or item? Realize that a lot more is possible than you probably think. It's just a matter of taking action. You always get what you want, right? Don't immediately expose your heart and soul if someone shows interest and don't reveal any business secrets either.
Be receptive to the ideas of a friend!
Aquarius
This day is boring and predictable. Unfortunately no exciting or unexpected things will happen today. So you have to take care of that yourself! Fortunately you always know how to have fun and you are almost never bored. Try not to stay home too much. Your career gets a boost. Get in touch with people that can help you get further. There are some influential people in your work field that are interested in your work.
All you want to do is have some fun!
Pisces

You feel very stable and friendly today. Instead of retreating you like to surround yourself with kind people. It gives you endless inspiration. It makes you very social as well. It's only logical that you feel like seeing your friends. At the same time you have the tendency to go looking for new people that might become part of the core of your circle of friends. Your leadership allows you to solve complex problems.
Friends are important!
20 February 2013
Aries
Prevent that an element of competition spoils a pleasant working atmosphere. Be polite if you have to deal with difficult customers and don't step on anyone's toes. This is the moment to meet up with friends or with someone you want to get to know better. This will help you make progress at work and in your personal life. Do what you can to maintain good contacts with colleagues and friends. Don't postpone it when you have to apologize to someone.
Make the first move!
Taurus
Stick your original plans so you don't loose track of things. Agree to changes at work. Think about some short trips if you long for more freedom. Find the deeper meaning of events. Don't immediately get on your high horse when someone comments on the way you work. You could scare people off. That could have negative consequences for the future.
Don't snap!
Gemini
The spotlights are on your financial situation. Consequence: you're getting financially paranoid. Did you not pay attention lately where your money was going? Now is the time to get things under control again and balanced. Something is a bit wrong at work. People can't see what is going on in your head. Be clear when communicating so there is no room for interpretation.
Show me the money!
Cancer
You could feel the tendency to hide yourself and your feelings by diving into work. Your relationship could suffer from this. It is important to balance the different aspects in your life. You put your mind on a new idea, a hobby or a person. You don't lack any enthusiasm. The question is whether you are going to continue. You quickly get bored with it.
Take some time for yourself!
Leo
Something might not be successful. You have worked so hard for it but now that the time is there you get scared. Did you ever consider that you could suffer from performance anxiety? It is a good time to develop some healthy sleeping and eating habits, to detoxify your body and to make an appointment for a thorough check up. If you go for a job interview you'll have a head start on the competition.
Don't back down!
Virgo
Be aware of what your mind is telling you and don't let fantasies distract you. Start with a new project and show how skilled you are. Mind your words if people around you seem touchy. You will have the opportunity to oversee things, to think and to rest up. Even if you are ambitious you need some time to relax once in a while. Try to solve old problems today and forget grudges.
Improve your well-being!
Libra
You will get an opportunity today to learn a lot about yourself by writing down your feelings. Keep a journal, take a look at the big picture at the end of a longer period. You actually feel like giving up and escaping the daily routine. Unfortunately your work, study or budget won't allow that. Try to get that feeling of freedom in another way, like by taking a walk on the beach.
A diary would be a good idea!
Scorpio
Your creativity will get a great boost today. This is a second chance to make your ambitions come true. Use the next to weeks to set goals and chase your dreams in the next six months. Don't be too confident about yourself. You already know that you have a better life if you are balanced inside. You know you are worrying without a reason. It is important to be cautious with your strengths so you can find the golden mean in any situation.
Find the right balance!
Sagittarius
Your feelings are the exact opposite of your mind today and that causes conflicts and not just within you. You've just had it. Unfortunately this is the same case at home. Your partner is worth giving attention to though. It is not a good day to have a difficult discussion. Unfortunately you think this is the right day. Even stronger, you are almost unstoppable when you are defending your opinion.
Cool down!
Capricorn
Let go of analyses and try to just feel. That will give you the best results today. Your intuition is peaking. You only have to have the courage to trust on it. Go on, get rid of logic. This day is all about secrets and subconscious issues. Live through your deepest emotions. Look at this as a phase in which you declutter your subconscious to create room for something new and that's about time!
Live with your heart!
Aquarius
The day starts out pretty simple even though half through the morning a few problems could pop up. Keep in mind that you might have to deal with complaints from customers and focus on the details, especially if you work in a supermarket. Business negotiations could open your eyes. Make sure that you base your information during a meeting on facts. Ask for more time when necessary to consider a proposition.
Think well before you act!
Pisces
Today won't start like a usual day and colleagues that don't show the energy that is needed could annoy you. Don't be seduced into criticizing because that will backfire on you and tense up the atmosphere. A new friendship could be established today. You are optimistic but a little bit restless as well. Gathering knowledge is an important theme today. That could be caused by a workshop or a conference.
Knowledge is power!
21 February 2013
Aries
You could panic easily today. Finish up what has been lying around for too long before you start something new. By doing things you will end all that bottled up stress. Forget old grievances and give a second chance to friends you are fighting with. Don't react in a defensive way to criticism. Contacts with the people around you are a bit slow and difficult today. You are easily irritated and it seems as if nobody understands what you mean.
Get rid of the stress!
Taurus
It's better to act honestly in your personal life instead of telling white lies. Control yourself and be disciplined and you'll be able to take initiatives that you find difficult at other times. Don't spend too much time worrying about your loved one. Jealousy could mean the end of your love life. Take a day of if you can't focus on work and spend it with your partner.
Tomorrow is the start of a new era!
Gemini
Your social life is in the spotlights for one more day but it feels useful. You don't feel like wasting time and energy on people and things that don't fit into your vision. There is nothing wrong with a little bit of chitchat but your work is more important right now. It is time to have some interesting conversations. Don't be tempted into common gossip. It is nice to unravel the personality and quirky sides of other people.
Everyone is unique!
Cancer
Search well if you have lost something. Involve your partner in what you are doing if (s)he is surprised about your sudden energy. Write your ideas down if it takes an effort to explain the verbally. A loved one could boost your confidence in such a way that you will do something you usually wouldn't find the courage for. Renew your contacts today. The cause of a personal problem could spontaneously surface today.
Listen to your intuition!
Leo
If you are single you have decided to start dating. Don't expect to find a Mr. or Mrs. Right straight away. Enjoy the quest first. At work things are going well but at home things aren't going so smoothly. Try to free up more time for each other or you won't see your loved ones a lot. Go out on a 'date' again. A simple but essential solution for your personal problems.
Pay attention to your partner!
Virgo
This is the time to get your life back on tracks. You will get some support. Make plans and be very detail oriented. Timing and strategy is very important. There is a nice earthly vibe in the air. You have some extra energy and that helps you to get your work done in a nice way. You turn the most common things into little works of art. Try to stay active even if you are in a thinking mood.
Think big!
Libra
You will have to improvise a lot to get results today. Put your expectations aside and just let the day happen. Be prepared to learn and don't let anyone change your route. You might have to take another look at a certain ambition. A family obligation is very hard for you right now. You have been working on it for a while and you have pretty much had it. Have a little bit more patience.
Soon everything will be over!
Scorpio
You will have to do with less energy today. It is wise to take as much rest as possible. Plan extra breaks and take a yoga class. Do everything at your own pace. The attention you give to work will be praised. Suppress possible frustrations by sharing certain tasks with your partner. let children know that they are special to you. Take a good bottle of wine along if you are invited somewhere.
Keep breathing!
Sagittarius
It is a good time to satisfy your needs so that you can finally move on to something new. Why would you hold on to old matters if that stops you from being better and more glamorous? Your love life knows some ups and downs at the moment. There are some issues that are difficult to solve and that are not developing in a good direction. Patience is your key to reach a certain goal.
Try to relax and smile!
Capricorn
Don't get distracted by a world full of dreams, illusions or pleasure: this could have some fatal consequences. You need someone that can help you get further along because you can no longer continue like this. A conversation about the weather might be very superficial but it could be an opening to more. You will have to start somewhere. Why not with a safe subject? You can always show more of yourself at a later time.
One step at a time!
Aquarius
It is important that you do things that you enjoy in the long run. Money is important as well but it doesn't bring happiness. Do what you like and follow your heart. Don't doubt yourself like that. You are doing a great job. You are allowed to spend some money to brighten up your house. You don't always feel at home but that might be caused by the fact that it's not exactly what you want.
Believe in yourself!
Pisces
Get to work! Make some time to gain new insights. It is important to win people for you by being friendly. Enjoy life without having regrets about missed opportunities in the past. When you are throwing a party soon, you don't have to worry about it right now. Of course you want to make a good impression but it will be cosy no matter what. It's the people that matter not the setting.
Keep on smiling!
This psychic site and its owners are not liable for any direct, indirect, incidental, consequential, or punitive damages arising from using this site, the psychic contractors listed on it, or its content. By giving us your email address you agree to allow us to send you occassional maketing materials. We will never pass your details to another company.
You must accept and agree to our Terms of Use before using our services.
CALLING FROM OVERSEAS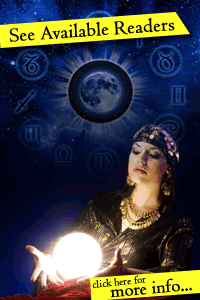 PSYCHIC RELATED TOPICS
Genuine Psychics can help you find solutions to any stressful situation