PHONE CHARGE
Mobiles/Payphones higher call rate applies.
SP: Access Positive
CALL NOW FOR GUIDANCE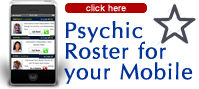 Money Back Guarantee
If you are not happy with the reading we will give you a Full Refund. This is only available for credit card clients through the auto and manual credit card service. Please call the Helpdesk on 1800 222 362.
Horoscopes Archive > 2012 > 10 > Daily Horoscopes 1 - 7 October 2012
Daily Horoscopes
1 - 7 October 2012
1 October 2012
Aries
You could suddenly start doubting yourself today. Don't let this get to you because it's a temporary thing. Just bite through it because tomorrow is a brand new day. Pay extra attention to your partner and family. Create a financial balance. You could discover that you're better off than you thought at first. Don't start a discussion again with someone in the family about a subject on which you know you'll never reach an agreement.
Use your time wisely!
Taurus
Your energy is lacking and you won't feel up to a filled up social calendar. Relax by doing what you like to do. If you take on a flexible attitude towards tomorrow you won't be disappointed. You could tell your dreams to someone else. (S)he might have some good ideas about them. Make sure you stay grounded because reality does have its own laws.
Keep an open mind!
Gemini
Have more respect for yourself. Today the child within you might demand some time and space. That's a good thing. That way you can easily handle your grown up obligations as well. The only way to feel comfortable during a meeting is when you prepare well. A decision about your career could have serious consequences.
Be prepared!
Cancer
You are being thrown from one side to the other today between being social and having a fight. What is the secret? To take some distance. All this hassle isn't worth the energy. Put it into something else. Usually you are a real thinker but today you feel like working with your hands. That's a completely different side of you but it feels nice. It will balance you more and that's what you are looking for.
Don't get tangled up in arguments!
Leo
When someone is spreading gossip about you it is your right to talk to that person about it. But don't hold any grudge, try to find closure and don't worry about it afterwards. (S)he will be affected. There is fine line between love and hate. Do a little bit of both because one can't go without the other. Loving without being afraid of fights, that's what matters.
Forget about revenge!
Virgo
You don't feel like going from one extreme to the other extreme today. The road in the middle, that's what you care about. That doesn't mean that you won't have to choose between certain things, but you feel more confident. You could be a bit more chaotic than usual. You might just not have your day but it could be that the circumstances are less predictable than what you are used to.
Don't let things throw you off balance!
Libra
You could feel like struggling in a useless battle. Don't give up though. All the little pushes you give now will make sure you can work towards a beautiful result in the end. Your power of attraction is incredibly strong today so use it. You give it all you have got and you are being successful. You bring a familiar feeling to people by your strong attitude and personal touches.
It will be worth it in the end!
Scorpio
At a later time it will all become clear why things are going the way they are going now. You'll suddenly feel very happy with it as well, no matter how impossible that sounds now. You long for peace and quiet. You are pulled into another direction though. Your empathic character makes it hard for you to choose sides. You will probably keep a low profile for one part of the day and break the rules in the next part of the day. Just because you can.
Be who you are!
Sagittarius
Life feels a bit more serious and darker than last week but that doesn't keep you from being ambitious. You are completely prepared to take some action. Do things step by step and try to be less critical towards yourself. You feel as if you don't have a lot of room today. That isn't easy for you. You will have to stay within your boundaries though and try to move those limits instead of secretly crossing them.
One step at a time!
Capricorn
Of course it's best if you keep other people in mind but sometimes you have to think about yourself first. In certain situations you can just choose for yourself without feeling guilty. You are very serious but later on the day that will change and things will become lighter. You prefer to be in the company of friends. You make a lot of generous gestures and people appreciate that. The fact that you combine your life lessons with humour works well.
Be a little bit selfish!
Aquarius
When you wish to undertake things in the future, it wouldn't hurt to give them a push to start already. If you keep on postponing things, it will never happen. Respect your faith and acknowledge your limits. Dive into a bookstore and loose yourself in the world of psychology or astrology. There might be some differences in opinion in your daily life and you refuse to admit that.
Face the facts!
Pisces

You have Lady Luck by your side. A windfall could come to you today. You owe it to yourself though, not just to luck. You have saved a lot lately. Your mood is great. This is a good period to change things in your life. If you want to change jobs, do it now. That also should be applied to moving houses or starting a new relationship. You know what you want and you have the strength to accomplish it all.
What are you waiting for?
2 October 2012
Aries
This is going to be a great day for social contacts. You meet a lot of people, personally and professionally, and this will make things pleasant. When you have plans, in whatever area, do something with it. This is a good day to walk on new paths or to at least work on some new ideas. When you and your partner split up you were convinced you would head out in different directions. Your paths may cross again though.
Work on all those great ideas!
Taurus
You could get a new chance. The best thing to do is to immediately go for it. Nothing is guaranteed but just believe that things will work out well in the end. Some confrontations could happen at work as well. The love lessons you have learned lately could be practiced in the bedroom. It promises to be a wild, exciting time filled with growth and depth. Take your time and enjoy it.

Give it all you have got!
Gemini
Be alert when someone is unusually helpful and probably needs something from you. You might get to hear how attractive, even irresistible you are, but don't let these smooth words tempt you into something you'd regret. Try to manage your time in a practical way because you have some obligations as well. You shouldn't ignore them, so you can do all the other things. Don't be afraid, you'll be able to do those fun things later on.
Watch out for smooth talkers!
Cancer
Someone around you has a nice plan. Listen to it and do something with it. If you have just had a holiday, things will be rough on you at the moment. It will be a positive day. Something you have always wished for could finally become a part of you and that will bring you a lot of joy. A long-lasting friendship could turn into a romance or you meet someone who makes your heart beat faster. How exciting!

Let your heart rule!
Leo
Problems that will pop up today won't last long. It is a good time to get rid of problems in your relationships, especially when they involve a battle for power. Let other family members go grocery shopping today. You don't have to be strong all the time. You are only human as well. Lean back for a while. You might have troubles getting out of bed this morning. Are you paying enough attention to your health?
You deserve a break!
Virgo
It is always fun to do something together with someone else. Keep your partner in mind though, or (s)he will just run behind you all the time. (S)he won't be happy about that. It will be an intense day. It could feel dark and serious but it does create the ideal circumstances to seriously think about your work. Try to build your career one step at a time.
You can be very successful!
Libra
You can enjoy a generous mood today. Focus on things that involve home and family. Emotions could skyrocket and if you are single you could feel a strong urge to find some romantic company. You put on your naughty shoes today and you will finally take that step. Fortunately things will work out well because the results are worth it. Don't put yourself in the spotlights too much. That's not necessary at all.

Keep a low profile!
Scorpio
You don't have to be an explorer to see more of the world. You can find unexpected things just around the corner. Walk through a different street than usual or start a conversation with a stranger in the supermarket. Today the focus will be on your career. You no longer try to escape reality and you experiment with your ambitions. Have the courage to take risks in the upcoming time and be a little bit eccentric.
Be bold!
Sagittarius
All eyes will be on you today. You will probably get enough pats on the shoulder and appreciation to get you through the rest of the week. So try your best in all you do today and bring things to a good end. You are amazed by your own vitality. You should do a little more effort than usual but don't forget to reward yourself for it as well. If you want to make this day valuable you should keep an open mind and open heart.
Let someone spoil you!
Capricorn
If you borrow money to or from someone, put it on paper. This is a great time for awkward misunderstandings. Fights about money will stick around for a long time. You have felt better physically. There could be a fight with the person you are living with. It might be about noise or the chores that need to be done. Try to stay reasonable. By placing that order now, you will save a lot of time. A fresh romance will benefit from a good conversation.
Think ahead!
Aquarius
You can't think about anything but love today. This is the right time to reconnect with the things you love. If it doesn't make your heart beat faster, it isn't worth your precious time. You have the feeling you are being used as a scapegoat. You don't think you are doing anything wrong but still you get blamed for a certain situation. You think it is unfair and you prefer to walk away from it.

Love is all you need!
Pisces
Even though everything seems to be going great when it comes to love, your partner has probably felt left out lately. An obstacle will delay or even stop the negotiations about a sale of real estate. A transaction will go less smoothly than you hoped for. Be on time to prevent problems. Pressure at work could cause that you have less time to spend with your loved ones.

One bump after the other!
3 October 2012
Aries
Pay attention to the small signs today. Try to read between the lines and take a look behind the scenes. Something is coming your way that could seriously change your life. Today a period of contemplation and reflection will start for you. You will feel good if you volunteer for a social project or a humanitarian organization. Make sure you finish all the tasks you postponed and devote your to your personal plans.
Be ready for a big change!
Taurus
The focus is on the values of life for you. They offer you more security and something to hold on to. You don't like shortcomings and you prefer the abundance of life. Make sure you are not too generous. You could be a little tensed today. Let spontaneous behaviour come into your life and skip the daily routine for once. Avoid the confrontation with unpleasant people because you won't be able to change anything about their mood.
Cherish the small things in life!
Gemini
The mood is favourable today even though you have less energy than usual. If you are in a relationship you will have to make an effort to make use of the generous mood your partner is in. If you are single a romance could be right in front of you. It is wise to be careful with money at the moment because you could be confronted with unexpected expenses. Make sure you have some savings.

Go with the flow!
Cancer
You will be happy when you see that agreements are met. A few last adjustments can be made and some signatures could be set. Don't take on too much work and let your family come first. You might have the feeling you have to pay off all your debts at once. But are they really your own debts? Realize that you can only try your best.

You are only human!
Leo
When complicated problems have to be solved people might depend on you. Your mind is clear and you don't get distracted. When you end up in an awkward position it is important to stay as objective as possible. Your work and your finances occupy your mind. Even at night, while sitting on the couch, you are thinking about it all. This doesn't make things pleasant for you. Try to enjoy the things and people around you.

Worry less, enjoy more!
Virgo
Be more open towards your partner. Often it is not so easy to express your feelings clearly. (S)he needs it though. When was the last time you surprised him/her? You could do that today. A good conversation over a nice glass of wine is a good idea a well. Studying, but also new experiences, travelling or just meeting people from a foreign country and culture could open your eyes.
Make your loved ones feel loved!
Libra
Try to let go of financial issues today and put an effort into networking. It could get extremely busy today but you will learn a lot of new things as well. This day is the moment to treat the new and improved version of yourself to a nice surprise. You are ready for a new adventure. You have a few weeks to get it done. Turn it into something special.
Find a new adventure!
Scorpio
Prepare for a day filled with inspiration. From shifting to development, you will be able to develop your spiritual life. Keep on holding on because this chaotic period you are going through will end soon. You gain a lot of strength from your interest in the mystical world. Being practical doesn't always lead to a result but today it is really important to stay realistic. Responsibilities and obligations could demand that you stick to your routine.

You will be challenged!
Sagittarius
You could get extremely busy with the contacts with other people. You are not looking for it though. People will come to look for you. They have a good reason for it. When you want to catch him/her, you will have to show the deeper side of yourself. You won't win him/her over with superficial flirting. If you are considering purchasing something valuable, you should make the effort to visit different stores.
Don't be superficial!
Capricorn
You have crawled out of your emotional low and you are now looking for new possibilities to manifest in the world with full force. Some tensions could leave some traces and will ask for more attention. By handling something together with someone else you will reach more than when you'd do it by yourself. As an independent human being you are not used to delegating. Working together will make things better though. Sharing a responsibility will give you less stress.

Team up with someone!
Aquarius
By working together with others you will learn a lot. This could be a professional adventure you have just started or a vacation. Don't hold on to your own opinion too tightly. You could lack some energy today. This is a temporary phase and you'll be able to live with it when you focus on tasks that aren't too demanding. Focus on relaxing. You don't have to work all the time.

Divide your energy wisely!
Pisces
You have an extra dose of passion today and that will benefit your love relationship. Your energy will get lower though and it wise to avoid tough physical work. Communicating with others could be tensed today. People have the tendency to hear things that aren't being said. No matter how hard you try, there is a big chance your words will be taken out of their context.
Mind your words!
4 October 2012
Aries
You love routine and you are a little bit conservative as well. From time to time you stubbornly hold on to an idea. You don't really like change either. Others sometimes have a hard time handling that. Everyone seems a bit tensed today. You will notice this mentally. Could it be that you have felt a bit torn up during the last few days and you couldn't sleep well? Your integrity is being tested. Can you keep your word?
Keep your promises!
Taurus
Today will bring you new contacts, money issues and a lot more exercise. You could have a few ideas that could generate new income. Don't neglect the suggestions and opinions from the people around you in your enthusiasm. You are confident and very happy today. You don't take things too seriously and you handle reality in a playful and creative way. Get carried away by love and don't think too much about it.

Go with the flow!
Gemini
Not everyone is always in the mood to get cosy and there is nothing wrong with that. It will get awkward if you can't accept it because you easily feel the emotions of other people. Did you make any nice plans? Positive influences will improve your confidence. You will feel relieved when you have enough money to solve an urgent financial problem.

Enjoy the company of your family!
Cancer
You usually are in the same mood most of the time, but there are peaks and lows now. You don't talk to everyone about your family problems but you do share it with some when the solution is almost found. The trend of today is positive. An aggressive note might sound through your emotions. If you use this for artistic inspiration this could become a great day. If you are single you might bump into something interesting.

You are on a roller coaster!
Leo
You feel quite restless today. Try to find some silence from time to time and empty your mind. Tell your brains to stop for a bit. An issue is begging you to pay more attention to your financial situation. It doesn't help to bury your head in the sand, especially when you have completely emptied your savings account as well. Be realistic and face the situation before it is too late.
Don't procrastinate!
Virgo
Romance and love will play a big part today. Something nice could happen to singles as well, probably a new love. It will be a day filled with fun encounters, maybe when you go out tonight. You want to think about yourself and the things that are going on in your life. Take your time to do this. Don't let others persuade you to do something you don't feel like doing at all. You hear some spicy gossip about someone.
Don't spread rumours!
Libra
Sometimes you just don't feel like listening to someone else's opinion at all because you fear that you can't continue any more. Listen well to the other person though. Are you also someone who claims to be creative? You have to work and work hard to get the things done that you didn't finish yesterday. Stress could cause physical pain. Take a deep breath on moments of tension and don't get too worked up about the emotions of others.

Listen to advice!
Scorpio
You have been emotionally all over the place lately. Fortunately you can get your life back on track. You won't be completely balanced yet but it is already a big step that you have both feet on the ground again. Domestic issues are a priority today. Even when your head and body are at the office, you have probably left your soul and heart at home. It could be that a good friend asks for attention.

You are heading in the right direction!
Sagittarius
Everything seems to involve schedules and planning today. It is time to sort things out. Everything evolves around appointments, plans and to get as much done as possible in as little time as possible. It is important to prepare everything very well. Even when you don't really know what is good for you today, you are able to give wise advice to the people around you. A big amount of paperwork, more than usual, could halt your job for a bit.

Be prepared!
Capricorn
Today the pace of your life will speed up and there will be special attention to the joyous sides of life. Your main problem could be managing your finances. Follow your own wishes if you are planning a holiday. Your career has been in the spotlights for a while and today will add to that. You are more aware of what you want with your life. Never really thought about your dreams and goals? That will change now.

Follow your heart!
Aquarius
During some meetings you could bump into moods and feelings that are very different form the usual and that will make you think about things. Plans and appointments could be cancelled or changed. That could happen more often. You feel extra charming today. Don't notice it? Try to flirt, try to stand up for yourself, and try to get what you want. You will see it won't take you any effort.

You are irresistible!
Pisces
You feel butterflies today. Everything has to be clean and new, including your wardrobe. Do some deep cleaning around the house and throw/give away clothes that you no longer wear. You create space for new and fresh things. A difference of opinion about money could be the cause of a breach in the family. You seem to be able to decide if you let that happen. Are you looking for material securities or more philosophical ones?
Declutter your life!
5 October 2012
Aries
You have the feeling you can take on anyone and everything today. You are extremely good at planning things. Use this day to get as much done as possible. Try to use this mood to the fullest before it is over. This is going to be a great day. You don't have a full agenda or things that work against you. You will have a lot of enjoyable moments. If you are single you will meat someone you thought you'd never fall for.
You are very productive!
Taurus
You are walking around with your soul under your arm. You have all sorts of plans but when it's time to make it happen you don't feel like doing anything at all. You won't get a lot done at work today. You mainly talk with your colleagues and that keeps them from doing their work as well. Pick on task and focus on that. You will get some result by the end of the day and you can have a good start for the weekend.

Do one thing at a time!
Gemini
This day will be all about money. There is a bigger question behind it all though. How much do you think you are worth? If you are scared to think about such deep truths, then you are worried about financial security. It is wiser and healthier to work on what is holding your back. You feel extremely intuitive and maybe even a bit clairvoyant. Don't be scared when you catch a glimpse of the future.
You are valuable!
Cancer
You could have a hard time with the pace of the people around you and it will annoy you when you have to do other people's jobs. Purchases or plans could be more expensive than expected and you might even have to take a loan. If you are single and in love with someone, it is important to take some initiatives. You won't get far by waiting and seeing what will happen. If you are already in a relationship you are making too many adjustments.

It is important to give and take!
Leo
Activities at work will go well if you take enough time to prepare them well. Whatever you focus on, the result will be positive. Your reputation will improve. Don't take your partner along to a social gathering if (s)he isn't a very social person. The company of active, dynamic people will encourage you to do the same thing. Don't use your work as an excuse to skip exercising. You will grow old faster if you don't exercise.
All will be well!
Virgo
You can count on a lot of abundance today. Especially concerning love and money life will bring you exactly what you want. You have to make use of these kinds of moments. A day like today could be the ideal excuse not to do anything. Just hang around in your own fantasy world. Dreams will become extra important so write down what passes by in the night. Messages and inspiration will come from an unexpected corner.
Make a wish!
Libra
If you are collecting money for a good cause you might get some attention. Write a letter to your local newspaper for example. You could be the person behind a certain action. If you are a writer or poet your newest creation could become very successful. A good communication will prevent problems from happening. Frustration could make very calm persons explode. Your mediating will be needed. A meeting might have to be postponed.
You have a way with words!
Scorpio
It will be a quiet day, maybe even a boring one. Show some initiatives if you want more action or retreat to do some work you have been postponing. Both things are possible. It is up to you. Children and babies will play a big part today. Try to enjoy every moment and to be open to creativity. That attitude will work well at the office as well. You are not happy when closing down some projects? Something is wrong somewhere.
Take matters into your own hands!
Sagittarius
You can count on all-round beauty and confidence today. Communication will run extra smoothly. It is important to say what you have to say. You are in the spotlights with a reason, right? Your workday will pass by in the blink of an eye. You will get some tasks that will keep you busy. At the end of the day you will wonder where time has gone.
You are very motivated!
Capricorn
Transformation is the keyword today. You are very occupied by sexuality, which makes you long for more than just superficial interaction. No small talk or gossip for you. You want to get to the bottom of things as quickly as possible. Big changes await you when it concerns work and that is very positive. Don't hide from reality. Just research what the possibilities are.

Show yourself!
Aquarius
You are easily influenced today and you could say yes to things that you would usually put aside. You might start a job in a big company and you still have to research your possibilities. Enrol for a training and see where that leads you. You have to try to be patient because things seem to passing by in slow motion. You could have some problems with connections. There is a lot of passion hidden within you.
Explore your strengths!
Pisces
When you are imprisoned by reality you should browse the Internet for nice vacations for the future. Choose something you would really enjoy. Start a diet when you have gained some weight and don't wait for a sign. Every moment is a good moment to start this. Ask for different estimates when you want to change or renew something in your house.

It's okay to dream!
6 October 2012
Aries
On this Saturday others will try their best to agree with you. Strong bonds could start to exist with people that were just acquaintances before. By being open, they can have a big influence on your future. That's different with your partner. Don't be so cocky because that won't improve the mood. It is better to do something for yourself. You will create some space and clarity for you and your partner.
Open up!
Taurus
Don't let pessimistic thoughts carry you away today. You might think you are just being realistic but you actually behave in a negative way. It is possible to work practically and believe in miracles. If you are working or on a short business trip you will be happy about the results of this weekend. You will be in the right place at the right time.
Expect the unexpected!
Gemini
You will encounter a lot of different kinds of luck today. You will like a tempo change and your sense for adventure will increase. Be careful when starting a love affair. The desire for him/her shouldn't turn into an obsession. Get something delicious in the house to spoil yourself for once. An evening on the couch with a nice glass of wine! Kick off your shoes and do nothing.

Have fun relaxing!
Cancer
The flames in your relationship are extinguishing and are making room for glowing, mutual admiration and desire. Before you realize it you are making long-term plans for your relationship and you love that. It is time to say what you have to say. Not that you usually keep your opinion to yourself but today is extra favourable to write, speak and blog. People like to hear what you have to say.

Take things to the next level!
Leo
This weekend is the right time to set some goals and to make plans for your career. You are a little bit further from it and you can clearly see what you want to reach. Did you loose sight of your good intentions? You can work towards them again. You can solve a difficult situation by listening to your feeling. Your intuition will guide you and will make you say and do the necessary things.

You really help someone!
Virgo
You will experience that not everyone around you is as understanding as you are. An emotional outburst could endanger a good relationship you have with someone. Life is filled with opportunities and chances. You have the feeling nothing is impossible today. You have great plans and you don't even worry about unimportant details. If you are having party, things will be extremely pleasant. The mood is great and you have unexpected conversations.

Grab every chance!
Libra
Don't go overboard tonight because you'll regret it in the morning. If you have plans for tomorrow you need to be well rested. Your dreams will be extremely important tonight. Your psyche is extra active. A great moment to let old wounds heal. Find a way to process emotions, in a journal for example or by talking to people you trust.
Find closure!
Scorpio
It won't be as easy as you think. You don't just get what you want. You have to do something for it. You actually know that so what are you waiting for? Turbulence lies ahead of you and it will hit you when you least expect it. Make sure you can sleep in tomorrow. This is the right day to take the first steps towards a new job, moving or a new relationship.
You have to make an effort!
Sagittarius
People will react in a very emotional and instinctive way instead of thinking rationally about what is going on. Logic will be thrown overboard and that creates tensions. You keep on going even when you have reached the limit of your reserve supply. When you are bothered by a personal situation it is important to be patient. You can't solve everything immediately. Go to bed a little earlier than usual. You will feel a lot better in the morning.

Emotions will rise high!
Capricorn
You need to put more time in your body. It is clear that you had other priorities lately. Get outside and breathe in some fresh air. A perfect plan for this Saturday. Be honest towards your partner. (S)he doesn't really know what is going on with you at the moment. (S)he is the perfect person though to find a solution together with you. Take a break today and visit your family.

Talk with your partner!
Aquarius
It is wise to clean today and not to forget the little corners or that one tough spot underneath the sofa. Nobody likes to do this but it has to happen. It can save you a lot of frustration later on. You will have to be careful with what you eat. Did you look at the date to see if it has expired? It is very important to take things easily and to take your time.
Don't rush into things!
Pisces
A few unprocessed issues are bothering you today. Head into the confrontation. Talk with the people that are involved. That is the only way to get rid of your headache and your foul mood. Make sure you don't say things you will regret later. You can't turn back time. Head out with some friends tonight and enjoy your evening to the fullest.
Sort things out!
7 October 2012
Aries
Some dust has to be cleared away today. The best thing to do is to take your vacuum cleaner for a tour around the house. You might have to go through that pile of papers again as well because it's been there for too long. You can have a fresh start of the week tomorrow. You could easily get rid of bottled up stress by exercising. Don't let the weather hold you back from going out.
Get rid of clutter!
Taurus
If you take a good look at things you will see you can go where ever you want and that all opportunities are there for you. Use these beautiful chances and pick something you really want to go for. Want to bet it will work? Don't focus on what could happen but on what is happening. Listen well and get to the core of things. Choose the direction you want to give to your life and don't be pulled into another direction. You are very confident today.
Decide what you want!
Gemini
When you say something will happen, you will make it happen. You haven't been this focused in ages. Did daily things distract you before? Whatever it was, you can do anything today. That's the way to go! Think of a way to earn and save more. It is a good time to take a better look at your budget. Don't be too critical for your family and don't demand perfection.
Let go of stress!
Cancer
You are bursting with energy and your health is great. Make sure you do something with that energy, by going to the gym for example. You don't lack any confidence. You could be a little arrogant when it comes to love. You will get entangled in an exciting love affair. You didn't see that coming. Don't worry about it too much because the surprise makes it so much fun.

Just go for it!
Leo
It is a fine day to string ends together and to make sure that everything is perfectly in order. You can start with a clean slate all over again tomorrow. It could be that you already feel some tension and confusion in the air. One on one contacts will be in the spotlights today. Growing pains are included but try to use this mood to improve your love life. What does your ideal situation look like?
Prepare for a fresh start!
Virgo
You want to be the best in everything. You want to be perfect. Sometimes you are not really capable in setting your boundaries because of this. But if things go too far you can suddenly set your boundaries in a very forceful way. It's over and out then. Be careful with secret dates or intrigues. Keep away from (wo)men that are too dependent. A fine weekend to clean up and visit some garage sales.

Enough is enough!
Libra
There is a chance you will be asked to give a speech at a drink or a gathering. Even though you are flattered, it scares you a bit as well. Prepare as good as you can. It is useless to compare yourself to others so why do you always create fictive opponents everywhere you go? You can't measure up to others because you are one of a kind.
You are unique!
Scorpio
You have more than enough confidence today. Don't get too arrogant because that's not necessary at all. If you are single it won't take any effort to have a conversation with your crush or to tell him/her how you feel. Transformation is important to you at the moment. It's logical things are starting to shift. Try to do things that feel safe and that help you keep your feet on the ground. That's the way to get ahead in life.

Be prepared to change!
Sagittarius
Others could appreciate you more if they notice that you are grateful for the things they do for you. A simple thank you could work miracles. If someone is crossing your limits you will have to point it out to them in a friendly way. Exciting social developments are the consequence of the luck you had yesterday. A gathering or a meeting could be fruitful for your career.
Be grateful!
Capricorn
Don't let others rush you today and make sure you get the rest you need or you will turn into boring company. You have a nice dose of energy at the moment and you know how to express yourself creatively. Use this mood. Some people will react in a strong way to a mistake you made and all you can do is to make things right and to take the blame. There is nothing to be ashamed about. Nasty things could be said within a loving relationship. Calm down and take a deep breath.
Don't be tempted to say things you'll regret!
Aquarius
Stay out of the wind most of the day because you are either not feeling well or easily irritated. Nobody will become happy because of that. Within a relationship things should be discussed or cleared up. Let the other person finish when (s)he starts talking before you comment. You have struggled with a problem for such a long time that you can't even remember what life was like before you had the problem. Everything comes to an end though and you are in the last phase of it.

Talk things through!
Pisces
Have the courage to show your partner how you feel on all levels. Sometimes you are allowed to show your uncensored side. It is time to bring some passion into your relationship again. Loved ones should open up and talk about their relationship to see where they are. Book a night in a hotel or go out for dinner. Order champagne and do a little dance. Don't take any friends along.
Celebrate your love!
This psychic site and its owners are not liable for any direct, indirect, incidental, consequential, or punitive damages arising from using this site, the psychic contractors listed on it, or its content. By giving us your email address you agree to allow us to send you occassional maketing materials. We will never pass your details to another company.
You must accept and agree to our Terms of Use before using our services.
CALLING FROM OVERSEAS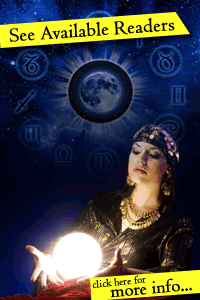 PSYCHIC RELATED TOPICS
Genuine Psychics can help you find solutions to any stressful situation