PHONE CHARGE
Mobiles/Payphones higher call rate applies.
SP: Access Positive
CALL NOW FOR GUIDANCE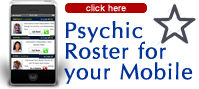 Money Back Guarantee
If you are not happy with the reading we will give you a Full Refund. This is only available for credit card clients through the auto and manual credit card service. Please call the Helpdesk on 1800 222 362.
Horoscopes Archive > 2012 > 09 > Daily Horoscopes 1 - 7 September 2012
Daily Horoscopes
1 - 7 September 2012
1 September 2012
Aries
Things aren't working out so well between you and your partner today. This is mostly caused by the fact that you like to do all the talking and that makes you forget to listen to him/her. Give your partner some space as well. You have total control over yourself and you are less emotional than usual. There is a lot to do at home and time will fly by. If you are single you might unexpectedly meet someone and that could turn into something romantic.
Make your house comfy!
Taurus
You are being pushed to regain balance for everything that has been unbalanced lately. This is not a day for disputes. Even though it might be tempting to do something dramatically, it is always important to keep other people in mind. There are a lot of things you can handle this weekend and it's the right time to get busy.
The results will be worth it!
Gemini
This will be a nice and quiet Saturday. That will give you the time to do some chores that were lying around. You like to be lazy today but it is wise to do them this weekend. Of course you can sleep in but go and do some real work afterwards. Soon you will no longer have time to do it. Enjoy the present and don't think about the future all the time. Make your partner's wishes come true. If you are single you might meet someone tonight.
Find the balance between work and play!
Cancer
If you aren't happy it's time to do something different with your life. It might not work out but the most important thing is that you have tried. Just the attempt for change will restore your energy. A great period is coming your way financially. You know how to handle your money. That is practical because some unexpected expenses are coming your way. If you lock yourself away from all those so-called unimportant things you could get really irritated.
Change is everything!
Leo
Try to let go of the feeling you have in the morning and move on with your day. That's how you make sure that your ability to focus isn't under fire and that you are in a better mood. It is a day to pay attention to your money. Before you realize it, it will be flying out the door and you don't know where you have spent it on. On top of that it could put you in an awkward situation and you don't want to be put into a dependent position.
Be careful with money!
Virgo
It is not your style to have inspiring moments in which you see a flash of the future and immediately fall in love with all those images. You are straight forward and to the point. Your love life knows quite some ups and downs this weekend. One moment you are head over heels with each other, the other moment you could drink her/his blood. Give each other some space because you are really on each other's lip right now.
Take some distance!
Libra
If you are single you won't lack any attention today but you are very critical. (S)he isn't easily good enough. Besides all that you are very occupied with your future. You have all kinds of long-term plans. There are a lot of things you could get addicted to, including irritations. Today a lot of things will happen that could make you see this. Being aware of something is already half of the work that is done.
Open your eyes!
Scorpio
You could shop all day without really finding what you want. But as soon as you will stop looking you will find it. It might not be precisely that colour but it will perfectly suit your personal style. Don't you think it's logical that not everyone always does what you ask? You can't expect others to just focus on you. You have to adjust a bit. That's how it works.
You are not the centre of the universe!
Sagittarius
Nothing is in your way to turn this into a fun and lazy day. Your finances are looking good as well. There are two things you have to be careful with though: bets and risks. The time isn't right for those. You will loose quickly. You jump to conclusions too easily. Postpone important decisions for a bit. Someone from the past could cause problems. Don't believe everything you hear.
Check the facts!
Capricorn
Trust your intuition and dive into the deep end. You have the whole weekend to do it. In the morning you will have some doubts: will I tell or not? As long as you are having doubts, you should wait. The situation will become clear. When you are in a relationship you can count on a pleasant Saturday Your partner supports you when needed without you having to ask for it. If you are single, a friendship could turn into love.
Live with your heart!
Aquarius
This is going to be a heavenly day for love. If you are single you will bump into a pleasant potential partner during a drink or a reception. It clicks immediately and you have a lot of things in common. A loving vibe could wipe away your dark mood instantly. Others feel attracted to you. Your effort to build up a satisfying relationship will be rewarded. Don't let people run over you within a group.
Stand up for yourself!
Pisces

If you are single you have had a crush on someone for a while but you haven't had the courage to take any steps. Finally that will change. You will finally find out if (s)he has the same warm feelings for you. If you are not clear in what you feel, you will create chaos around you. Don't choose the easiest way but find honesty. It is confronting but authentic. Isn't that what you really want?
Take the jump!
2 September 2012
Aries
You don't have to act as a therapist for a friend who is afraid of commitment. Let someone else solve it. Just look for someone whom can enjoy life. That's what suits you. It might even make your moodiness a bit lighter. You like to be lazy today. And for a change there is nothing wrong about that at all. You feel wonderful and you can intensely enjoy everything. The enjoying is not a problem at all as long as you get back to work on Monday.
Sit back and relax!
Taurus
A bi dose of tact and diplomacy is mandatory this weekend if you see signs of tiredness. You have taken on too much work lately. Your emotions and the ones from the people around you flare up. An ironic tone isn't good in the long run even when you don't mean it in a bad way. You might ruin first impressions that people get from you.
Be careful how to express yourself!
Gemini
You turn today into a wonderful day for the people that live with you. A nice breakfast, delicious snacks in the afternoon, it takes you no effort at all. The people around you are very grateful for this and will reward you with a lot of love. Don't keep your worries to yourself. By sharing them with others they will already seem less serious. You could expect a reward for all your hard work. It's a nice time to book a dream vacation.
Love is all you need!
Cancer
You will get a brilliant idea today and you want to work on it fast. It is a nice and crazy weekend so you have more than enough inspiration to work out your ideas. Work hard and you will see that you will get far. Don't just stick to the idea for a dress up party but involve your career plans as well. Sort out your finances because you lost track there.
Be as creative as possible!
Leo
A lot of changes are heading your way. That will bring along a lot of work and you will have to take care to get enough rest. A fit body and a well-rested mind make sure you can handle all that stress. Try to keep your energy and your mood high. Make preparations if you expect guests. Dress up when you go out because you never know whom you will meet.
A healthy mind in a healthy body!
Virgo
You would almost forget it is still weekend. You are restless even though you are trying to find as much rest as possible. The solution: work half a day and spend the rest of the day relaxing without guilt. Write down what you still have to do, so you don't have to remember it. It would be smart to show your best side today because an opportunity might come up. You'll be bummed if you are not wearing some sparkling outfit when this comes by.
Find the right balance!
Libra
Don't forget to relax today. Soon you'll be busy enough again. You are looking forward to an appointment that has been planned since ages. There is a big chance though this will be cancelled. Don't be too disappointed. Your have a happy glow over you and that will work wonders for your love life. The people around you see that you are glowing.
Busy days are coming!
Scorpio
When you are in a relationship you will dedicate a lot of time to your sex life today. You need each other in friendships. Sometimes you are the one helping out, sometimes the other person is. The base is equality. Is that feeling always there? A family gathering could get memorable. Everybody is in the best mood. There will be a lot of talking and laughing. The results of a course you have taken will show.
Relationships are important!
Sagittarius
Focus on the future and take a critical look at what you want to reach. Where will you be in a few weeks or months? That will give you energy and it's so much better than mourning about the past. You are not a morning person today and your mood is really dark at breakfast. What's causing that? Did you get out of the wrong side of the bed? Or do you have an obligation that you don't feel like today? You can just cancel and do something else instead.
Get rid of that bad mood!
Capricorn
You love the weekend. Searching for an outfit together with your friends, heading out into town, having a drink, a day full of friends. You love this cosiness and you try your best to turn this in the most pleasant day ever. Have you been walking around with the plan to do something useful in the world for a while? Go for it. Yes, of course it could fail but there is only a very slight chance that will happen.
Take a little risk!
Aquarius
Don't be too trusting if your inner voice is warning you. Your intuition is getting sharper but it is something you have to learn how to handle. There is a big chance you'll get carried away by your dark thoughts even when the people around you are happy. You feel as if nobody understands you and that makes you feel lonely. Break this circle by looking out for pleasant situations and fun people.
Distraction is all you need!
Pisces
You can get a lot of things done today and you should take advantage of that. If you are single you will easily make new contacts. It will just stay with flirting at the moment though. If you have a partner you have some things to discuss. Take your time. Your popularity is rising and you will have to handle a lot of invitations. If you are in the spotlights you will make a good impression and you might even win some kind of prize.
You are a rising star!
3 September 2012
Aries
You get to hear some interesting news. There could be new opportunities involved for you so don't let it slip by. You can gain a lot of advantage with it. Keep in mind that others might get jealous. It will be a happy but restless day. You would like to meet other people and take part in different activities. Just give into it and let go.
Try something new!
Taurus
You could enjoy a lot of pleasant moments with a lot of people. A coincidental encounter could trigger a déjà vu. You are not really waiting for it but an impulsive act could lead to a disagreement. If your life isn't going the way you would like it to go, an alternative therapy might offer you a solution. That could be the case but it's not always true. Look beyond the obvious and do some research.
Read between the lines!
Gemini
Some surprises could be waiting for you in love. Today everything that seems obvious is less obvious. You might feel a bit thrown off balance because of that but it could lead to something positive as well. The mood isn't really favourable but your positive attitude could get you a long way. It will be necessary to take a break from time to time to assure you don't get upset.
Keep an eye on what you eat!
Cancer
It could be that your immune system isn't working as well as usual. Wrap yourself when you are going outside. Less energy will lead to less endurance so don't tire yourself out. Take enough time to rest even when you are busy. It is important to listen to your body so turn down that invitation for a drink tonight. You will be very busy soon so this is the time to choose to listen to the signals.
Take a deep breath!
Leo
If you are really into yoga and/or meditation this is really going to be your day. You are in higher atmospheres. You are usually very generous with helping out. Make sure you don't sacrifice yourself too often. Everything is love. Today you feel the need to care and to be taken care of. You have the tendency to invest all your time and energy in others but a little bit of balance wouldn't be bad for a change.
Give and take!
Virgo
There could be tensions between love and your social life today. Your girl/boyfriend might act weird around your friends. Maybe one of them doesn't agree with your choice for a partner. Don't take it personally. It will blow over. There is no need to hesitate around the work floor today. You could make a big leap of progress at a certain activity. Use it in any way you can.
Give things some time!
Libra
This day is perfect to give into your urge to start new projects. You are able to establish good contacts for your network and your plans are taking shape. Put your own plan first before you get distracted and you suddenly have to help out others. Think about yourself in the first place. If you have organized things in a good way you will be able to take a break soon. You will choose to do something other than usual. You want to explore new things.
Be a little selfish!
Scorpio
Create a pleasant mood wherever you are. If you own your own company you could conclude that there is a big need for training for your employees. Take action now so things keep on going smoothly. Think about your pets if you have to go away from home for a bit. You are too demanding for yourself lately. Don't forget that you still have a lot of time to spend here. Try to spread things out.
Be gentle to your body!
Sagittarius
You would like to do more sport activities but you lack the time so you keep on postponing it over and over again. Or is that an excuse because you actually don't want to? Try to find some time to exercise now and then. You feel happy and positive today and you can count on a lot of attention from the people around you. Success is guaranteed in business and pleasure.
Enrol in a gym!
Capricorn
Today the focus is on your social life. Everything around you encourages you to spend as much time as possible with others. Surround yourself with pleasant people, with good talkers and order a few cocktails. The contact with fellow students and/or colleagues is going well. There are no differences of opinion. Everyone is in sync with your train of thoughts and that feels great. Financially things are working out. You will have to sort a few things out though.
An almost perfect day!
Aquarius
Surprising conversations or sweet suggestions make you happy today. Those small gestures are all what matter. You feel the need to change your environment. That is practical if you have some days off to look forward to. It is a good time to deal with matters around the house. There might be some problems from your youth that need a solution or some more recent family issues.
Changes are necessary!
Pisces
There will be good news today. This day will bring you an endless amount of love, money and beauty. A great start of the week. Enjoy the prosperity that is heading your way and let go of everything else. Love and peace, that's what it's all about. You could try to convince someone else of your point of view. Create clarity in your relationship and make sure that everything stays all right. When you are done talking you will see that your relationship has improved.
Spread your love!
4 September 2012
Aries
If you want to strengthen your position at work you have to take action now. And you should do it quickly. The right timing is very important as well of course. Fortunately your intuition is sharp and you will find a solution for the strangest problems. Pay bills that are overdue so you don't have to keep thinking about them. Visit a little shop instead of those big markets so you can find some new things.
It's all about timing and details!
Taurus
Take your time to enjoy the small things in life even when your calendar is full. Pay attention to children, an artistic project or a speculative challenge but don't mess around with money. When you can no longer see things clearly it would be practical to create an overview from your finances. You have learned that you, when it's really necessary, can't trust anyone. Keep that in mind again today.
Don't be fooled!
Gemini
Take good care of your body because it is your most important house. Enjoy the nature you can find in your neighbourhood. Take a good look at your insurance policies. It could happen that you don't have enough insurance. Your career seems to be speeding up. That means promotion but also a broader choice with more possibilities that you can explore and more responsibilities.
Eat as healthy as possible!
Cancer
Everything you handle today, you will handle well. You will also finish it and that's how you score points. This is your day if you have plans to start something new. You are not in the right mood to relax so postpone that for a while. You are about to take a step higher on the career ladder. Such a step will involve a reward and respect. People automatically assume you will take it but did anyone bother to ask you?
You finish what you start!
Leo
You like good food and that's practical today. You have your finances sorted out well and you can reap the fruits of it. You are such a social person. That is practical at work but also to talk about personal things. Some things need to be handled straight away and they don't benefit from the 'let's wait and see'-strategy. Today's challenge is one you have faced before but one you ignored earlier on.
Don't postpone things!
Virgo
You haven't felt this good in a long time. That is great but don't exaggerate. Less often is more. You are this close to being the happiest person on earth. You should just have a little bit patience. Can you do that? After climbing mountains your entire life, the answer is yes. Of course you can do that. Just hold on for a little bit longer.
You can do it!
Libra
You might collide with someone whom is as stubborn as you are today. You don't want to give in an inch but that doesn't get you any further of course. Try to find something you both feel good about. Financially things seem to be a little off. Someone won't pay their invoice on time or doesn't repay you. This sucks because you could really use the money. You are allowed to ask for it again.
Find a solution!
Scorpio
You are very occupied with retreating and relaxing today and that means today will bring more rest than usual. Yoga, contemplation and meditation are ideal to fill your night. You dream a lot more and you feel everything in a much deeper way. Give enough attention and time to the people you love and make plans to visit some family members you haven't spoken to in a long time. Watch out with what you eat if you don't want to gain weight.
Cherish your loved ones!
Sagittarius
Whatever happens today your enthusiasm for a certain plan will only increase. Just like your ability to save yourself from difficult situations. Focus on family traditions and how to find the right words to explain your goal. It is time to recharge your battery. You will do that by getting closer to yourself again, physical and psychological. This could need some getting used to but do it anyways. It will take a little more time but you will surely have success at work.
Focus on yourself!
Capricorn
The peace, clarity and order have returned in your life and you love it! You enjoy the daily routine and you find it comforting to know what is coming to you. The best thing about that possible promotion at work is that you will be able to show off your talents and skills, you take big decisions yourself and you play the main part. It is tiring but you don't care. Even better, you can't wait!
Everything is back to normal!
Aquarius
Prepare for some interesting encounters today. This day is all about networking which means that everything involves friends, friends of friends and friends of friends of friends. You will get the chance to broaden your horizon. Are you waiting for that promotion? Does it make you happy? It might feel as if you don't have a choice. It is easier than you think to step off that ladder.
A day filled with people!
Pisces
Today the smallest thing you do will tire you out. You will keep on going though and the load keeps on getting heavier and heavier. It is better to stand still and be aware of your lack of energy. You will have to deal with that old situation. It shouldn't cause any problems because this time you know what you are dealing with. Be persistent. You won't get a chance like this again in the near future.
Find closure!
5 September 2012
Aries
Your energy level is hitting a historical low today. Or you are extremely exhausted or a serious cold or flu will get you down. Give your body time to sicken out. No matter how hard it is to admit it, you can be missed at work for a few days. There is more contact with family, kids and neighbours. What starts as a short visit or a quick lunch could grow into animated conversations.
Take some well-deserved rest!
Taurus
You can count on some extra luck with money today. All the beauty you experienced lately will be transformed into cash now. You have a lot of energy as well. Try to use this energy boost well and work on thing you have postponed. That way you can be a little bit lazy tomorrow without feeling as if you still need to finish something. That is relaxing!
Don't forget important things!
Gemini
Turn today in a nice day. Your career is really important to you at the moment, which means ambitious goals should be your priority right now, even at night when that is necessary. If you are in love this day will be filled with intimacy. Enjoy your common activities. Don't let it throw you off balance when a friend gets jealous. Artistic inspiration could result into something extraordinary.
Embrace the love!
Cancer
Write down your intimate thought in a place where nobody else can read them. You can take a look at them again later on to see how you felt now and what was on your mind. That could bring you a lot of insight in yourself. Even though you are optimistic and in a good mood, irritations and interruptions could bring this day down. Prefer to build bridges instead of creating tension.
Don't spend too much money!
Leo
Say goodbye to old things before you start new ones. Create space for new things by removing broken things, paperwork and clothes you'll never wear again. It is also a good time to renew friendships. Just keep an eye on your budget. You have the tendency to spend more money than you actually have. That will create problems in the long run.
Try to save money!
Virgo
Your partner is very restless and you can't handle it. On top of that she has a surprising message for you. Reasons enough for you stress out. It's all or nothing at work. You are used to choosing between what you want and what you can afford but today you'll get a third option: that what you think is right. You can get what you want, for a small price but your principles are stopping you.
Listen to your inner voice!
Libra
You might prefer to be occupied with art and romance more often but that doesn't pay the bills of course. Save that for the weekend and you will have more than enough time to go your own, relaxed way again. You are happy, excited and restless at the same time. Within a relationship you could really get frustrated. Try your best to forget it if you have the feeling the other person is hiding something.
Don't be paranoid!
Scorpio
It wouldn't do any harm to be more flexible in love. Your partner needs more space than you are giving at the moment. Don't doubt your love because that is going well. You want to break the daily cycle. You succeed well. Be alert for ups and downs. There seems to be a misunderstanding with the people that are close to you. Discuss things before they start leading their own lives. There is a solution available for a problem if you look at it from a different side.
Have faith in your love!
Sagittarius
This day will be formed by one of the most powerful, important moments of the year. It seems the last minutes to closure are counting down. Do you feel as if every moment counts? Than you have caught on to the vibe well. Use it well, this time. You won't be able to sit still today. Your energy will win from resting. That is practical at work. There is more than enough to do. There are so many chores waiting for you at home.
Use your time wisely!
Capricorn
It might be hard to ask for help but do it anyways. Realize that you are not alone in this world and that it often just seems as if everyone is happy being on his or her own. You feel like changing something about your looks or your house. It will be a peaceful and quiet day. You get all the time you need for hobbies or chores around the house. It would be good not to do too much though. Use this period to recharge your battery.
You feel great!
Aquarius
You are pushing your luck at work or at school. Make sure you don't make any major mistakes because that would be a shame and completely useless. When it concerns your health the regular pains could bother you. Your knees or joints might be acting up. Don't walk around with unnecessary pain. You are not helping yourself by doing that. Free or not, you are already starting up a new project.
Go see a doctor when necessary!
Pisces
You keep on travelling to far off places in your mind, which makes you long for a great escape in real life as well. When you have organized your life in a way that you can escape for a bit, use it. Professionally you could meet some special people. A good understanding between you and your partner could lead to some fun ideas that make you stretch your budget a little.
Have fun together!
6 September 2012
Aries
The financial zone in your life will be in the spotlights at the moment. This day is all about money. Almost effortlessly you can improve your income. Good job! The focus will also be on social gatherings. The happy mood will benefit your professional life. Don't hide away from an intimate conversation tonight. Turn off the TV, put down your book and talk about things that occupy the both of you.
Discuss things that matter!
Taurus
You could have the feeling you don't do a lot besides paying bills. Children seem to be insatiable. You will have to limit their wishes. Tighten up your budget. You feel wonderful at the moment. Could it be that you are in love? Enjoy that beautiful feeling but don't make the mistake to take things too serious. There is something that is still missing. Find out what it is.
Find the missing piece!
Gemini
Others shouldn't suffer because of your hunger for adventure and action. You don't want to wait any longer when it comes to love but be careful. Something awkward will happen today and that makes it all a bit less festive. Fortunately things will change again tomorrow. Today you feel serious and a bit down but that mood will blow over soon enough. Try to let it slide off.
Shake it off!
Cancer
You are busy with fulfilling the wishes of friends, colleagues and family members. Secretly you are wishing they would leave you alone though. You would prefer to take a day off and browse through old photo albums. You would like to loose yourself in the good old days. You want to close of this working week as soon as possible. There is a heap of work waiting for you and on top of that you have a lot of family responsibilities.
Busy, busy, busy!
Leo
Prepare yourself for chaos at work today. Try to keep yourself grounded in the middle of the craziness. It could be that someone completely breaks down. Make sure it isn't you. People around you can be extremely sensitive and misunderstand everything you say. Write down what you feel in a journal so you don't have to be afraid about making a scene or hurting someone else's feelings. You could amaze yourself with your writing abilities.
Choose your words carefully!
Virgo
Your love life is flipped upside down today. You feel playful and shy at the same time and you are attracting loads of admirers. Try to use this irresistible charm well. Ask yourself if you are in the right place. The answers might not be pleasant but they will be clear. Whatever you are doing now only costs energy. The cosmos has other fun things for you in mind.
Resistance is futile!
Libra
Get out of the house today and step into a world of endless possibilities. A night of networking could gain you more than you could suspect in the long run. Your relationship could bring around some problems. You are always together and that could be irritating. Give each other some space. That will solve everything. Financially you should take it easy.
Practice your social skills!
Scorpio
It is wonderful to have so much fun but it has to come from within you. If you join in on everything because you fear not to be accepted, it's a different story. The people around you will still like you if you're not there all the time. A professional matter could slip out of your control and head into the wrong direction. Don't worry too much. A better deal will come along.
You're allowed to say 'no'!
Sagittarius
There seems to be some excitement. An optimistic vibe hangs around you. That will add to your good feeling. Your ability to attract money increases. A good time to ask for a raise. There could be some problems with a partner. Are you single? You probably long for something new. You might even meet someone promising. Make sure you are at the right place at the right time.
Money is coming your way!
Capricorn
Your inner predator wakes up today. Away with work, this day is meant to flirt. Single or not, you feel like mingling and mixing and meeting new people. Make sure you have something fun planned for tonight. Today will offer you good perspectives on getting a diploma. It could be something concrete, like your driver's license but it could be as a matter of speaking as well.
Go out and have fun!
Aquarius
You might have spent a lot of time alone lately and you are yearning for the company of people you know. Today it is necessary for you to get to the bottom of something no matter how much you dislike this. You are less energetic than usual. Add the fact that it's Thursday to that, the weekend is around the corner, stress is exploding and you will understand that it's wise to take a break.
Relaxing is as important as performing!
Pisces
Don't let professional obligations wipe away your limitless creativity. There is a big chance you boss is trying to give you tasks that are not reasonable at all. You feel creative so make some time for your masterpiece as well. Or write in your journal or something else that is creative. Even though you could reach your goal with your persistence, this could also limit you in a way.
Try a different technique!
7 September 2012
Aries
Teamwork will be the best way to reach the point where you want to get. You don't have to worry about the competition. You have created some strong bonds of confidence already. Try to find progress in your career without harming someone else. A relationship could reach the painful end stage. This day will bring you the recipe for success. Use this positive spiral to get everything you want.
Work together!
Taurus
There is love in the air today. Oceans of affection surround you and fun things are just waiting around the corner. All you need to do is relax and enjoy all the good things that are coming your way. Take some rest! You are trying to do all kinds of things but you are actually really tired. Give into this. Take care of yourself as you do of the people around you. You will be even more pleasant to be with. Your financial situation is worrying you.
Listen to your body!
Gemini
A lot of your thoughts will involve love and romance. If you have a partner you will enjoy each other even more than usual today. If you are single you can expect a change in your situation. Show your best and most charming side today. It is a good day for all kinds of activities. Relationship problems can be settled and everyone is happy about it.
Nobody can resist your charms!
Cancer
Group activities could end your feelings of fear or your lack of confidence. Realize that you wouldn't be on the spot you are in now if you wouldn't have the right capacities. Artist could establish their name right now. You are glowing with positivity and people like to catch a little bit of that glow. You are happy and you can handle any problem with ease. Be careful because your mood could switch at any given moment.
Everybody loves you!
Leo
This day will be a bit unpredictable and rough. Meetings get cancelled at the last minute and your calendar will be completely messed up. Don't get too worked up about it because then it will trouble you even more. A perfect mix of tension and love is coming up. You like to play hard to get but today it gets even more interesting. What you can't have is the most attractive thing, isn't it?
Be flexible!
Virgo
Communicating is going well today especially when it concerns relationships. Say what you have to say and trust the fact that the message will reach the person it is meant for without delays or misinterpretations. You long for strange expenses today. Just go along with it. It could be healthy to for once do without thinking for someone that always thinks thoroughly before making any decision.
Be a little strange!
Libra
You will get the chance to look at your emotions from a distance. It is the way to escape your protecting, sensitive cocoon. It will be a lot easier not to take things personally today. Imagine that! You can show your craziest side. Don't hold back when you do. This day is meant to celebrate your own unique and fantastic view on life.
Be as original as you can be!
Scorpio
Today will be all bout friendship and fun. Working could be pleasant as well, with funny clients and nice conversations. Someone new could be introduced into the family and that could be a kid or a pet. It will be a fun and interesting day. You meet new people and there is a big chance for a spark to happen. Try to limit your expenses. You like a luxurious way of life and that takes a lot of money.
Oh happy day!
Sagittarius
Keep more in touch with your loved ones and your neighbours. You will notice that you like being more involved in local events. Your point of view could spice up things. Life is pretty confusing at the moment but that doesn't mean you won't get any answers at all. If you give room to your intuition you will notice that you actually know everything already.
You can find the balance within!
Capricorn
This day is meant to take risks. Of course things can go wrong but the art is to have the courage to go along with changes. Even when things go completely wrong you will be able to laugh about it and start the next exciting adventure. Really. You are very occupied by your looks or the interior of your house. You feel like changing something. You can only spend your money once though, so be careful.
Take a little risk!
Aquarius
Follow a certain method if you started late today for whatever reason. Rumours could be started because of someone's extreme remarks. Try to get through to the core without ending up in a discussion. An urgent appointment will be delayed by all kinds of frustrating issues. Stay calm because there is nobody who can be blamed. You just have to wait for a bit.
Patience is what you need!
Pisces
Pay attention to the details. Do your homework if you consider investing the interest of a joint savings account and don't blindly trust a commercial. You will have to add some water to the wine in a painful situation. Money is what matters today. You are extra motivated and give everything you have got to get what you want. This has nothing to do with being materialistic. You just like to be able to hold the results of your hard work in your hands.
Money makes the world go around!
This psychic site and its owners are not liable for any direct, indirect, incidental, consequential, or punitive damages arising from using this site, the psychic contractors listed on it, or its content. By giving us your email address you agree to allow us to send you occassional maketing materials. We will never pass your details to another company.
You must accept and agree to our Terms of Use before using our services.
CALLING FROM OVERSEAS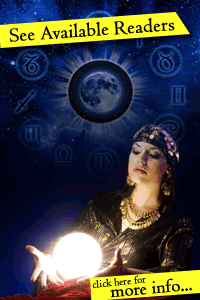 PSYCHIC RELATED TOPICS
Genuine Psychics can help you find solutions to any stressful situation