PHONE CHARGE
Mobiles/Payphones higher call rate applies.
SP: Access Positive
CALL NOW FOR GUIDANCE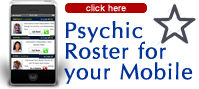 Money Back Guarantee
If you are not happy with the reading we will give you a Full Refund. This is only available for credit card clients through the auto and manual credit card service. Please call the Helpdesk on 1800 222 362.
Horoscopes Archive > 2012 > 08 > Daily Horoscopes 29 - 31 August 2012
Daily Horoscopes
29 - 31 August 2012
29 August 2012
Aries
This day is the day to get rid of psychological luggage. Just toss out what is no longer of use and create some room for things that make you really happy. Want to bet you will feel a lot sexier? Choose a healthy meal instead of all those snacks; Make sure you don't let too much negative energy in mentally. It could unexpectedly turn out to be a great day. Enjoy it!

Create room for good things!
Taurus
You don't feel like looking out for a place where you can get something a little bit cheaper. It will save you a lot of money though if you watch your expenses more carefully. You have lost the overview at the moment. You secretly know you have to cut your spending a little. You feel extra passionate today and on top of that you make some strong statements. Say what you have to say the way you want to say it. People will be mesmerized.

You are enchanting!
Gemini
Friends and acquaintances will support your plans but that could just be because it is the easiest thing to do. Let them do some work if you are throwing a party in the near future on which they will be guests. Pay attention to financial developments. You dislike all the obligations that are in your agenda. You prefer to go your own way and that's impossible at the moment. Find a moment for yourself though or you'll get irritated in no time. The people around you will suffer when this happens.

Make time for yourself!
Cancer
In love things go a lot better today. You look sparkling and the opposite sex notices this. But honesty first, you put a lot of time in it as well. A pretty big change is taking place. People are actually interested in what you have to say. And you have a lot of things to say! You do it so well that everyone will admire you for it. Later on your deeds will become more important than your words.

You are amazing!
Leo
At work something will come up and you won't respond adequately. Give it some time. Be clear as soon as you feel what you have to do. Set your boundaries or take some distance. Make sure you have variety in your daily life. It could be as simple as picking out a different route to go to the office or getting your groceries in a store you never go to. Check all details for an upcoming trip or vacation, just to make sure everything has been taken care of.

Break the cycle!
Virgo
A subtle change could happen within you that makes it able for you to enjoy certain aspects of your life more. Desires could fade which makes it simpler to negotiate. Even though you are convinced you have been picked as a target today, you should wear your biggest smile and act like you usually do. In case some really have an aim you, your behaviour and attitude will make them respect you.
Embrace the change!
Libra
Keep your intuition in mind because not everyone is trustworthy. You are not responsible for other people's happiness. Everyone has to create that for his or her self. You create your own happiness as well. You feel a bit nervous. You are heading towards a good period. Just watch out not to say too much and loose your opportunities by doing so. Your career is looking positive. You have everything under control.

Your audience loves you!
Scorpio
It's the small things that matter. Nothing is worth more to you today. You could be emotionally touched by something that appears to be futile. Things will go as deep as you will let them. If you are still studying there are nice things to look forward to. Everything is looking good for travelling plans as well as romance. If you are looking for adventure you can count on it even though there will be a small obstacle.

You are very emotional!
Sagittarius
You are warming up inside. You are in touch with your sensual side. Do you feel like spending a nice night in bed with your lover? Do it. If you are looking for an exciting date, it will happen. Try to listen to the signals your body is sending today and give into them. You might have the tendency to ignore the grumbling of your stomach too often.

Feed your sensuality!
Capricorn

Sometimes you just have to round up something. The last push is the hardest. Don't give up because this is what you did all this work for. No pain, no gain. Do what you can today because you have to start somewhere. The rest will follow. This is an excellent period to find closure on things from the past. Take your time to do this and try to right something about it. You will get some extra energy and that will be useful.
Find closure!
Aquarius
Today you are in a rush. This causes a big chance for conflicts. Slow down a little because others just can't keep up. Do something unusual more often. That is what you prefer to do anyways. Prevent attracting a huge workload. You could discover during this hectic period that it's not necessary to do that much. Charge your emotional battery by taking a brisk walk or reading a good book.

Do something odd!
Pisces
It is fine day to arrange things at home and to use your sweeper. It's not a good time to start a romance because it won't go the way you would like it to go. If you are studying you have to make an extra effort to score in the near future. Try to voice your thoughts but stay tactful. A wrong remark could have big consequences for your career. That would be a shame.
Choose your words carefully!
30 August 2012
Aries
Turbulence that has been lurking on the work floor could explode today. Don't let this get to you. It might be time to admit it's better for you to quit. Like it or not, a lot of things are going to change. You could suddenly not feel like going to a meeting. You are feeling insecure and that shows. You keep on bringing yourself down and people start to notice. That's completely unnecessary.
You are good in the things you do!
Taurus
Have you been looking for a partner for a while? You could get rewarded soon. Maybe even today! Make sure that everyone knows you are available and browse the Internet as well. Your financial situation will improve a lot. It will soon be better than it has been in ages. This makes you take a more positive look at things again and your sad mood will disappear like snow in the sun.

Things are looking bright!
Gemini
It is going to be a busy time. There will be extremely high demands from you. You will have to give it all you have got. The good news is that it's a temporary situation. You can't let other people's wishes control your life. It is a good day to pay attention to relationships. It is the time to be together with loved ones and/or friends. There is an effortless, optimistic vibe in the air. If that doesn't cheer you up, nothing will.

Brace yourself!
Cancer
This day will be about money and fortunately in a positive way. Prepare for fantastic opportunities and some extra cash. The more you give the more you will attract. Don't underestimate that power to make great things happen. Even though you don't lack any energy it would be a good idea to work hard today. Ask for help when needed. That improves your relationship and it gets things done quickly.
What you send out, will return to you!
Leo
Your day will be about communication. You will have to deal with all kinds of communication. You will probably be confronted with it at work. You notice that you are not always the subtlest person around and you set up people against you without realizing it. This is not going to be your best day. You have the feeling everything and everyone is working against you. It is best to take as much rest as possible. You don't have a lot of energy.

You need some rest!
Virgo
If you hear complaints about someone else, you should research it immediately. Prevent that someone spreads restlessness in your surroundings. It doesn't improve the mood. Make some time to do something fun for yourself and don't be too frugal. Your love life will get a boost today. That can only turn this into a romantic day. Enjoy the emotional vibe and don't work so hard that everything passes you without you noticing it.
Open your eyes!
Libra
You have enough weapons in your hand to do what has to be done. A fine time to look into a healthier way of living. With a little effort you can reach great results. It is a good day to visit a relative as well. You should make use of the harmonic mood that is in the air. Discuss that one subject you have been walking around with for a long time. It will be a good conversation.
You can accomplish great things!
Scorpio
You need a bit of rest. You can put your both feet back on the ground and devote yourself to arranging your finances. That is about time. You even feel like doing it. You are looking forward to the decluttered situation once you are done organizing. You don't have a lot of energy today. Leave important initiatives for a different time when you feel better.

Get rid of clutter!
Sagittarius
Someone will misunderstand your well-intended remarks today, you don't really think your new wallpaper matches your furniture, that meal doesn't taste like you expected… It's one of those days. It will take an effort deciding how to continue with a romance. One moment a long lasting commitment seems heavenly, the other moment it scares the hell out of you. Don't make any promises you will regret tomorrow.
Tomorrow the sun will shine again!
Capricorn
A wave of inspiration will assure that a difficult task will be done quickly. This is that kind of day when people come to you with their problems. Listening is probably enough already. Stay tactful. Nobody is waiting for some nasty remarks. After months of effort you tend to leave things behind you and look for a new path. Just because you can. A bad move? Not really. You would get bored if you would stay where you are now.
Be ready for a change!
Aquarius
You usually try to keep your money to yourself. Today you seem to be a big spender though. One of these days you will meet a group of enthusiastic people. Trust your instincts. Watch your wallet if you are heading into town. Be alert when people bump into you or come too close. Compare price tags. They could be switched or wrong. Go out to have dinner tonight but stay close to your house.

Be alert!
Pisces
You could have to deal with one interruption after the other today. Try to keep things under control though. Do some yoga or breathing exercises when you tend to exaggerate things. An amusing conversation will be a learning experience at the same time. You might have to postpone that certain trip. If you are walking around with a great plan you have to work on it now because it is going to work.

You can do it!
31 August 2012
Aries
Don't let any professional opportunity slip by. These kinds of opportunities don't come by every day. Keep your partner in mind as well and make sure you don't get into any troubles at home. Keep on talking to each other. It is a good thing that you can enjoy general happiness today. You have both feet on the ground and you can get a lot of things done. On top of that you can count on progress and flow. Enjoy it!

Things work out smoothly!
Taurus
This day can only turn into a fantastic day. Let the people around you know what your goals are and be amazed how soon they will respond to them. You could reach some perfect results. And you like perfection, don't you? Be careful when taking important decisions today. Think them through thoroughly. It's fine to be impulsive but sometimes you have to give yourself some time to think about things.

Don't rush into things!
Gemini
If you are single you will meet someone very interesting one of these days. Don't forget to ask her/him for her/his number. Hopefully you have a few days off to look forward to because you seem to have finally discovered how to relax. At home problems are piling up. You can't agree with each other and that creates tensions. Fortunately you can find distraction at work. Things go a lot better over there. You will be complimented because of your performances.
Try to discuss things at home!
Cancer
Good advice seems to be expensive but with you it is for free. Especially when you look at a work situation and you think it's not practical and time robbing you will be the first to ring the alarm bell and bring on the newest ideas. You can effortlessly do work that has been piling up for months. You can take on every deadline. There is a big chance you are madly in love or will be soon because Cupid is hanging around you.

You are very innovative!
Leo
Appointments and encounters will be positive today. Finish what has been lying around at work and call people that have been waiting for your phone call. If you stuck to your principles even though there was resistance, you will be rewarded. The weekend is knocking on your door. Did you make any nice plans? There are a lot of things to do. Ask for clarity today. There is a big chance there will be misunderstanding and you might jump to the wrong conclusions.
A positive day with a positive outcome!
Virgo
When you put a lot of pressure on yourself things will lead nowhere. Nothing will happen and you won't be successful. Put everything on a row and take a little break. You can take a look at things from a distance to see what is going on. You could feel vulnerable when a personal situation is too delicate to discuss. Being in love could make you feel insecure as well. Have the courage to be open. Don't talk to strangers about anything you want to keep to yourself.

Don't pressure yourself!
Libra
Working together as a team will go well today and you will profit from the effort that others make. You could help your partner by assisting behind the scene. It is important that you are there for the other person. You can finally make those travelling plans. You can count on some criticism today, at school, at work or at home. Don't take it too personally. Use it to your advantage because it can teach you a lot.
Be there for your loved ones!
Scorpio
This is going to be a fine day for anything that involves studying or work. You have no problem concentrating which makes it easy for you to take things in. Make sure you handle a lot of work so you can work ahead. If you are single you will establish new contacts without a problem. Your shyness disappears tonight and that works. It is going to be a great night. You might have a bit of effort with new things today. You just have to get used to it but give it a chance.
Open up for new experiences!
Sagittarius
Is there something you want to change in your life? When you change the way you think, you change your attitude as well. People will react differently and you change the situation. You could wrap up everyone with your sense of humour and a little whim of philosophy. You could be a great organizing talent. Your colleagues will appreciate this. You could score with your powerful personality as well. This makes you able to say thing that other people wouldn't dare.

You are a real charmer!
Capricorn
Keep your mind cool and think well before you say or do anything today. That way things will stay as peaceful as possible. It won't be easy because you are in a dreamy state of mind. There is a magical vibe in the air whatever you do or don't do. Even if you spend the day searching within yourself it will all become heavenly. You will have to handle a lot of help requests. You are happy to offer your help but stay critical.

Don't let people take advantage!
Aquarius
This day will bring luck and prosperity. The people that you love will bring you everything you need. Finally you are being spoiled instead of you having to put your energy into others. You can even combine business with pleasure. This will create the opportunity to fully use your natural charm and your professional instincts. Don't rely on it for too long though because this will only last a short period of time.

You are being treasured!
Pisces
Do you want to grow at work? Sometimes you have to dare to take risks and look beyond what is right in front of you. Think about what you want first before you take any steps. Prepare for the weekend. Work on ideas but don't exaggerate. Plans for certain activities could look amazing but might be too complicated. A health problem that is hard to diagnose could be psychosomatic. Try to relax.

Don't stress out!
This psychic site and its owners are not liable for any direct, indirect, incidental, consequential, or punitive damages arising from using this site, the psychic contractors listed on it, or its content. By giving us your email address you agree to allow us to send you occassional maketing materials. We will never pass your details to another company.
You must accept and agree to our Terms of Use before using our services.
CALLING FROM OVERSEAS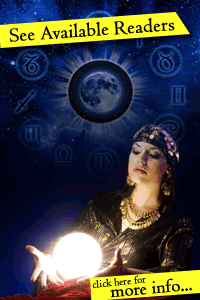 PSYCHIC RELATED TOPICS
Genuine Psychics can help you find solutions to any stressful situation