PHONE CHARGE
Mobiles/Payphones higher call rate applies.
SP: Access Positive
CALL NOW FOR GUIDANCE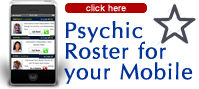 Money Back Guarantee
If you are not happy with the reading we will give you a Full Refund. This is only available for credit card clients through the auto and manual credit card service. Please call the Helpdesk on 1800 222 362.
Horoscopes Archive > 2012 > 08 > Daily Horoscopes 22 - 28 August 2012
Daily Horoscopes
22 - 28 August 2012
22 August 2012
Aries
The line between work and pleasure is less clear than usual. Surfing the Internet could cost you valuable time and before you realize it you'll miss a deadline. A doubtful deal or a pushy competitor could harm you. As a single you have met someone whom is as complicated as you are. Before you know it things get fired up. The outcome is really unpredictable. You are completely balanced and that feels nice.
Things heat up!
Taurus
You will have to deal with a lot of impressions today. Finish what you have started and don't start anything new. It is clear that you have been thinking about yourself more lately. You are well rested, relaxed and your mind is sharp when you have to deal with daily problems again. You could suddenly start doing things you weren't looking forward to for example that report or that certain phone call.
Close of some things!
Gemini
Try to sort things out in your mind. It would be nice if you could retrieve your dreams from the past. You had such a special feeling with certain images, all those things you wanted to reach. It isn't past tense. You can still chase those dreams. On one side you are confident and open to others, on the other side you are distant and reserved. By joining those two extremes you will find balance when you are alone for a moment.

Don't give up on your dreams!
Cancer
Weird thoughts could pop up. If you are waiting for your loved one you can worry about the most extreme things. Your fear will be based on nothing though. The other person will arrive at home although (s)he might be a little bit late. Today you don't feel really well, that much is clear. Why do you let the smallest thing throw you off balance? Make sure you rest well at night and get a lot of physical relaxation.

Go out and exercise!
Leo
You have a gigantic urge to cross your usual boundaries. You are really tired of the old routine. Good, you have the right to do your own thing but don't forget the people around you. Delay could be a blessing today. Use the time to do some detailed research. If you are the host of a family gathering this month make sure you contact everyone now so you know that they are coming or not.
Use your time wisely!
Virgo
Realize the consequences when putting someone on a pedestal. Seeing the world through pink glasses could have serious consequences. Dreams have to be based on realistic things to maintain the enthusiasm. You should round up something else first before you start something new. This will be good for your health and your projects. You don't want to do things half because mediocre isn't a word that belongs in your dictionary.

Go for quality!
Libra
Save your principles for another time. Don't be too afraid that people will reject you if you aren't immediately there. Is everyone always there for you? They will understand. Make an exception for request from the people at home. Your practical nature could make you recycle stuff and that will bring a lot of joy. If you are single romance could play an important part in your life.
Be a little selfish!
Scorpio
Today the focus will be on income. That will bring opportunities you didn't dare to dream about. As long as you keep both feet on the ground there will be abundance. Let your imagination run wild and be amazed by what you can turn into reality. Take enough time to think about plans and don't let others rush you into things. You have a good reason for it when you still have an idea that needs some work.
Take things slowly!
Sagittarius
Everything points to an improvement in the romantic area. There might be some fireworks for married people. Turn this into a delightful day. If you are single you should try to set up meeting someone you really like. Don't postpone it. You are occupied with a financial situation today. This is a good thing. The time is right to sort things out.
Tidy up immediately!
Capricorn
There are little to no developments concerning love at the moment. Fortunately you are perfectly capable of being alone and you don't lack any friends at all. Have fun with some friends. Surround yourself with nice people that make you laugh and apply quickly for a new job. It might be a good idea to quit your current job or study. Whatever it is, you have more control over things than you realize.

You create your own future!
Aquarius
Make sure you can talk about your emotions but wait until you have let them sink in. That way you can think about them yourself peacefully which will provide you with more insight. When it comes to love it is necessary to let go of some things. Plans can change and you will wonder how to balance your professional and personal life. What do you personally think is more important?
Everything will fall into place!
Pisces
Your reputation could get ahead of you and this could influence all your professional worries. Stick to the rules of the game and be honest in everything you do. Don't let greed control your deeds and don't let anyone shut you up at work. In a personal situation you might assume that you are doing the best you can financially. You assume the money is invested well and that you are doing someone a favour on top of that.
Honesty lasts the longest!
23 August 2012
Aries
You will have to deal with unexpected matters and situations today. That could vary from a special phone call to an anger outburst from your partner or colleague. Financially things could suddenly get better. It's going to be anything but predictive and you like it that way. What you weren't able to do yesterday will weigh down on you today. Relationships with influential people probably won't be so positive or your boss isn't satisfied with your attitude.
A very unpredictable day!
Taurus
Curiosity and the expectation that the grass is always greener on the other side could make you find new knowledge and new experiences. Don't jump to conclusions towards someone or a situation. If you are single you fall in love with someone. You will impress him/her the most if you are yourself. You have a lot of things on your to-do list. That will probably all be finished by tonight.
Let go of everything!
Gemini
You are being old fashioned materialistic again. Your things are sacred and you don't want to borrow anything to anyone. It is fine that you think that way but don't forget you borrow something from time to time as well. Nothing hectic is planned and you like it that way. There is love in the air today. You are swimming in oceans of affection and you find pleasure in everything. All you have to do is relax and enjoy the beautiful things that are heading your way.
Take things easy!
Cancer
Mistakes, misunderstandings and delays could turn this into a difficult day. Be tolerant towards people that disagree with your ideas or plans. Listen to the alternatives that others offer. You can learn something from it. Fortunately it will be a great day when it comes to love. If you are single the spark hits from moment one and if you are in a relationship you just can't resist him/her. Enjoy it and go to bed early together.
Romance is in the air!
Leo
Don't take anything for granted, especially the loyal people that work so hard for you. Gratitude is obliged. Today the people around you feel less confident than usual. Show them how happy you are with what they do for you. Preferably not in words but in deeds. Unfortunately your relationship isn't going so well. Your partner is restless and you don't know how to get through to him/her. Take a critical look at your own contribution in this.
Show your love!
Virgo
You are very busy with pleasing your friends and family today. Don't forget your own needs. Afterwards you'll feel restless. The way to get rid of it is to exercise a lot. Enrol in a gym or choose the bicycle more often to go places. At work you will finally be able to finish up a difficult project. Waiting and seeing what happens is not an option. If you want a new partner or a new job you will have to take initiative.
Use exercising to get rid of stress!
Libra
You are pretty passive. Normally you have filled up your calendar weeks beforehand with all kinds of appointments. Now the exact opposite is true. Unfortunately that has some nasty consequences. Everyone around you has already made plans so quickly do something about that empty calendar. The meaning of life isn't always clear. Often enough the processes are more interesting than the goals. If reaching a goal was a bit disappointing take a look to see if the process was worth it.
Fill up your calendar!
Scorpio
Pay more attention at work in the upcoming time because there are some colleagues that want to put you in bad daylight. With your knowledge and your reliability you can convince anyone of the fact that you are a hard worker. You have had some quiet time but now things have to change. The time of lazing around is over. Fortunately you will see results immediately after doing something. Realise that you're not on your own. Your family is supporting you.
Action is required!
Sagittarius
You feel good and because of that you feel the need to fill up this day as much as possible. You want to be active and experience a lot of new things. This will work out without any problems. You could seem pretty arrogant or controlling when it comes to love. Try to pay attention to that more often. Besides that everything is working out well. You feel good with your partner. If you are single you might feel a click with someone today.
New things await you!
Capricorn
You are always curious about what is next and if you had the choice between what you know and what you don't, you don't hesitate to dive in the deep end. That is exactly what is going on at career level. This will not be an easy day. You can no longer run away from your problems. On the other side it is time to solve them as well. Make sure you rest enough and you will be able to give it all you got later on.
You can run, but you can't hide!
Aquarius
This is going to be a lively day. Get rid of the tendency to stay in at home because if you do you might miss out on some very nice things. It isn't wise to combine money and friends today. It will fly out of your wallet. Self-dependent people will be successful if they have to gather money. Put some extra time in your friends, relationships and the groups you are involved in.
Just head out!
Pisces

Flu, fever or a cold, you catch it in a second. You might not even think it's a bad thing. A cup of tea, a good book… finally some time for yourself. That's not the intention of course. When you agree on things with others, involve your partner as well. It could be too early to ask a new partner to marry you but make it clear that things are working out between the two of you.
The future looks bright!
24 August 2012
Aries
If you have to handle some deals today things will go well and smooth. Obstacles will disappear. You will book some professional progress now the confusion has been taken away. A job interview will be fruitful and successful. Your thoughts and feelings are aligned today. Your intuition is in great shape because of that. Make sure to use it to the fullest.
Trust your instincts!
Taurus
If you are a woman you might buy some really hot lingerie today. Your other half won't have a problem with that at all. At work something hilarious will happen. This will be talked about for a long time. Don't take on extra work unless you are sure you really have time to do it this week. Keep your loved ones in mind. The older members of your family deserve some attention as well.
Always stay polite!
Gemini
Have a conversation about your future with your boss. Don't be afraid to promote yourself and show what you have been doing over the past 6 months. Prepare well. The same thing applies to a job interview. Fortunately your efforts will be rewarded. Pay extra attention while exercising. There is a chance you'll get injured. Just make sure you don't become reckless and don't try to get rid of your anger.
With a good preparation you can do anything!
Cancer
Everything involves being creative today. The focus is on career things though. You suddenly feel very confident about things you have created. It seems that you are becoming a rising star. This is a day to make decisions, maybe you want to buy a house or change your job. Just put everything in a row and go for it. If you are done with the relationship you are in, let him/her know today.
Decisions, decisions, decisions!
Leo
You don't have to wonder if you know enough or not. Because you do! You can finally use or spread some of your knowledge. Use humour and you'll get a long way. Some interesting things will cross your path and these things will occupy you during the entire day. Talk to someone about it. You prefer to keep everything to yourself but that's not the right thing to do at the moment. Someone else could have a refreshing view on your situation.
Ask for advice!
Virgo
If you join your obligations with some music and a drink that one obligation will turn into something very pleasant. You might even get to do that mountain of dishes or all the laundry that has been piling up. Unfortunately here is a big chance for an infection or flu. So be careful and take good care of yourself. You have more control over your health than you realise.
Listen to your body!
Libra
You have become better in keeping your promises concerning love and you now know that sometimes you need a little more than just love. Show what you have got because nobody or nothing is in your way. Don't be ashamed to glow. It feels so good when nobody doubts your authority. At work you amaze yourself. You are less shy and you have the courage to say what you think about things.
You feel good!
Scorpio
You feel homely today and memories keep you busy. It's only logical you feel a bit nostalgic. You prefer to surround yourself with people whom you can talk with about the good old days. You don't feel like being extraverted. Just go for a stroll in the past. A cooler stamp will be put on this day. If you are honest, that's what you prefer. No more wild promises that only lead to heartbreak.
A walk through the past!
Sagittarius
Don't ask for the known path if you want to know something. Just look at what else you had planned. A little bit of research will get you the information you need. You can take on the confrontation. Recent relationship problems will be in the spotlights today. You like keeping life simple and avoid dramas but that's easier said than done in love.
Speak from the heart!
Capricorn
The desire to be alone could be very strong now. Unfortunately others won't take that into account. Don't underestimate the power of a short and strong 'no' when people want to involve you in something. Try to use your time for yourself today because you have earned it. Give yourself a beauty treatment, prepare your favourite meal or read a good book. Passion is dominating today.
Learn to say 'no'!
Aquarius
Love and passion will play a big part in your life today. It is time to start acting especially if you are already in a long lasting relationship. Tact and diplomacy are your keywords today. Within the family issues could pop up that get in the way of a good conversation. Don't be afraid to say what you think about it. Professional conversations work out positively and that will boost your confidence.
Take the next step!
Pisces
Haven't you invested too much time in the problems of others lately? Dare to say 'no' in a friendly way to someone that needs you while you have already made other plans. Consider a temporary job to earn some extra cash. You are pretty jealous. That has everything to do with that ex whom still hasn't left your system. Acknowledge your feelings or you will restrict yourself. A juicy gossip is doing its rounds. The fact that you don't tell anything will be appreciated.
You know when to be silent!
25 August 2012
Aries
Today will be all about documents. It seems as if bills and important papers are flying around you today. You don't feel like it but it's important to handle everything that crosses your path. Call up and put things in the mail or the bank immediately. A change of environment will have great effects on you even though a long trip will be exhausting. An important social contact is worth the effort. Don't postpone it any longer if you want to have a package delivered.
Immediately deal with things!
Taurus
You feel philosophical about love and relationships today and you want to discuss it. It would be even better to write about it in a journal. Don't just think about those insights, make sure you do something with them as well. The mood is romantic so this is a perfect day to spend with your partner. Try to voice your feelings now that they are so warm and strong. Choose an exotic destination if you want to take a trip.
Love is all you need!
Gemini
You are going to work on your self-confidence today so you will be able to control over your own life again. It is finally time to do what your heart tells you to do. Don't be afraid, you are made for it. Call up some friends you haven't spoken to in a long time. A gap in a relationship will be overcome. A romantic reunion is one of the possibilities. If you are looking for a job, you could suddenly find one through friends.
You can do it!
Cancer
Delays and obstacles will disappear today and misunderstandings will be cleared up. An international contact could have some interesting news and problems in relationships will be solved. Try to give attention to people with a positive attitude and the ones that bring out the best in you. Avoid people that spread negativity. That's the best way towards spiritual growth.
Focus on the good things!
Leo
You could be tested today. You don't like showing yourself because you're afraid of confrontations or fights. You can't keep that up forever though. The bomb will explode. You feel the need to wander around today. Don't be amazed if you spend a lot of time browsing travelling websites to look for the best deal. You get unhappy when you stay in the same place for too long.
Go for a change!
Virgo
You feel the need to spoil the people you love today. You are very caring and like to assist people financially as well. Today you really have something to give away. This day promises to be inspiring and creative. It is the ideal moment to explore the art of love. Put practical things aside and let things be.
Spread love!
Libra
If you want to ask a special favour it would be useful to use your charms. You won't be alone much even if you'd prefer to be. You haven't really done a lot lately and that is starting to show. Today you are very occupied with work and health. That reminds you to do everything with love and passion. In the end it all comes down to loving yourself so avoid people, places and things that make you feel insecure.
You put your heart in things!
Scorpio
This day will be prosperous. Worries that occupied you seem to disappear. This might be the consequence of other circumstances or things to look forward to. With confidence you can make your plans come true. Luck is on your side. Use it with care. You are very trusting by nature. At work or school you have everything sorted out. That is the result of your organising skills.
You are vain today!
Sagittarius
Today the focus will be on your career and that is good news. Even better, it is precisely what you need after all that hard work you have done lately. You have worked a lot and that brings you quality. Those creative risks were worth it. Things suddenly work out for you today. Things you weren't looking forward to won't be so bad after all. Your financial situation is better than you thought as well.
Things are looking positive!
Capricorn
If you put too much pressure on yourself it won't get you anywhere. Nothing will happen and you won't be successful. Put everything on a row and take a little break. No reason to panic. Your friends or colleagues could have wild plans and it won't take any effort for you to join in. You like sports and all kinds of other activities. The relationship with a friend could get really complicated all of a sudden.
Be as understanding as possible!
Aquarius
Stay faithful to your own thoughts and feelings instead of letting others influence you. Be careful: your need to please other people could delay you. Take advantage of the tip of a business relationship. You like to be clear and you don't mean anything wrong but being so direct could hurt others. They like to get the message in a nice wrapping.
Be direct, but tactful!
Pisces
It is good to have enough self-mockery today and to admit your own weaknesses. That will strengthen your position. Just be honest and don't pretend to be someone you are not because it won't make you prettier. You can be hot tempered. Other people's wishes could make it necessary for you to put your own desires to the side for a bit. Reorganize your household if you have lost the overview for a bit.
Don't be afraid to be yourself!
26 August 2012
Aries
Every time you choose a new path you have to carefully consider things. Make sure you compare well. It is wise to take a good look at your calendar so you don't miss any remarks or notes. A certain situation could occur which will rock your environment. Try to stay at the sideline and don't get entangled in things you actually have nothing to do with. That's how you avoid gossip later on.
Stay out of it!
Taurus
Stay in bed a little longer. Romance could be a new, exciting experience for some of you. Put a positive twist to problems that might pop up. You have to be strong now and defend your point of view. Make sure you make your personal plans happen now that you are feeling so confident. There is no reason to bend because of other people's wishes. Invest in a new outfit if you have some parties coming up. You will feel a lot better.
Be confident!
Gemini
There are only a few things you can't handle. Don't exaggerate physical exercises if you have a party to go to tonight. Leave someone who is in a bad mood alone. Asking what is wrong will only make things worse. Don't take everything for granted today. Show your gratitude a little more. Love is the keyword today, single or not. That makes you dreamy and somewhat inconsequent.
Avoid bad tempers!
Cancer
Today secrets could be revealed. If you want to shout something from the rooftops yourself, it would be wise to consult the people that are involved to avoid painful situations. It could be hard to find the same wavelength as the people that are closest to you. Try to reach compromises. Make sure you are at the right place at the right time today. You could be surprised.
Try to keep the peace!
Leo
Focus will be on your dream world today. That means that you would like to stay underneath the blankets for as long as possible today. And still, even though it's weekend, you hear that to-do list calling you until you get up and do something with it. You like being as independent as possible so make sure you can keep it that way. Handle your money wisely and always have a source of income. You will never have to rely on someone else then.

Find the balance between work and pleasure!
Virgo
Self-criticism is your biggest rap. You should listen to your inner voice as much as possible and you'll survive most of the crises. You might have to adjust your expectations though. It won't really be a relaxed day. You try to find balance but it makes you a bit cranky. Don't react to strongly. Stability, that's what is all about.
Think before you speak!
Libra
You will be flipped between the need for balance and the urge to create chaos today. There is nothing wrong with being rebellious but keep other people's feelings in mind. Patience is a virtue, especially today. You can't speed up things by putting pressure. Find some distraction and try to fixate less on the future.
You feel like acting silly!
Scorpio
Don't do anything wild and crazy today. The consequences could bring you nasty surprises. Don't buy large things and don't spend a lot of money. Think well and look at the positive and negative things. Tomorrow will be completely different and you will effortlessly get a lot of things done. Don't be tempted into a heavy night out in town with a friend because you'll be worthless tomorrow.
Tomorrow will be a better day!
Sagittarius
You solve problems without talking about it too much today. Don't think that nobody notices it because you're known for this ability. Others could see an example in you. Pat yourself on the back. Make sure you rest enough to be fresh for work again tomorrow morning. Don't make too many appointments and prefer this Sunday to be boring instead of exciting. Stay away from people that want to discuss complicated subjects.
You should be proud!
Capricorn
If you have had a busy week you should make sure to have enough physical exercises. Put your kids to work if they are giving you a hard time. Stay at the sideline in someone else's fight. Sudden insight will offer you the opening you were looking for. Unfortunately not everyone is happy with your help. They prefer that you stay out of their business so don't feel attacked. They know you mean it well.
Retreat and relax!
Aquarius
You get to meet some people on a professional level (yes, even on Sunday) whom could help you along in the future. You can reap the fruits of your hard work then. Everything works out the way it should today. Although, something is trying to pull you out of that peaceful feeling and push you into being a rebel. Eventually you will reach that what makes you feel the most balanced.
Expand your network!
Pisces

Today the focus will be on your relationship towards others. The past years you have often held back. Try to open up a little bit. People would like to see a little bit more of you. That one situation influences you more than you expected. Today it could seem as if everyone is working against you. Even when two people are laughing about something, you will take it personally.
The world isn't just about you!
27 August 2012
Aries
There is no reason to panic. The day will only get worse when you start feeling insecure. Think that life isn't always a logical series of events and make the best out of it. A professional plan could get green light and this will suddenly become a busy day with negotiations, fusions and a very long dinner. Dress your best. If you buy something, make sure you check the quality.

Be impressive!
Taurus
If you are single you should use your charm to win some hearts. Try to be a matchmaker for someone who is single, if you are already in a happy relationship. It's a good moment to change something about your looks. Your life suddenly seems an insane rat race. Don't worry too much if you don't succeed in answering all the e-mails or phone calls today.
Set your own pace!
Gemini
Try to pay more attention to all the signals you are getting from outside. There is a special message hidden somewhere and it would be a shame to miss it. Don't run away from your obligations. As soon as you have kept them your mind will be freed of guilt, shame or doubts. You will truly find peace. Listen to the advice of an older person.

Be practical and realistic!
Cancer
It is the perfect time to professionally start something with a partner or a colleague. Stay alert but don't let him/her notice anything if you feel that a colleague is keeping a secret from you. The truth could be less serious than you think. Use your free time to research how you can promote your product or service in a better way. Something special could catch your attention and put you into a weird mood.
Keep an open mind!
Leo
Introversion and cosiness are the main subjects today. If you hear yourself cancelling or denying social appointments it doesn't mean you are at the start of a depression. On the contrary, you are just listening to your inner needs. You are allowed to retreat now and then. It could be hard refusing yourself something today. You will probably pay more attention to your looks to improve your power of attraction.

You like to stay at home!
Virgo
Your desire for comfort could make you adjust big and small things to your living environment. If you are looking for a steady partner you could end up in a romantic whirlwind. There is nothing really special going on today. Everything is just going its own way. There is no reason to panic even when you sometimes think there is. Keep calm and avoid panic. There is no reason for it at all.
Keep your head cool!
Libra
Are your shoes pinching? You can put your feet under your desk without your shoes on for a bit. Maybe you have bought them too small and you can make someone else happy with them. The horizon is broad and the course is set when it comes to love and/or finances. You or your partner could be in for a promotion or a raise and a professional partnership could see their profit margin increase. Think about expansion. The signs are looking good.
Make someone happy!
Scorpio
Too many social activities can really become too much. You might have to turn down a few invitations to save energy for things you really want to do. Jealousy could enter a relationship when one of you is a control freak. You don't have to fear the worries for tomorrow today. If troubles surface you have more than enough time to find a good solution for it.

There is no use in worrying!
Sagittarius
This will be anything but a boring day. You might have a few strong discussions and you'll have to take a few important decisions. Don't try to act smart. That kind of behaviour won't get you any professional or personal friends. You find it hard to keep your mind focused at work. You often wander into your dream world. Try to regain focus because you have some very important things to deal with.

Concentrate!
Capricorn
Take your time to clearly state your opinion. Don't be too afraid to e rejected because people are more alike than you think. We all need contact, no matter how short or futile those moments may appear to be. You are heading towards a good period and still your fears are eating you. Vent a little more often, that helps. The people you talk to will show you a different side of things.
Don't be afraid!
Aquarius
The people around you are very curious about your secret and ask for your advice on a regular basis. This boosts your ego and that is nice. You can really work on your self-image now. A certain matter has more influence than you would like to admit. A quick pace could cause situations that demand quick decisions without having enough information. Keep in mind that you will need to organize something.
Speed up!
Pisces
This day is a good time to think about what exactly is going on within you. A lot of it will involve work and health, which makes practical matters extra important. Don't try to wait with talking until you can explain your feelings. Someone else could shine a different light on it and will look at it from a side you wouldn't think of. Your energy level is really low at the end of the day.

Don't bottle things up!
28 August 2012
Aries
You will get to hear something about one of your friends that you won't like. You don't know how to look at him/her anymore. It might be a good idea to confront this person with what you have heard. (S)he can defend him/herself and you can talk things through. It promises to be a positive day though. It will take an effort to resist the need to exaggerate and to stay away from sweet things.

Talk about it!
Taurus
Did you get a surprise for your loved one? Maybe a romantic dinner? Your loved one will be happy with your surprise. Different situations will have a positive result today. Be disciplined and don't take on too much work at once. Don't make any promises that are hard to keep. A colleague could have some pleasant news to tell.

Finish what you start!
Gemini
Things are looking well financially and professionally today. Some extra cash could make a smile appear on your face or something that is really important to you could be pursued. Use your irresistible charms to convince others. You can count on the fact that everyone adores you. Your words have impact so choose them wisely.

You are creative with language!
Cancer
You will feel happiest when you take care of your body and your to-do list. those two are connected without a doubt. On top of that your head is filled with things you still have to do. Sometimes you need the support of a good friend, just like anyone else. Listen carefully when you get advice and take it in. On the work floor it is time to turn your knowledge into practical situations.

Don't stick with the theory!
Leo
New professional contacts could come your way. Make sure you look absolutely perfect today. The first impression is very important. Looks are a part of that. With a little bit of tact and a dose of luck you can make a lot of progress. Tonight you might get a romantic surprise. It is practical if you look good.

Enjoy a nice evening!
Virgo
Be extra careful if you have to work with heat or warm devices today. You could burn your hands in no time. This could also be a figure of speech. Everything that has to do with friends and groups will be in the spotlights today. Surround yourself with people that are on the same wavelength because that will make you the happiest at the moment. You might even be happier because of that compared to love…
Enjoy the cosiness!
Libra
An event could teach you a lot about yourself or someone that is close to you. Emotions will explode and overwhelm you at first but the truth that will surface is the best thing that can happen to anyone. The only dumb question is the one that you are not asking. All energy seemed to have flown out of your body. Don't be ashamed when you need extra time to rest. You can exactly feel what a friend needs.
You are a terrific friend!
Scorpio
Be extra critical today, in the broad sense of the word as well. Someone has probably been giving you a lot of compliments lately. You could discover that all that this person wanted was to get something done from you. You will make an emotional call today that will cause a lot of reactions from different kinds of people. Tonight you will choose anything that brings harmony. You are a bit tired of the crowd and that's perfectly okay.

Embrace your feelings!
Sagittarius
You could feel pretty naughty today. You secretly take the last cookie. You provoke more than usual and you might flirt more as well. Forgive yourself quickly because you just need to break the routine. Normally you have all the patience in the world but not at the moment. Don't let all those shouting people around you rush you into things.

Choose your own pace!
Capricorn
You will discover a secret that sheds a whole new light on a certain case. Sometimes it is hard to recognize a real friend. Think well about your steps or you might step into a trap. This is the moment to guide your focus within. You have a better view on what precisely is going on in your mind. Let go of rational analyses and try to go deep.
Do some soul searching!
Aquarius
You easily slip into a world filled with fantasies and ideas today. Great thoughts bubble up inside and the time is right to get to the core of some creative problems. Writing could work miracles so get out your pen or laptop. Don't let anything upset you today. You will look bad when you get angry and not the one that is causing it. Stay calm and think your own thoughts. You know what is the truth and what is not.
Keep a cool mind!
Pisces
You will end up in a situation that has to be carefully dealt with. When you want to take the step to a next level in a relationship you will have to be original. Put your mind to work and let all ideas pass through it. Look ahead and try to already get a head start on future work. Set up a rough planning so you are prepared for what is coming. An unusual being together could feel very pleasant.

Prepare for the future!
This psychic site and its owners are not liable for any direct, indirect, incidental, consequential, or punitive damages arising from using this site, the psychic contractors listed on it, or its content. By giving us your email address you agree to allow us to send you occassional maketing materials. We will never pass your details to another company.
You must accept and agree to our Terms of Use before using our services.
CALLING FROM OVERSEAS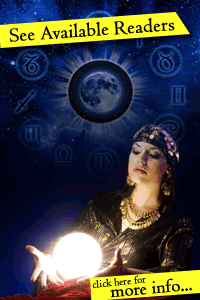 PSYCHIC RELATED TOPICS
Genuine Psychics can help you find solutions to any stressful situation