PHONE CHARGE
Mobiles/Payphones higher call rate applies.
SP: Access Positive
CALL NOW FOR GUIDANCE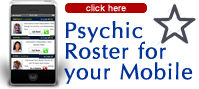 Money Back Guarantee
If you are not happy with the reading we will give you a Full Refund. This is only available for credit card clients through the auto and manual credit card service. Please call the Helpdesk on 1800 222 362.
Horoscopes Archive > 2012 > 07 > Daily Horoscopes 8 - 14 July 2012
Daily Horoscopes
8 - 14 July 2012
8 July 2012
Aries
Money (and earning it) will be important today. You can count on some financial breakthroughs. Would you like to earn more? Today you'll finally get that great idea. Check appointments, reservations and travel times. Postpone important decisions for a little bit if you don't feel entirely clear. Watch out for someone whom is spreading gossip. Later on you'll see it was a nasty rumour. Don't burn your fingers.

This could be it!
Taurus
It will be a difficult day today if you are dependent of your creativity. You'll only get little bits of inspiration and your memory feels like cheese. Write down your ideas immediately. A gap with an older person could become so big that it's impossible to work together. Try to find someone to mediate. If you want to end a loving relationship, you will have to explain the reason.

Try to keep things under control!
Gemini
When you meet up with a good friend tonight you'll grow closer together. The other could confide a secret to you. You always add your practical help when something needs to be organized. Handle everything at once. You could get into troubles if you mix your business with social activities. It is essential to trust your intuition. Don't fight with your partner about the decoration of the house.

Friends are like diamonds!
Cancer
If your head wouldn't be attached, you'd probably loose it. There is a positive side to it too though because at work people have the tendency to take some tasks out of your hands. This gives you a welcome break from some things. Don't dive head over heels into a new relationship. Let your mind speak as well. An acquaintance who seemed openhearted and sincere appears to be selfish and immature.
Try to stay focused!
Leo
If you work thoroughly and with perseverance you'll be able to get success. You will be overwhelmed by a big workload but that won't last long. Someone could ask you for a loan. Of course you can't refuse anything but don't loan too much. Try to separate your personal and professional problems. That will bring more peace in your mind and life.
Think well before making a decision!
Virgo
This will be a turbulent day for love. You have finally figured out there is more between heaven and earth and it fascinates you. That's great but stay grounded. If you think well about what you have planned you will avoid making unnecessary mistakes. The most annoying is that you don't really care if you are wrong and that could really irritate someone else.

Time to explore!
Libra
You are incredibly sexy today and there is nothing wrong with that. You should be clear about your desires instead of pushing them away, right? And if you are not completely in touch with your feelings of lust, this is the time to return to the world of fantasy. You don't keep your irritations to yourself and that turns you into a ticking time bomb. At work everyone is looking for cover.

Tick tock tick tock.. boom!
Scorpio
This seems to be a good time to handle different matters and to be persistent. Perseverance might be the most important thing. You could start a lot but if you don't finish it you're still left with nothing. The spotlights are slowly turning our way but today you like staying in the background with the script. The next few days promise to be spectacular so take on your part only when you're completely ready for it.

Hold on!
Sagittarius
There is a melancholic, stressful mood in the air today. Don't worry. It will all be gone by tomorrow. It could be that you get caught up in a desire for the past, so try to focus on the present or on creating a beautiful future for yourself. Because of an event you are not free to go or do what you want. Try to make the most out of it though. Your partner or family doesn't have to suffer because of this.

Tomorrow will be a better day!
Capricorn
Don't listen to advice today. No matter how good someone's intentions are: a tip will be completely off. Do your own research instead. Your partner could have something on his/her mind and (s)he expects you to listen. Sit down and really listen. You have the tendency to only see the positive sides of a deal and to ignore the negative ones. You are in a rush and you could make a mistake you'll regret.
Don't be hasty!
Aquarius
You aren't really a planner. You do something before you thought about it. That usually works out well but not right now. Everything has to be done last minute and that brings a lot of stress. Your headache will pop up in no time. Try to prevent this by planning ahead. Try to accomplish a breakthrough in a relationship that hasn't been going well lately so you don't get to the point of 'all or nothing'.

Don't wait until the last minute!
Pisces
What you start up today could keep you busy for a long time. Don't take on too much. What seems easy now could cause a lot of problems in the future. Use your energy for useful things and don't waste times with useless discussions. You don't spend a lot of money but people are very excited when you gift something. Originality rules in your book and not budget. That makes you an example for a lot of people.
You are unique!
9 July 2012
Aries
You reach great heights today and very deep lows and you wonder if you'll ever end up in the middle. This will cause intensity so enjoy it while it lasts because that's what makes life interesting. You are thinking about possessions. Clothing, furniture, jewellery. You want to expand your collection but you will need to wait for a little longer with big purchases. If you don't, you'll just rob your bank account.

Wait longer before spending big amounts!
Taurus
Today there are a lot of things that could go wrong. Check everything that passes your hands twice, react to messages and don't assume things. Read carefully before you sign anything. Be careful with what you send out into the world. Go look for something else and don't rush into anything. Your partner isn't happy with how things are going between the two of you. (S)he thinks that you're done with it.

Clearly state what you think!
Gemini
Maybe your subconscious is trying to make it clear to you that you shouldn't only care of superficial things in your life. If you're going on a trip, leave as early as possible. The traffic could be busier than usual. Later on today a complicated task could cause you a headache. Take the time to think. You don't get paid for actions you didn't think about.

Stay out of troubles!
Cancer
If you are self-employed it is good to come up with a new publicity campaign. Media attention will get you income. Stick to the facts instead of the rumours. Before you realize it you are involved with something that proves to be untrue. You really need your sleep. You are even more hyper than usual. If you have to arrange something, don't wait until the last minute.

Reconnect with yourself!
Leo
You have probably taken on too much work that isn't really your responsibility. A good advice is to do some cleaning up concerning this. You get an invitation that brings along extra work. You might think you have finished an assignment but don't be too sure. Keep in mind that people can change their opinion.
No impulsive purchases!
Virgo
You feel so lifeless at the moment. The only way to solve this is to go to bed early. When you wake up in the morning you'll feel much better. You will have to handle things with less energy today so postpone big decisions and risks. Use this day to think up plans so you can take action once this phase is over.

Rest and relax!
Libra
While people around you suffer from the emotional vibe that's in the air, you feel great. Intuition and instincts matter today and you know how to handle that. Just trust your feeling as long as you don't hurt anyone. Add some pleasure to your work if you are bored. That will improve the general atmosphere at work. Your partner could object to the hours you spend at work.
Trust your intuition!
Scorpio
Your partner is nagging because you decide what's going on in the house more often and (s)he doesn't want that anymore. Give him/her some more space. You are more persistent ad more disciplined than usual. Use these characteristics and do some of the chores you have postponed. Trust your intuition today. You will have to deal with strong reactions on situations that really aren't so special. Those tensions will go away.

Be flexible in your relationships!
Sagittarius
You are completely it today. Enjoy all the attention and glamour. Are you just sitting behind your desk at work? Even then you can get a lot of things done. Don't let any opportunity slip away. Your friends will keep you up to date and they make sure you handle things. You can't just let things be because sooner or later everything will come back to you. It will be a lot less pleasant to deal with then.

Don't procrastinate!
Capricorn
Today it will be important to check every little detail. It is wise to thoroughly check your work because it would be annoying if there would be mistakes. It's even more annoying if those mistakes will be discovered at a crucial time. Fortunately there is loving, sensual vibe in the air. Nothing is really urgent so you don't have to rush. On top of that emotions will rule over your mind so take your time to stand still with something.
Check, double check and recheck again!
Aquarius
You feel as if nothing is impossible today. Cherishing your dreams and capturing your vision in something creative, that's what it's all about. People are ready to hear what you have to say. Share your ideas and thoughts. You want to bet it'll be received well? Today you are very interested in travelling. You might even book an exotic trip or make plans to move to another country.

Embrace your creativity!
Pisces
Today everything will evolve around money. You find a way to earn more or to earn the same in a more efficient way. Do you want to expand your wardrobe? You can shamelessly spend a little money on that. Just because you'll find a way to fill up the gap again, eventually. You feel like taking on a new challenge. You might restart a project that you are not satisfied with right now.

You deserve a little extra!
10 July 2012
Aries
You feel the need to leave the save paths and find your way through the jungle. That could irritate others. They might just be jealous. Strange and weird things could happen during an event, a tour or a gathering. There is tension in the air and a flirt with an attractive newbie will add to that. Try to stay grounded while finding some excitement.

Exciting things will happen!
Taurus
Don't let yourself get dragged along by the opinion of others. What matters is that you think yourself. Even radical non-conformists like you will give into the pressure from outside. Get away from the herd. A breakthrough awaits you on the other side. When everything returns to normal you'll miss the excitement and stress. Just do things you like and find exciting.

It's all in your hands!
Gemini
You have a lot to say. You don't have to hold back today because even in your most direct mood you're still a diplomat. It is a good moment to launch a project. When you work in the commercial world, the gates to the world are open for you now. Make sure you have a new campaign. The morning is the most appropriate for writing, studying and meetings.

You are full of energy!
Cancer
You really don't have to be famous to start writing or pick up a microphone. You will never know what you're capable of if you don't give it a try. Wait for the right time to discuss a sensitive subject with your partner. It could be good to talk about your frustrations with a good friend or a family member. You could get some new insights.
Your health isn't what it used to be!
Leo
You actually know that you need to slow down. Try to plan some more time for yourself and cancel less important things. You just need some space to blow of steam from time to time. Take that space. You could react too quickly and too strong on situations. Don't be so criticizing because you'll only get critiques as well. Take a look at the people around you to gain insight in their personalities.
Hit the brakes!
Virgo
It is not wise to start playing with stocks. Don't be involved in unclear financial transactions because they will go wrong. Don't think you're smarter than the rest. Even you can trip, fall into a trap or miss the fine print. Turn the lessons you have learned in life into something practical. Don't be too aggressive in personal contacts. These people only have good intentions.
Stay away from risky business!
Libra
Adventures await you. You are interested in everything more than usual. Everything today involves knowledge and travelling. Make sure you have smart people around you. They won't be completely on your intellectual level but it's better than nothing. You have considered it long and hard but in the end you will have to take a decision when it comes to love.

Be clear and honest!
Scorpio
When you focus on the negative sides of things you will be lead to dark places. When you have the courage to feel what is hidden behind your fears you will gain a treasure of wisdom. A calm, quiet day awaits you. You are very occupied by dreams and subconscious matters and because of that you feel the need to retreat. It is important to really find your quiet place.

Take some time to explore!
Sagittarius
Your day will be about communication, which includes thinking, talking, writing and social networking. Say what you have to say and keep in mind that the media will make the message. Be creative. You could encounter a new love today. Unfortunately things won't go smoothly at work today. You become insecure because of some developments. Don't let it get you down.

Stay positive!
Capricorn
You like being around people but not today. You prefer to be alone and to think about yourself and life. Give into it. It is nothing to be ashamed of. It doesn't matter if you haven't been in a while or just went last night, today you'll feel like going to the gym. This is the right time to pick up a healthy fitness pace in life. Health is very important today even if you prefer just being lazy on the couch.
Search beyond the superficial things!
Aquarius
Focus a little more on your career and be flexible about it. By looking at problems from different points of view you'll be able to find simple solutions. Don't forget the people at home if you are considered for a leading position at work. Good omens can be discovered so it's time to start up new things. There are still so many things you have to experience. You just have to look beyond the obvious.

Open your eyes!
Pisces
Your friends have surprising news that will cheer you up. Make sure you have enough coffee in the house. Tonight could be a blast. It is great to have a wonderful relationship but to show it all the time in public… Stick to your budget even when someone tries to disturb your financial plans. Your reputation will be damaged if you don't fulfil your obligations.

You're a perfect host!
11 July 2012
Aries
When you want to get something done today you have to take care that you aren't dragged along by emotional and dramatic tendencies. That is the only way to be able to cross off important and non-important items from your list. Take some distance and don't take any remarks personal. When you keep yourself on the background for a bit, there aren't a lot of things that can go wrong. A healthy diet is something you can control yourself.
Keep things under control!
Taurus
There are days that you have more luck than other days. Today Lady Fortune is on your side. Don't exaggerate though. You don't really like your work anymore. That much is clear. Just sitting around and waiting doesn't change it though. It's easier to keep a romance working than a marriage because you both still have an amount of freedom. It is a test to see how much you are willing to take your partner into account.
Buy a lottery ticket!
Gemini
If you are having a fight with friends you can make up if you show that you are willing to give in or to accept excuses. Spend some free time together and the sky will clear up soon. Don't exaggerate physical efforts even if you are very fit. You have to keep some reserves. You no longer want to spend your life in silence because you have been bottling up things lately. That's why this is the time to make a change.
Say what's on your mind!
Cancer
Time could go very slowly today. You are almost counting down the second. That's a shame because you could use your time to do something fun or useful. Maybe you are subconsciously waiting for something or someone? Stop that and take initiatives! When you are looking for a job it is important whom you know. Don't be afraid to use people to mediate. Be more open within a relationship and take that decision you have been postponing.
Take matters in your own hands!
Leo
Unexpected visitors could bring distraction today. You'll be very successful in what you do. Don't forget to share your successes with the people that have helped you. You can only make your happiness bigger by doing that. If you are single you should keep your eyes and ears open. Spend some quality time with your family. Show them how much you love them even if you never really tell them. The will appreciate spending time together.
Love is all that matters!
Virgo
You can want all sorts of things but everyone seems to be working against you. Well, seems? You want to be creative. Your walls or furniture will have to deal with that. That's a great idea but don't forget to discuss it with the people you live with. Don't hesitate to ask someone for a favour. That person could wait to reward you for something you have done for him/her. Be welcoming to anyone that is looking for shelter.
Be a good host!
Libra
There is romance in the air. You could meet someone you find very attractive. Hold back a little though. Don't jump on it immediately. Stay alert with money because someone could try to fool you into something. You are a little bit too generous with money. Keep it within limits. You get a lot of things done today because you have the feeling that nothing can go wrong.
You are happy and optimistic!
Scorpio
You and your partner are probably very stressed. You get into fights about the smallest things and it seems like things explode once in a while. Keep some things to yourself sometimes. You could progress a lot at work today. Passions will suddenly create some form of income because you have found the drive and perseverance to work on your dreams.
Chase your dreams!
Sagittarius
You can't sit still today. Unfortunately it could happen that your pride has to suffer from some blows. In combination with a lack of patience and an overdose on energy that could be dangerous. So be careful. You are trying your best to hide it today but your superstitious side will surface. You avoid every black cat and won't be seen walking beneath a ladder. You have no idea what is causing this.
Try to stay calm!
Capricorn
You're having doubts about your job. Don't take any decisions just yet but sleep on it for a night. You're a perfect mediator. Two friends have a big fight and you know how to extinguish it. You are very active and creative at home. If you're interior isn't an image of your endless feeling of style, than this is the moment to change it.
Get to work immediately!
Aquarius
You can count on tension and drama in love today. You usually aren't so theatrical but today you are open to a little bit of romantic bravery. A little bit of craziness doesn't hurt. Try your best. Don't think other people are better of or things are easier for them. Don't flirt if you are already in a relationship and if you are still single you shouldn't dive into a relationship head over heels.
Be unique!
Pisces

Watch out with all the things you buy. Are you sure you aren't an emotional buyer? It could give you some satisfaction now but it will create problems in the long run. Your life experience will be practical in a professional situation or at a personal confrontation. Be wise and realistic. Don't try to fool others and try to stay as mild as possible.
Just be who you are!

12 July 2012
Aries
You might spend a lovely night with friends or family. Don't get involved in any strong discussions. It would be good for you to let your tears run for once and vent about what's on your mind. If you have done that, the sky will clear up instantly and you are, once again, sweet and kind to the people around you. It's not good to keep everything bottled up inside.
Be honest about what is making you upset!
Taurus
You suddenly have more confidence in love today. It might not feel as exactly made for you but put some adventure in your life. You spend a lot more free time with him/her and that brings all kinds of exciting situations. Give into it for once. Communicating is a little hard lately and you notice that the problems mainly happen with good friends or family. Could the problem be with you this time?
Take the jump!
Gemini
The mood is very energetic today but sometimes a bit neurotic as well. If you have a dinner party tonight, every piece of cutlery has to be in the right spot and every little detail of the recipe has to be followed. Otherwise there will be stress all around. Fortunately you can rise above this and you can see what is essential and important. That is being together with people you love.
Spread love!
Cancer
This will be a social day. Prepare yourself for inspiring conversations and special encounters. There will be no lack of mental stimulation and sparkling interactions. It feels wonderful, endless conversations with smart, provocative people. You can't meet up with just one friend, you want to gather a group of friends.
Don't be too demanding!
Leo
You are completely ready for it again. You feel recharged and the world is looking bright. You are in a very happy mood. Mentally you are at your best. It is a great mood to solve problems but could be hard if you wanted to let things go and go along with the flow. What to do? Make lists and don't think about everything that you still have to do.
Let it go!
Virgo
You know you should actually be working hard and you need to sort everything out but today you are with your head in the clouds. Let the confusion get to you and be brave enough to carry on. Get rid of the logic and open up for inspiration and poetry. You don't expect it but you are actually pretty stubborn. You find it hard to adjust over and over again.
Just pretend!
Libra
The solution for the routine in your relationship could be something simple like some exciting lingerie but it would be good to spend more time together as well. Go on a first date again, for example. If more than a few people complain about the same thing, they might be right. There is a big chance you skipped the chapter about how to make compromises.
Turn your life into an adventure!
Scorpio
You can't live without respect, professionally and personally. Show your partner that you see him/her. Don't let people around you distract you too much. There could be a dispute with friends about money. Don't let that dictate your friendship though. The condition to find your true love is to love yourself in the first place. Embrace yourself as you are.
Focus on your positive sides!
Sagittarius
A day filled with fun and flirting. This day will evolve around intimacy and communication. You know what you want and you dare to ask for it. Others are allowed to know what you need. Good communication usually solves every problem. Keep yourself under control if you want to be successful during a meeting. Use your design talent to create something beautiful.
Be a sparkling star!
Capricorn
Don't make any plans today. Just have a quiet day. You get more things done in a relaxed atmosphere. Be prepared to say you're sorry if there is a misunderstanding with your partner. You could drown in the neurotic behaviour of others today. If you are able to let go of the people around you and return to yourself, you'll notice that you are happier than you thought.
Don't let others bring you down!
Aquarius
It is all a matter of how you look at things. Of course you could worry about everything that could go wrong but on the other side there is a glass that is half full as well. It's up to you to choose the positive or negative approach. You are nervous and irritable. Try not to be obsessive about things. The bigger picture, that's what matters.
Accept it or just let go!
Pisces
Continue doing the things you are doing already because nobody is planning to be in your way. You are whom you are and you are not afraid to show it. It's not that you just don't like pretending, you wouldn't have a clue how to do it. That's a characteristic that is highly appreciated. You leave others in their own value as well.
Keep up the good work!
13 July 2012
Aries
Worries keep you up all night. Stop doing that. You can't do anything about it at the moment. The only thing that happens is that you'll get exhausted and end up in a vicious circle. Make a list of the things you worry about and take a realistic look at it during the day. Spend time around the people you love. They will surely make you feel better.
Stop worrying so much!
Taurus
There is a mental vibe in the air, which makes it hard to let go of thoughts. Are you obsessive about the wrong things instead of enjoying your time off? Drag yourself to a family dinner or play some games with friends. Just swallow it and find a compromise if you don't feel like arguing. Because that's what you'll get if you don't give in a little bit. If you are not willing to compromise things will get rough.
Make a choice!
Gemini
Take some extra time to relax today. You don't have to be busy with other people all the time. No idea how to handle that? There is absolutely nothing wrong with a good book. Reading is something people do alone, right? Don't forget that being alone will get you another sort of rest than sleeping. Sleeping is physically recharging. Being by yourself will restore balance again and bring you back to yourself. That's very necessary from time to time.
Find your balance!
Cancer
There are changes you want to make but it's just not happening. Not because it can't happen but because you just don't feel like it. Just do it because you have no idea what the results will be. In the long run you'll be grateful because it will be a grand success. You just have to step across that invisible threshold. That's all you have to do. You don't really like that but it doesn't mean you can't do it.
Take the step!
Leo
Not all your friends are friends for life and today you could discover that. Someone will entirely ruin the good mood. You will have to try your best not to get frustrated by that. It's a fact that in life people grow apart. Something you enjoy doing you usually do very well. It doesn't have to be anything useful at all. Focus on the good things in life and ignore negativity.
Sometimes you just have to let go!
Virgo
You are probably not in the mood for any social contact but try your best. You will have to go to some kind of event today. You don't have to pretend to feel better than you do. If you fake your smiles people will see you as unreliable. Just say what you think but pick your words carefully. Go on, get out of the house.
Meet up with friends!
Libra
You really dislike people with power. Does this person really has power or do you just think (s)he has? Try to adjust and don't give in to the temptation to cause some hammock. Your social life gets wings. And that's a good thing because you have been extremely busy with work lately. Have some good fun tonight.
Go crazy with friends!
Scorpio
Everything is about intimacy today. You might feel like spending the entire day in bed with your partner. That will create peace. New encounters could have a great emotional impact. Don't push those feelings away. A little bit of intensity could work miracles. Your advice is worth gold because they are always practical. The way you present them could use a little make over though.
You get closer to your loved ones!
Sagittarius
If nobody takes the first step today you will have to take the lead. And it wouldn't be a good move if you want to modestly retreat afterwards. Show that you are there because it will soon become clear that there is nothing wrong with your way of working. You are patient with others but not with people that don't understand their job. Make sure you pick capable people to help you. That will save you a lot of frustration.
Put yourself in the spotlights!
Capricorn
Don't take too many risks today. Life is already complicated enough without you having to wonder the entire time if you have made a wise decision or not. If you are smart, you'll choose rest, routine, order and security now. You can go without surprises for a few days. Change is heading your way. Don't resist. It is time.
Dare to explore new roads!
Aquarius
Your behaviour won't get you any applause. You can't always be popular in life. If you have to make an annoying decision you know that you won't be in the top three of favourite people for some people. You just have to be strong at that time. Make sure you don't say 'I hope you're not upset with me' because that doesn't sound powerful at all.
Be confident!
Pisces
If you feel as happy as you are today, make sure you can enjoy that feeling. Enjoy the things that you have and the nice people you have around you. They can put things in perspective for you as well. It will only strengthen your bonds. Nice social contacts seem to be what today is all about. You decide what is best for you. Discuss how a financial problem can be solved.
14 July 2012
Aries
After all the obligations from last week you now have some time to relax. Watch a nice movie, take a little snack or enjoy a glass of wine. Enjoy this free Saturday. If suddenly you get a creative idea you should do it immediately. Don't talk about it to everyone you meet first. Then you'll just stick to talking and nothing will happen. If you stop talking about it you will suddenly know what you have to do.
Explore your creativity!
Taurus
You are trying to explain something to someone and you are totally surprised that the other person just doesn't get it. It is something simple, isn't it? Make sure you don't upset anyone by calling him/her dumb. Everyone seems to be extremely sensitive and that gives you the feeling of threading on toes. Even though you are good at saying things with nuance, today your text just doesn't seem to reach the right ears.
You're having communication problems!
Gemini
You can blame a person of a lot of things. Someone has told something about you to other people. It is hard to keep everything a secret if you are always on each other's lip. This time you know that person did it on purpose though. Try to assess whom you can trust with your secrets. Don't mope around the house but just join in with the crowd.
It is not the end of the world!
Cancer
Your imagination is running overtime which makes you worry even more than usual. This is not the right time to stress. Just enjoy your day off. Maybe you'll succeed in using that power of imagination to solve problems? A little bit of creativity can bring you a long way. There is no such thing as a good time for romance. Just the idea can already kill an idealistic being together. You can make fairytales appear at any given time.
Embrace the romance!
Leo
This is a day to ignore your insecurities. You don't want to disappoint anyone and that's why you agree to things that usually horrify you. You don't really want to do it but, when you think about it, do you really have to? Grab the phone and get it undone. You can't make everyone happy. Take some distance from people because you need to spend some time by yourself. That might be hard but try it anyways.
You can't please everyone!
Virgo
If something went wrong with your finances then you just start a financial new year today. It's not like you didn't really take care of your financial situation, you just had some sudden and unexpected expenses. That's expensive of course and they weren't even things you can really enjoy. There is nothing you can do about it though. Make sure you get a clear overview but that's nothing new for you.
Sort out your finances!
Libra
You have such great mind power that you could provide the entire city with energy. You are even more creative than usual. Write, sing, draw, paint or share your brilliant ideas with people that are ready for it. Want to bet you have a big fan club? You will be pushed to aim high. No more doodling in the sideline. You are born to do great, important things.
Aim higher!
Scorpio
The truth about an awkward situation could finally surface today. You have probably thought that something was off the whole time and now what you suspected will be confirmed. Don't be afraid it will hit you directly because it probably won't. You are just an innocent bystander and they will be necessary. You can immediately start your work as Mother Theresa. Someone will have to do it.
Suspicions become facts!
Sagittarius
You would like to be very efficient and productive today. There is a strange vibe in the air though, which causes constant distractions. Give a dreamy spin to the things you have to do so you can combine the two. Think about your health today. You might want to consider a diet. Try to be modest and have a cup of tea instead of a glass of wine or coke.
Cut back on the sugar!
Capricorn
There could be a fight at home if you are unclear about your plans. That could be about things like 'what shall we do today' or to bigger things like career plans or the wish for children. Keep in mind you may make a wrong judgment call and your partner might have more information. It is your own fault if you hit resistance. Keep on talking to each other so you keep on heading in the same direction.
Don't be stubborn!
Aquarius
Don't judge on looks too much because appearances can fool you and lead to disappointment. Promises and charms are no guarantee that you can trust someone. You have no clue how to say something to someone. You doubt if you are going to say anything at all. Sometimes a white lie is acceptable but don't hold out on any important information. The other one will feel cheated on.
Share vital information!
Pisces
You could really be thrown off your feet when something bad is going on with someone close to you. Try to realize that you might have an image that is too dark. Don't feel hurt if your partner has a better look on the situation. (S)he does take things seriously but just wants to show you that you don't have to be so emotional. You should be grateful for that.
Take a deep breath!
This psychic site and its owners are not liable for any direct, indirect, incidental, consequential, or punitive damages arising from using this site, the psychic contractors listed on it, or its content. By giving us your email address you agree to allow us to send you occassional maketing materials. We will never pass your details to another company.
You must accept and agree to our Terms of Use before using our services.
CALLING FROM OVERSEAS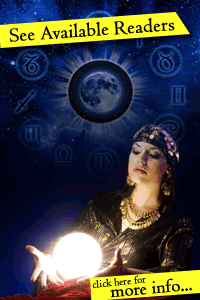 PSYCHIC RELATED TOPICS
Genuine Psychics can help you find solutions to any stressful situation