PHONE CHARGE
Mobiles/Payphones higher call rate applies.
SP: Access Positive
CALL NOW FOR GUIDANCE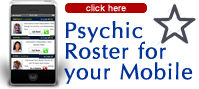 Money Back Guarantee
If you are not happy with the reading we will give you a Full Refund. This is only available for credit card clients through the auto and manual credit card service. Please call the Helpdesk on 1800 222 362.
Horoscopes Archive > 2012 > 06 > Daily Horoscopes 8 - 14 June 2012
Daily Horoscopes
8 - 14 June 2012
8 June 2012
Aries
Don't get mixed up in a fight with your superiors even if you are challenged. They are stronger than you are. Write down your complaint, file it and wait to see what happens. Give an alternative healer the benefit of the doubt when pain doesn't want to disappear. You don't need any dramas in your life but you will have to keep in mind that discussions will heat up and fights are more probable. Look for the signals so you can reduce the risk for scenes.
Avoid collisions!
Taurus
Finding your direction in a situation that is undermining your confidence will mean an emotional success. You know exactly what you want to reach today. If you are auditioning for something there is a big chance you'll receive positive feedback. Try to spend more quality time at home. At the moment that's the best place to satisfy your creative needs.
You are determined to reach your goals!
Gemini
Someone or something could bother you and it's very important to see how and what you say. Creative thinking will add to coming up with solutions. Negotiations will lead to positive results with some adjustments. Everything indicates better relationships especially at work. Get treatment for health issues and they will be solved immediately. Don't hold on to old ideas because you fear the unknown.
Welcome the new things!
Cancer
Mind your words especially if you are responsible for others. Don't bottle up your emotions if you disagree with the attitude of an employee or a child. Say what you think is good without getting upset, aggressive or too criticizing. You could feel more confident than usual. That is a very nice feeling. On the other side you could exaggerate at the moment. You won't be able to see what could still use some improvement.
Handle with care!
Leo
Grab every opportunity you get to mean something for someone else. Your loved ones will be grateful. Words and thoughts will soften up as well. Don't be surprised if you say all kinds of lyrical, poetic things today. You are peace and love today. People around you will be amazed by your ability to show your love. You can make a lot of people very happy today.
Flower power!
Virgo
It's all right to blow of steam for a bit when you are angry but afterwards you need to take some distance. Just assume you don't contain all the wisdom. Of course that's an unbearable thought to you. You don't just get upset over anything and you're not the kind of person that gets all worked up about small issues and you usually think things through. There is a big chance you are wrong this time though. Look at the reaction of the ones close to you.
You are not always right!
Libra
You are asked to keep your surroundings balanced. You happen to be a master at that so that will save you a lot of troubles. If people around you start fighting don't try to calm them down but be clear. It's a good day for communicating as long as you don't get tempted into a discussion. You could be too passionate about defending your points of view and the opposition doesn't understand that.
Keep calm!
Scorpio
During a fight with a good friend you both get a wonderful idea. Gone is the fight, that's how easy life can be. This could be the start of a wonderful cooperation that will bring in extra money. A windfall awaits you. Use it well by balancing your bank accounts. Spend money on things that are really important to you, things that brighten up the world a little bit.
Sort out your finances!
Sagittarius
A problem you think is unsolvable will suddenly seem less difficult. Organize your life in such a way that you keep control over your own time. Someone you have your eye on could suddenly call or mail. Listen to your voicemail. Values and finances are important. Your financial situation will improve because of a raise or a good investment. The more the day progresses, the more you will feel secluded from others.
Be your own boss!
Capricorn
Your professional and personal life will collide today. There is a big chance that a superior or a family member criticizes the way you divide your time. The job to find the perfect balance is yours. Don't waste any time. Choose your priorities wisely so you can get as much as possible done. Someone could count on your help and his/her confidence will suffer if you don't react to it.
Listen to the advice of a younger person!
Aquarius
You'll get really upset if someone tries to convince you to do something that you don't support. Think of an effective way to return the favour. An intimate relationship could change. You feel well and you have your life on track. You really realize this today. At work there is a big chance you'll get a nice opportunity. Take on the challenge when it feels right.
Be ready to change!
Pisces
You have been in the same rhythm for a while and you have honestly had enough of it. Face it and try something new and everything will suddenly become more colourful. A change of the menu will make you want to eat. It would be nice to do something with your partner. It will improve your relationship on all levels. The air will clear up.
Spend some quality time together!
9 June 2012
Aries
This day promises endless luck and sensuality and creativity of course. And love and knowledge. You finally don't have to keep any limits in mind. You can cross them without consequences. That turns this into a limitless day. You are allowed to spend some money too. You are lucky to find some bargains or a little extra cash. If you are single you suddenly feel a click with someone.
A day filled with promises!
Taurus
A tough financial period might be coming your way. Keep in mind that expensive gifts aren't always the most beautiful gifts. Keep it personal and maybe you find some handmade gift ideas, which are worth trying out. Do you want to bet the receiver will be at least equally happy with that? You don't have to go overboard to have some fun.
Find ways to save money!
Gemini
You can't go to all the parties you are invited to, especially when you can bump into someone there that you prefer never to see again. Set rules for your kids and make sure they obey them. There are some people that are letting you down at the moment, especially in your circle of friends. Don't keep this to yourself. You should talk about now when it's possible. You're a little bit short on cash. Fortunately you have some savings.
Avoid negative persons!
Cancer
A political or cultural event could inspire you today. A conversation about sociological differences will give you a lot to think about. You might start following a course or learn how to play a musical instrument. Avoid travelling by car and if you have no other way, make sure that the vehicle is thoroughly checked. You could have a lovely time at home.
Broaden your horizon!
Leo
You are in a really good mood today. You are born to think and act big and today you'll get some support. Show the people who avoid risks how things work: the higher the goal, the better. Your love life is blossoming. You and your partner have rediscovered each other completely and you get to enjoy that today. If you are single you won't be by yourself for a long time in a pub. You are very attractive to the opposite sex.
You are a rockstar!
Virgo
You are bopping and bouncing because you are full of energy. You are enjoying the phase you are in your life at the moment and it makes you think about all kinds of fun stuff. Your energy inspires people around you and the happy mood is contagious. You are so much fun to be around. Help out a family member who comes to ask you for help.
Where is the 'off' button?
Libra
You are only human. You have limitations as well. By accepting and respecting that, you will start to feel better. Taking care of yourself is important and it will make sure you can mean more for others. Take this Sunday to catch your breath. Sleep in, read the newspaper and do something that doesn't require a lot of thinking.
Relax and take it easy!
Scorpio
It would be a good idea to spoil a close friend. (S)he really needs it. This doesn't have to be an expensive gift. Going for a cup of tea or a movie together could already work miracles. You'll make him/her very happy with a small gesture. Pay attention to what you eat or/drink. You could suffer from some stomach problems if you're not careful.
Avoid sugar!
Sagittarius
Count your blessings and cherish them. You are allowed to do that. On top of that, who else should enjoy your successes besides you? Nobody does and wouldn't that be a shame. Grab that one opportunity without hesitating for a moment because before you realize it the opportunity will be gone again. Don't show everything you have got yet. It might be wise to sweeten up a bit to secure the future.
Enjoy the small things!
Capricorn
It seems as if you are on a different wavelength compared with the people around you. Don't try to explain it because that's useless. People will probably look at you as if they see water that's on fire. Give into it and it will pass. Things aren't going smoothly between you and a friend lately. You have the feeling something is going on. Don't be afraid to confront him/her about that.
Listen to your feelings!
Aquarius
You could collide with the people around you today. There is a big chance you are the cause and not someone else. You will probably deny it but you are easily irritated. Try to count to ten before taking any actions. Today you could have to deal with a strong financial setback but also with a nice surprise. A long expected appointment will finally be settled.
Keep calm!
Pisces

You could have a hard time if you need to ask someone for a favour. You have no idea why this is not granted to you but when you ask for an explanation you won't get any clear answer. Just forget about it for now and wait for a better time. It will work out then. You will see that you get a lot further than you thought without someone else's help. Even better, you can do it by yourself.
You amaze yourself!
10 June 2012
Aries
Don't just wipe any problems that occur under the carpet just because you are amazed about what people get upset about. Ignore the main case and you can be sure that the problems will pop up again sooner or later. Of course they will have worsened by then. Civil wars start like this. It's up to you to prevent that and if you play it smart, you'll certainly succeed.
Don't ignore anything!
Taurus
Things collide between you and your partner and that isn't strange. Even though you are taken, you still flirt as if you're not. It's only logical that your other half has a hard time with that. Keep his/her feelings in mind and work on your problems. If you are single you'll score a one nightstand. You and a friend will get in an argument. That hurts you. You will see him/her in the right perspective from now on and that's about time.
Pay attention to your finances!
Gemini
Do a little bit more for yourself today. There is a big chance that you'll collide with your partner if you don't. Do something with friends or visit some family. You will also get some time to think everything through. Fortunately nothing can ruin your good mood and you can round up everything you didn't get to in the past few days. Hold on to this vibe because this way you can move mountains.
Spend some time alone!
Cancer
It's a good day for your relationship. Love seems to be blossoming again after a dark period. You could celebrate this victory by going for a romantic dinner or going to bed early. Enjoy each other, no matter what. Things are working out today. You feel well, you have a good sense of humour and people like you. You don't have any financial complaints and that means you can do whatever you like.
Love is all around!
Leo
Chaos around you creates restlessness in your head. If you give everything a spot, you will see that the pieces of the puzzle will fit. You might even turn into an organized person. You will notice you will start the day better tomorrow if you sort things out now. Finally you get an overview about what's going to happen, what you have to do and what you need to do it. Everything will work out a lot smoother.
Get rid of chaos!
Virgo
A family member could get really worked up about a futility today. You don't understand why someone has to make such a big problem out of that. It won't help just to say that it's not necessary. When you explain the reason why it's not necessary, it might work. If you have a special goal in mind, it would be very practical to wonder how you want to get from A to B.
Make a plan and stick to it!
Libra
It is fun to make some wild plans but if you don't do anything it won't happen. So stop shouting that you really have to think it over once more because that could take a long time. Don't let it stop you because you would have to do this on your own, while you prefer to be a part of a team. Sometimes you can't instantly find a partner to do something and if that is the case, you'll have to do it on your own.
Believe in your strengths!
Scorpio
If you are single you are longing for a new love. Unfortunately things aren't looking well for that right now. The more you will look, the smaller the chance you'll really succeed. Let it go and find some distraction. Go and do something fun with friends or family. Go to a movie, go for a drink in your favourite pub or go for a walk with a friend. Your time will come.
Let it go!
Sagittarius
Ask others for help if you can't see things clear at the moment or when you can't remember something. That's not a shame. Everyone needs help now and then. You are making it hard for yourself by wanting to be so extremely independent. It's hard to want to do everything on your own. Spoil yourself with a luxurious dinner or a day at the spa. Your budget permits it at the moment so try to just enjoy it.
Don't be so stubborn!
Capricorn
Everything sweetens up today. You'll get the most satisfaction about making plans with sweet, darling friends. Can you handle it, all that love coming your way? There is a big chance you feel like inviting friends or family over for dinner or a party. Don't have any doubts. It is a wonderful idea and a great period for fun activities. You could have some really nice conversations.
Embrace your friends!
Aquarius
Matters of the heart and family issues will demand your attention but where are you supposed to get all the time? It's all a matter of priorities. You are good at setting your priorities, so take advantage of that and divide your attention without suffering from any losses. Let long-term plans be where they are for a little bit and gain some time for things that urgently need your attention.
Divide your time wisely!
Pisces

The hard part about taking the lead in your relationship is that the distance between you and your loved one will increase while you hoped it would bring you closer. Today you'll wonder if you really crossed the line. Fortunately your loved one will catch up and you'll be together, just like you should be. Maybe you can slow down in the future? Your loved one will be able to stay close to you that way.
Cherish your loved ones!
11 June 2012
Aries
Today will seem to be have made in heaven. Things you weren't looking forward to, seem so much easier now. And if you were struggling with something all of a sudden everyone will want to help you out. Go for a nice walk with the dog or go to the gym to work out. You will notice that you'll soon feel fitter and wonderful about yourself. You will have the chance to let go once in a while as well.
Everything just works out!
Taurus
Someone you like hanging out with could become a really good friend or there might be even a spark. Romance is heading your way. You kind of need it as well, some butterflies in your stomach. Light and harmony enter your life today. You can finally find balance between work and play. Get rid of extremities and give yourself a chance to relax.
A newfound balance!
Gemini
Make an effort to solve every problem you encounter. You will save the harmony by approaching complaints in an elegant manner. Be a good host when unexpected visitors show up. You surely have something in the house when they stick around. The advice of today is to walk the line a little more than usual because if not you could be punished in a disproportionate way. You might feel a bit limited but it's just for one day.
Tackle every obstacle!
Cancer
You have actually known it for a long time: exercising is equally important as your eating habits. You are often occupied with the things you eat, you might even count calories. It would be wise to exercise as well though. You will have to battle today. First of all to start doing all those annoying chores. But getting in touch with others isn't going smooth either. You need more words than usual to explain what the meaning is.
Find a way of exercising that you like!
Leo
Let your thoughts run free but try not to dwell on certain thoughts. Remember that forgiving and forgetting are important things to move on in your life and to keep relationships alive. The trend is positive and challenging. Today you will have to heal physically and mentally. Luck will add to the success you are striving for. Make sure you know what you are talking about.
Don't pretend to know more than you do!
Virgo
Today people are friendly towards you but you could have to handle personal frustrations nevertheless. The start up of a project will cause excitement. Shopping could be a good way to keep on smiling. You will notice that you get a lot of positive things in return if you give first and that makes you happy. You could use that today because things aren't exactly going like you want.
Keep on smiling!
Libra
The feeling that others consciously kept things from you is creeping on you. Try not to blame someone else. You just shifted your attention to yourself for a bit. Mingle with your social contacts again and the paranoia will disappear. Sometimes the feeling that you have had it takes over and that means it's about time to slow down a bit. Give into it because that is the perfect time to get a lot of things done.
Hang out with your friends!
Scorpio
It might be a good idea to just do nothing today, just the highly necessary. You will have renewed energy tomorrow and you could conquer the world. Today you have a hard time doing that. Try to save a balanced perspective between your wishes and abandoning or working against others. Your restlessness will pass when you find a solution for an irresponsible deed or impulse.
Don't be selfish!
Sagittarius
You need some bubbles and sparks in your life. You let it depend on the people around you too much. Be aware that you can take an initiative as well. A spark from your side could be the start of great fireworks. You could feel like everything but watch your figure and your health. Treat yourself to a visit at the hairdresser or the gym. Avoid stress, focus on the details and give your creativity a chance to blossom.
Spoil yourself a bit!
Capricorn
Just when you think you get the situation things could suddenly change. Be flexible and you'll keep in control. Be prepared to make a sacrifice to reach a goal. A desire for sensation could put you in an awkward situation. Even though there are a few setbacks today the day will go as you expected. Nothing exciting and that's kind of good as well because you don't feel like that at all.
Be prepared to adjust!
Aquarius
This day could bring tensions. You will notice financially. If you have doubts, you really worry about it or you might get to hear how much you owe others. What you have lent to others might be in the spotlight as well. Something, someone or a small gesture will touch you deeply. It is good that that side of you is visible as well. You are allowed to show your emotions. They make you a human being.
Money is what matters today!
Pisces

You seem to be on a buying spree lately. It might be a good idea to work on the underlying cause and you'll be able to really enjoy what you buy and you don't have to spend so much money. Financially things aren't looking great at the moment. Prepare yourself for disagreements with your friends and colleagues. Don't be too criticizing. You could just accept that people have different opinions than you.
Sort out your finances!
12 June 2012
Aries
The first step to getting rid of your problems is acknowledging them. Stop it if you have made a habit out of telling untruths. By focusing on achievements you could reach some goals today. Friendships and relationships keep on demanding your attention. Try not to say too much right now because you won't be able to keep quiet in the future especially when you have been busy pleasing others.
Honesty is the best policy!
Taurus
If you take a good look at things you will see the change isn't coming from outside. It is all within you and it's coming out now. If you are well rested and sort things out every day, you could have a wonderful day like this every day. A positive approach could change your entire day. Something, which you think is routine, could be an important activity. Hire a lawyer if there is a disagreement about properties.
You are the change!
Gemini
You can act crazy at another time. Think about how you will do that already. By fantasizing about it you'll can get through this somewhat boring day. You have had a hard time lately in your relationships. You had to grow a lot. You had to change. You needed to get rid of old habits. Now it is time to use the lessons you have learned.
Make plans for the future!
Cancer
You are always on top of the latest news and gossip but today you'll notice that you don't know everything and you get really irritated. You like being involved and now you feel a bit left out. Everything and everyone will become a lot more beautiful in the upcoming time. Lightness and loveliness are in the spotlights. You don't know how wonderful you really are. Take a good look and discover that you're a great person.
Love yourself!
Leo
Take things easier and try to win back some ground you've lost. Don't start the day with a fight because you'll feel guilty for the rest of the day. Say out loud that you were wrong, apologize and the sun will appear again. Usually you feel powerful and full of charm. Today it seems the opposite is true. Certain conversations won't work out the way you want. You need to make a lot of effort to get something done.
Keep the sunshine in your life!
Virgo
It is time for a change and today is the perfect day. Do something completely different from usual. Maybe it is time to just do nothing when you finish work. A positive trend sets in this morning and it will stick around all day. It is a great day to work in a team on a common project or to develop some activities. Show your most charming side.
Surprise yourself!
Libra
You could get a task without clear instructions. Inform about what really is the meaning before you start. Pay attention to body language of a loved one who is less happy than usual and who denies something is going on. Be sweet and don't push. Shifts are coming. The changes will be on the level of finances, values and possessions. You have gotten rid of old habits and concepts. Now it is time to find new ways of income.
Listen to a loved one!
Scorpio
When you take your responsibilities seriously you'll b e successful but if you have a problem with that, it would be wiser to retreat. Set up a realistic time schedule and stick to it if you want to perform. This day will bring joy. Luck is on your side. Try to consume less or you'll suffer from a huge hangover. Don't step onto the wrong track to follow unreliable friends.
Be realistic and responsible!
Sagittarius
Hopefully you have set your alarm to start early if you want to have enough time to finish what you have planned. You will succeed if you work neater and more efficient. Be ware of your own value. Dress to impress. Emotions could make you feel as if you are trapped and under pressure. Take a deep breath and you won't do anything you will regret later. Be prepared for some tough competition in the business world and keep away from anything that is even slightly illegal.
Be tough!
Capricorn
It is extra important to eat healthy today and to sleep enough, exercise and avoid stress. Don't forget your emotions either because they could cause pains and complaints. As the hours progress the day will improve. A small fight could be constructive if both parties respect the other person's opinion. A brainstorm session could lead to endless ideas that should be explored.
Don't limit yourself!
Aquarius
You are able to achieve great things and that gives you courage again. If you don't really know exactly what someone wants, you should keep on asking until you do know. If you don't a misunderstanding will appear in the long run and that will cause awkward situations. You have travelled a hard road to explore yourself within. It feels good the mood lightens up at the moment. Rise high about the messes and prepare for a stronger you.
You're like a phoenix!
Pisces
You could look at life as an ever-flowing wave. Right now you are building up to reach a peak again. It's not so bad when things don't exactly work out as you planned, that will happen when you reach the height later on. That's how it always happens. Everything feels a lot lighter at the moment. With the talent for transformation you possess today, you could mould the outside world just like you want it. That's wonderful and very practical!
You are ready to rise!
13 June 2012
Aries
Choose to have a lazy day consciously and you'll be able to relax completely and charge your batteries. It won't be a useless day after all. Try not to feel guilty about it. Everyone deserves to have an 'off day' once in a while. Your love life suddenly becomes a lot more fun and sexier. You have been thinking about love and life lately. Now it's time to apply those new insights.
Take time to recharge!
Taurus
There are endless ways to love and only when you realize that love could appear in all kinds of ways you will truly be able to experience it. A romance with someone from a different culture could cause problems in communicating. It might bring you to learn a new language and to broaden your horizon. Pay attention to your safety when you are making travel arrangements. An accident could be lurking around the corner.
Love is endless!
Gemini
One of the possibilities today could be a promotion. Since you have such a good overview over things and you know how to explain the how and why of something to others, the role of teacher is made for you. A caring profession is something for you as well. Today you could have to make a bigger effort to understand things. Everything sounds a bit muted, especially voices. You might have an ear infection or something.
You care for others!
Cancer
It is important for you to look beneath the surface today and to understand that people are a lot deeper than you can expect. The reason is that with you the feelings don't always go so deep. You could confuse or even hurt others with this from time to time without realizing what you are doing. The powers are starting to shift. It can go both ways. Were you being held back? Things could finally change.
Look beyond the obvious!
Leo
A nice night is heading your way and you are looking forward to it. It doesn't matter if it's a cosy dinner or a night on the couch with a movie, you will really enjoy being together. Trust your own instincts. Don't listen to others that keep a hidden agenda. A business arrangement will be very successful. Too much confidence could lead to useless expenses.
Follow your heart!
Virgo
Confidence leads to a lot of positive things like tolerance and empathy. Colleagues could even become friends because of this. A joint goal will only stimulate teamwork. You could get an offer to become a captain in a sport. Grab this opportunity with both hands. Your relationships have been under an influence from outside for years. One of your most important relationships will start to shift now. It is time for a change.
A positive attitude attracts positive things!
Libra
Someone could behave different from what you are used to. Ask what is going on and don't jump to conclusions. With a little love and friendliness you will help someone conquer a depression. A lot of things were going against the stream lately but now some things will head into the right direction again. That feels nice, a little break of all that personal renewal and change. You can finally turn what you have learned into something real.
Don't be judgmental!
Scorpio
It will not be an easy day but fortunately it will be a fruitful one. It is important that you see personal and professional opportunities and grab them. If you do you'll make a lot of progress. There are enough opportunities for you out there. Battle your fears and go for challenges. If you win or lose, you will be proud you have at least tried. If you work on your fitness you'll be able to reach some achievements while doing sports.
Play it fair!
Sagittarius
You could have some time left today. If this is the case then it's the perfect day to do something for someone else. Help out a good friend with a problem (s)he is struggling with. You have changed a lot from within lately. Prepare yourself to show what you have learned. You are starting to realize that experiences are very coloured by the way you look at them. That is obvious, isn't it?
Help out a friend!
Capricorn
Forget about keeping up appearances today and go for what is everlasting. Prefer to take a look at what is there to come instead of at what has already been. Make plans for the rest of the year and start up the first phase. Motivate a group of motivated people. If you feel like something is missing in your life, you could do something about that today. Head out and do everything you can to find that missing piece of the puzzle.
Complete yourself!
Aquarius
When you undertake something with a friend it can sometimes be hard to talk to the other one. Keep in mind that friendship is equally important to the project you're working on so make sure you discuss everything. It would be a waste to loose a friend over money. You can actively work on your goals. The trick is to find a balance between what you want and what others want. you won't have to make any effort to convince other people.
You are very persuasive!
Pisces
You can't reach the top if you're not entirely fit. You don't really feel well today. Jogging, fitness or biking are activities that can rule out stress, make you focus on breathing and strengthen your heart. Don't exaggerate though. Make sure you get enough fresh air. When you choose to tell a white lie you will have to make sure to fix the situation as soon as possible afterwards. If you don't the lie will haunt you for a long time.
Get in shape!
14 June 2012
Aries
Create more clarity in your relationship and make sure everything stays all right. Talk about things that are bothering you. When you are done talking you will notice that your relationship has grown. This day could get a nervous accent because you are waiting for something important. It could be about a contract or a big purchase. Take good care of yourself. When the mind is less burdened, you will think in a more detailed way and you will take the right decisions.
Get rid of the clouds!
Taurus
A new relationship could be put to the test. Don't make any promises you can't keep. It doesn't hurt why you are doing that. What part do other people play in your life? You want to be at your best all the time but you don't have to be. Take a look around; no one is always at his/her best. You are only human. Let things go from time to time.
Don't be so tensed!
Gemini
You are partner is completely there for you at home. Try to submerge yourself in this love because this is one of those opportunities. You can fully recharge because of the attention you get from him/her. Can you feel the energy shift in your life? Lately everything was about introspection. You have probably learned a few hard lessons about power in friendships.
Everything is going to change today!
Cancer
Your confidence can be great but it will be hard to control your emotions. Hidden factors make it harder for you to communicate with others. Misunderstandings will lead to arguments. The temperature could rise in a marriage. You probably don't want to hear certain things and you want to retreat. That's ok, for a little while. Try to open up your ears again soon because there are things you don't want to miss.
Don't hide too long!
Leo
The romantic side of your life will be in the spotlights today. It's only logical that you'll be overwhelmed with love and attention. This could be one of those best date nights of the month so don't let any opportunity pass you by. Your company appreciates the effort you took to make things cosy and fun. You can chat up and that feels great. It might be a good idea to have more dates with him/her.
Lovely, fluffy feelings!
Virgo
You could have a very productive day today. A few very important professional events are coming your way. This could lead to financial windfalls. People appreciate your insights in certain subjects and a raise or a new function could be the reward. Recognize the big picture and look beyond the obvious. If you don't you'll become a prisoner of your own life's circumstances.
You can take over the world!
Libra
Stand up for yourself. There are a lot of different ways to do that. Try to be diplomatic. You can get a lot further by being sweet. You feel pretty lazy today. This day will be about communication. Make sure you don't act hurt or upset. You could do things that you would usually never do because you feel you have to defend yourself.
Don't attack, just defend!
Scorpio
Everything is what it seems. Things all fall into place so trust on magic. Every encounter has a meaning. Pay attention and don't look at special events as just a coincidence. Everything points to the direction you should be heading in. Don't be pushed aside. You are a part of it all. You will get further when you plan things a little bit.
Nothing is a coincidence!
Sagittarius
You feel like spending time outdoors today so you are hoping for a nice day. You would like to do some gardening or maybe take a walk at the forest or the park. You just want to enjoy the beautiful things nature has to offer. It gives you a wonderful feeling of freedom. You could be a little bit cranky and emotional. It is almost impossible not to take things personally. Try to take some distance and take a look at things from a whole different angle.
Try another point of view!
Capricorn
You could discover a new talent. Have the courage to experiment. A course will be worth it and it will inspire you. Don't get too nervous when you have an appointment with someone new. Relax and have fun. Your ability to focus isn't what it's supposed to be today. Things seem to slip by you today. You feel as if nobody understands you, even your friends don't.
Everything tastes bland today!
Aquarius
You will probably have to adjust a little bit at work. Some obstacles are heading your way and the question is if you are ready to take the leap. Someone could come to you for urgent advice. You can't only give great advice, you are also one of those special person that can find the perfect advice based on who is asking. Not everyone can do that. Let your ideas take over.
You are so creative!
Pisces

If you are waiting for a professional breakthrough it seems like things will work out well. It's not a good day for old-fashioned romance in your personal life. It would be better to play a game of scrabble with your loved one instead of having romantic conversations. Let other people solve their own problems. Don't take the responsibilities out of their hands and especially not when you think it is going to be a long story.
Don't meddle in other people's problems!
This psychic site and its owners are not liable for any direct, indirect, incidental, consequential, or punitive damages arising from using this site, the psychic contractors listed on it, or its content. By giving us your email address you agree to allow us to send you occassional maketing materials. We will never pass your details to another company.
You must accept and agree to our Terms of Use before using our services.
CALLING FROM OVERSEAS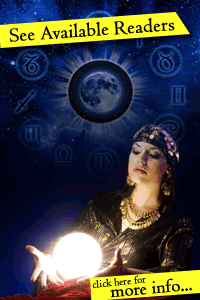 PSYCHIC RELATED TOPICS
Genuine Psychics can help you find solutions to any stressful situation